The Best Software for Open Source Content Management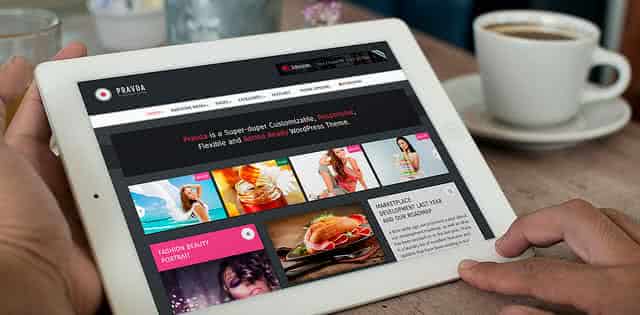 Much like comparing yearly iterations of new cars, it is the subtle nuances that differentiate the various open source content management systems (CMS) on the market. In essence, most open source CMS software platforms are the same: they are freely licensed content management solutions, with simplified usability and community-driven expandability. They are designed from the ground up to let you focus your attention on more important design and/or development aspects. However, selecting the right CMS solution can be overwhelming, as there are an incredible amount of options.

The Big Three
Word-of-mouth recommendations and quick Google searches mean you've no doubt heard of WordPress, Joomla! or Drupal. While these particular products are popular for a reason, choosing the right open source CMS stems from assessing your strengths and weaknesses, as the correct solution can compensate for areas where your company is lacking in time or budget. However, sampling all the different software is time-consuming, and even though the software is free, your time is valuable.
Luckily, we are here to save you as much time as possible and have compiled a short list of the best open source content management software out there on the market:
Joomla!

Joomla!'s ease of use and flexible structure are some of the many reasons why this particular CMS has been one of the top, if not the top, open-source software for many developers. On the scene since 2000, Joomla!'s easy-to-install, easy-to-use system has been a go-to resource for those looking to create and manage content for clients or for personal use. Structured perfectly to fit with smaller businesses, Joomla! has the ability to scale effectively as your user base and business grow.
A list of downloadable extensions helps customers craft Joomla! to best suit their needs, providing longevity to an already robust platform. Furthermore, the software also provides the tools necessary to create accompanying web applications with relative ease. Whether the content you are creating is for your own personal use or for a blossoming company, Joomla! can fit the need of any user.
Drupal

When the topic of open source CMS comes up, Drupal is one of the top three names that usually gets dropped. Based around a system of nodes, Drupal allows multiple users to access the CMS based on administrative permissions, all while providing established templates for flexibility. A tiered structure allows for users to dictate their own level of involvement in the system's development.
What makes Drupal such an exemplary choice for a CMS platform is the massive, like-minded community of developers surrounding the software. As an openly developed platform, community members are constantly tweaking and refining the already strong system to keep it relevant, whether by adding new features or adjusting the UI. Having such a robust backing behind the software means that the system will never become dated or obsolete, making it a long-term CMS solution.
WordPress

Started as a relatively simple blogging system, WordPress has since evolved to be one of the strongest open-source CMS solutions on the market. Built with a simple interface that allows for public or private sites, WordPress grants a secure, collaborative outlet for your creative freedom. Transitioning from your current blogging or web hosting site to WordPress is easy, as they offer a built-in importer that smoothly moves your information onto their platform (or vice versa, should you choose to pursue another system).
WordPress is completely free, but also offers Premium and Business packages with enhanced features. For $99/year, Premium provides a personal domain name devoid of ads, as well as more design options and storage space for your content. For $299/year, Business grants the same upgrades along with an integrated ecommerce tool and unlimited storage. Considering it's a straightforward, powerful CMS that scales seamlessly with your business, it is easy to see why WordPress claims to power a healthy percent of the internet.
SilverStripe CMS

Evoking the familiarity of other CMS software through a streamlined UI, SilverStripe CMS' focus is to be as accessible as possible. All of the necessary code is hidden in the back end, meaning newcomers to the CMS space can easily begin creating content. The software is crafted for unlimited creativity and vision, helping designers focus on generating their ideal user experience without dealing with the tedium of day-to-day coding tasks and troubles.
SilverStripe also offers SilverStripe Framework, a powerful PHP web application tool that can be used in conjunction with their CMS software. Designed in the same vein as their CMS, Framework allows users to construct complex add-ons and applications freely without having to worry about a restrictive system hindering their creativity. Developers can then share their add-ons with the community, contributing to the strength of their fellow users' content systems.
dotCMS

With a market in mind beyond the desktop, dotCMS has built their system to allow users to push their content out to all manner of devices. Templates adapt and optimize the content based on the platform through which the site is viewed. Coupled with the ability to remotely publish content and schedule regular content deployment, dotCMS shines as an enterprise-level system with the unrestricted nature and mobility of smaller CMS platforms.
dotCMS is built for maximum flexibility and limitless growth, providing users with the means of having their site scale with them. Customers are given the option of a free, open-source version that will more than adequately meet their content creation needs, as well as an Enterprise Edition with three levels (Standard, Professional, Prime) that provide notable upgrades to the already sturdy system.
concrete5

Concrete5 has effectively streamlined the open source CMS process by including edit boxes directly on the page to lessen the amount of time spent in the back end. Having on-screen editing improves usability for newcomers, but the platform also has a robust structure underneath that allows for flexible application creation and implementation. Additionally, concrete5 has a unique take on SEO integration, allowing users to either individually add in keywords and meta-descriptions or do so en masse.
Converting your own HTML code into a template theme in concrete5 is a simple copy-paste job, making sure you never run the risk of permanently damaging the underlying code while also never stunting your creativity. This easy adoption of your own code is improved by the architecture of the platform, which encourages users to create applications to be used for their own content management purposes, or to be shared among the growing community.
Typo3 CMS

Focused more on enterprise-level CMS needs, Typo3 CMS offers all of the necessary flexibility and expandability you would come to expect from a great content management system. While it is highly functional for smaller sites and companies, Typo3 really shines when working with enterprise-level companies, as the software's development focus has been with business and public institutions in mind.
Typo3 is the type of software that integrates with your company no matter where you are. Over 50 localizations in the back end and active security management means there are no borders for this CMS, allowing you to expand your reach via your site or native mobile app. Couple that with seamless integration into your existing intranet or work environments, and you get a system that can only strengthen your growing business.
ModX

ModX's strength comes from offering up advanced functionality and creative freedom without sacrificing loading speed, as the software comes packaged with a cache to ensure your pages consistently load quickly and your content is seen immediately. While ModX is primarily a content management system, it also doubles as a strong application framework.
The sign of successful CMS software is accessibility, and ModX does not skimp on making sure customers are confident with their new software. Setup can be as simple as clicking a couple of buttons, as ModX has the option to create your site using a cloud system. If you need a little more assistance, you can also hire the team that designed the software to assist in developing your site. All of this while providing a secure, hassle-free foundation shows that ModX was designed with efficiency and user satisfaction in mind.

Conclusion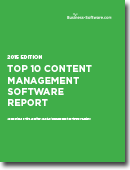 It can often feel like you're being pushed into the deep end when selecting the appropriate CMS solution for your business, but that tends to be the quickest way to learn. Your search does not have to end here, as there are many more options, both free and commercial, out there. Check out our free Top 10 Content Management Software Report — with side-by-side vendor comparisons and key feature lists — to fully appreciate the scope of options available to you and find the CMS platform that will do your content justice.
[Photo courtesy of flickr user Serge Kij.]