Best Tablets for Business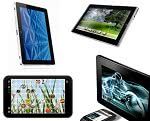 When the original iPad came onto the scene, tablet computers were a novelty device inhabiting the space between smartphones and PCs. Since those early days, tablets have proliferated wildly, owing to their convenience, long battery lives, suitability for sharing content, and advances in software. In 2011, tablet sales reached 56 million globally, and Forester Research forecasts that number to reach 375 million by 2016. In fact, Frank Gillett of Forester believes tablets will soon become our primary computing devices.
This momentum toward mobile computing is not lost on the software vendors. Mobile is a huge trend, particularly in CRM, and enterprise users are now viewing mobile capabilities as a determining factor in their search for software. Below, we profile some of the top tablets for business to guide you in your quest for mobility.
The iPad is the industry standard against which all other tablets are measured. The latest installment in the iPad family features a stunning Retina Display (Apple's display brand that they say reveals no pixelation at a normal viewing distance), a bigger battery than the iPad 2, and 4G capabilities. Breaking with the tradition of progressively slimming their designs, the iPad 3 is also a bit bulkier than its predecessor to accommodate the hardware upgrades.
Although nice for viewing photos, videos, and other visual elements, the iPad 3's superior display won't be a deciding factor for those using the device for business activities. The big draw will be Apple's vast app ecosystem, with 200,000+ iPad apps available to facilitate productivity and communication.
The Asus Transformer Prime is a sleek, powerful Android device available at a reasonable price. It features Nvidia's 1.3GHz quad-core Tegra 3 processor, placing it in the upper echelon for performance among Android tablets, particularly for gaming (i.e., killing time on flights and between meetings). The Transformer Prime is compatible with a lightweight Asus docking station that makes it a versatile productivity tool for those who require more of a traditional computing experience.
The Samsung Galaxy Note is a Wi-Fi only tablet that centers on its S Pen stylus. The pen is a fun and useful feature that enhances note-taking abilities and will improve the design experience of artists, engineers, architects, scientists, and other user groups.
The main drawback of the Samsung Galaxy is the lack of a high-pixel-density display—a feature supported by all of its competition at a comparable price. Users report this omission to be particularly noticeable when viewing text-based content. But reviewers agree that the Galaxy's stylus and associated software are a unique boon that keeps the tablet in the mix with the best in class.
This stylish 10.1-inch Android device was designed by Fujitsu to appeal to business users and mobile professionals. The device runs on Ice Cream Sandwich, with out-of-the-box tweaks geared toward its businesses users including apps for Microsoft Office compatibility, file management, security, virtual desktop scenarios, and more. The device is built on a thin plastic body, making it less durable than some of its aluminum counterparts, though lightweight for its size. It has impressive battery life, though some reviewers have criticized its lack of USB support. In terms of power, the Sytlistic runs on a quad-core processor, guaranteeing fast load times and
The successor to the Transformer Prime—and similar in many ways—the Infinity is slim and aesthetic, and features a faster processor with an enhanced 1920-by-1200-pixel display.
Google's first true contribution to the tablet scene is the Nexus 7, a 7-inch tablet which many reviewers argue is the best option in the Android market. The Nexus 7 runs Google's Jelly Bean OS, features a crisp HD display, a light price tag, and hearty battery life. The Nexus 7 comes in a small, lightweight package—ideal for those who place a premium on space. The primary downsides of the Nexus 7 are the lack of expandable memory and no HDMI port, which prevents users from displaying content on a larger screen.