Boost Twitter Engagement with 5 Tips on Increasing Retweets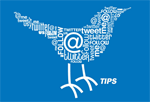 With well over 150 million active users logging in on a regular basis in 2012, Twitter is an excellent platform for building your brand and connecting with both loyal and new customers. But having great content isn't always enough to ensure that your tweets get the exposure they deserve. Posting tweets that get retweeted is a great way to boost your visibility, gain more followers, and earn a reputation as a source of great content. Keeping in mind these 5 techniques for increasing your retweet rate can take your tweets from ignored to trending.
1. Tweet Shorter
You're already confined to the space of 140 characters per tweet, so your message has to be concise. Keeping tweets under the 140 character limit gives your followers room to add their own commentary when they retweet. One of the most effective way of shortening tweets is using a link shortener like bitly to minimize the space taken up by linked content in your tweets. Using concise language and acronyms  is a good way to cut out characters as well – no need to write out "Enterprise Resource Planning solutions" when your customers will recognize "ERP." If you want to cut down your character count even further, you can also use tools like Tweetshrink to shorten the words in your tweet to save space. But use these tools with caution, as some of their edits can make your message unintelligible if you're not careful.

2. Use Hashtags
Hashtags make tweets more searchable and help readers find your brand. To include a hashtag just put a # in front of your keyword or phrase, making sure not to leave spaces. Popular hashtags can become trending topics, which are featured on the sidebar for other Twitter users to see. They're great for centralizing the conversation surrounding a certain event, topic or product- #yournewsoftware might be the next trend.
Picking the right hashtag for your tweet can be tricky- if you make it too specific, it becomes less searchable. For example, #cloudinventorymanagementsoftware is long and overly specific, so it's unlikely that people will see your tweet if they're looking for tweets about inventory management software. But don't use hashtags that are too general – tagging something with a very generic hashtag like #software is ineffective as well. Don't weigh your tweet down with too many hashtags either, as one or two precise hashtags will be better received than a half a dozen general ones. Select one or two precise but clear descriptors to get the most use out of hashtags.

3. Call to Action
Hashtags for concepts and products are one way to get the word out, but another great technique for getting users to interact with your tweets is to call them out by name! Twitter users are notified when their @username handle is mentioned, so use their handle in your message if you want to thank a customer for their business or give a shout out to another company that you love. Shout outs often get retweeted by the people and companies mentioned, just make sure you return the favor next time someone tweets about you!

4. Add Visuals to your Tweets
Twitter is a text-based platform, but integrating images and infographics into your tweets is one of the most effective ways to capture your readers' attention. The most retweeted tweet to date (800,000+ retweets!) was Barack Obama's celebratory "Four more years." tweet, which included a photo. Embed a photo or infographic using the camera icon in Twitter's tweet composition box, or use a 3rd party provider like Twitpic.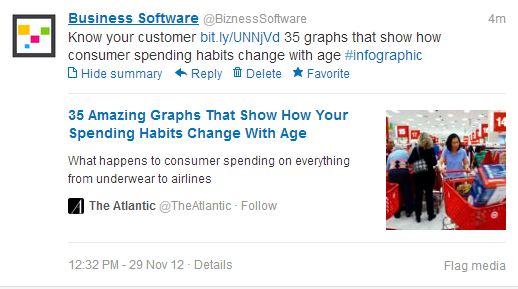 5. Ask Nicely!
Sometimes asking for a retweet is the best way of getting a retweet! Including "please retweet" (or "please RT") in your tweet can encourage readers to repost content they like. The efficacy of this practice has been debated, since critics think that it comes across as desperate, but the practice has been proven to work. Hubspot found that tweets with this call to action garner up to 4X as many retweets as tweets without it. Keep in mind that requesting retweets can be a great tool for increasing engagement with your tweets, but it's most effective when used sparingly.


For more advice on improving your tweets and getting more retweets, check out our page on social media marketing tools.