Bring the Power of Social Networks into the Enterprise with Socialcast

Social media has seeped from our personal lives into our professional ones. As a result, social platforms for the enterprise are slowly taking over as the method of choice to communicate with colleagues and employees.
In a recent study, Gartner predicted that by 2014, "social networking services will replace email as the primary vehicle for interpersonal communications for 20 percent of business users." Meetings and memos are quickly taking the digital route with enhanced collaboration tools, instant messaging, and other such tools taking over as primary communication channels within enterprises.
Socialcast: The Secure Enterprise Social Network
A proliferation of social collaboration tools have sprung up with products like Yammer and Chatter sustaining a steady buzz in the industry. For enterprises looking to unify communication and collaboration across teams, departments, and the organization, Socialcast provides an enterprise social platform that connects people to the resources they need to be more effective and productive.
Founded in 2008, Socialcast was acquired in March 2011 by VMware, a leading virtualization and cloud infrastructure provider. With this acquisition, Socialcast has become the flagship product in VMware's social software division.
What sets Socialcast apart from the growing abundance of social collaboration tools available in the market? For one, Socialcast's products were built from the start with multi-tenant cloud architecture. Unlike a tool like Yammer, Socialcast is delivered in a secure environment in a variety of deployment models including on-premise, software-as-a-service, or in a private cloud.
Many social collaboration solutions are primarily cloud-based. However, many businesses have sensitive corporate information and may not feel comfortable having company data housed in a remote data center. Organizations operating in highly regulated industries such as the financial and health care verticals may also have strict compliance standards to adhere to that prevent them from putting data into a public cloud. Socialcast allows its collaboration tool to be run behind a corporate firewall, ensuring that critical business data is secured.
How Socialcast Works
Socialcast powers an enterprise social network that brings together people, information, and applications with a real-time enterprise activity stream. This stream is built with a social layer to eliminate information silos and connect employees to all the business processes within an organization, improving knowledge-sharing and data accessibility.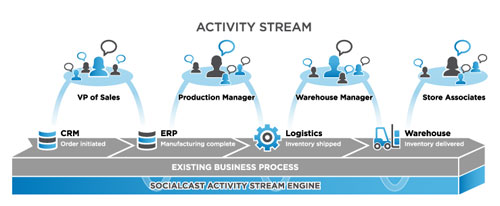 Socialcast provides an effective way to collaborate in the enterprise with features such as:
Enterprise Social Network to create and share team member profiles, securely communicate via chat and messages, and view what tasks and activities your team is engaged in. With a private social network, companies can better connect ideas and resources to employees, collaborate with teams across departments and locations, and stay up-to-date about the latest projects.
Team Collaboration to easily share documents, files, and ideas; invite external contributors to seamlessly collaborate; organize private and public groups in a secure workspace; and get instant feedback via polls
Integrations with SharePoint; Outlook; Salesforce.com; leading enterprise apps via Socialcast Reach; and web feeds such as Facebook, Twitter, LinkedIn and more
Mobile apps for the iPhone, iPad, BlackBerry, and Android platforms, along with a desktop app that can be used on any web browser
Analytics that gather trending topics within your Socialcast community; monitor social conversations; and generate custom reports to measure community activity
Admin tools to manage deployment options, customization, user access, security, and compliance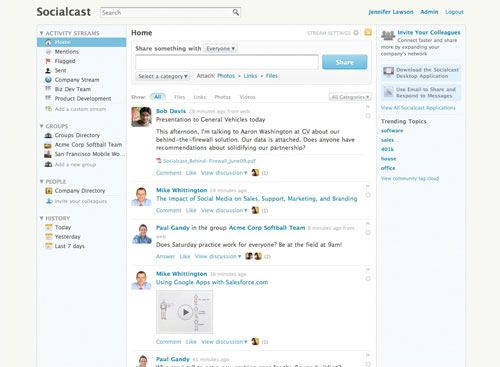 Socialcast was built to meet the collaboration needs of enterprises, and its client roster includes over 17,000 organizations such as Nokia, GM, NASA, Philips, and more. Socialcast is free for up to 50 users. If a business has more users, an annual contract is required, which also requires a minimum of 100 users at $5 per user per month.
Designed to be a secure and easy-to-use social communication and collaboration channel for enterprises, Socialcast delivers a social network that improves the way employees work and interact, breaking down communication barriers and unifying key business information from across different departments and processes.
Though Socialcast currently may not be as well known as other enterprise social network platforms, its flexible deployment options and robust social collaboration features are driving steady momentum in the market.
Want more on enterprise social? Discover and learn more on Business-Software.com's exclusive Top 10 Enterprise Social report, where we compare some of the best enterprise social solutions on pricing, key features and technology model.