The Social Phenomenon: New Trends for Businesses, Customers and Software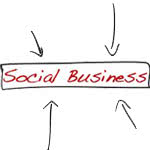 Remember when websites had hardly any hyperlinks?
Over the years, we have seen some technological innovations that have made the Web transform from a simple one-way communication tool to a network of social applications that promote two-way communication.
The "new Internet," properly termed the "social web" has started a trend that is revolutionizing the way businesses function. The emergence of various social channels available on the web allow businesses easily take on a new form communication to interact, listen and engage with colleagues and customers.
Make way for a new business trend
Above all, the social web has given way to a growing phenomenon in the corporate world: The Social Business.
Contrary to many beliefs, the term "social business" does not simply mean that a business uses social media.
Social Businesses make all their processes collaborative, and understand that it is engagement, not communication that makes the internal and external flow possible.
They utilize social technologies to ensure a two-way flow of information and drive value throughout the entire company ecosystem. Social businesses also understand that the use of social tools can improve their internal communication and encourage employees to use these tools to work together.
Introducing a new breed of customers
Businesses are increasingly making their journeys into the social world, and so are customers. The social web and its increasing availability of social engagement channels, has introduced us to a new breed of customers – The Social Customer.
As the economy toughens, customers' expectations are constantly shifting, and they expect much more from companies. They are demanding better products and services, and they want companies to know that. Gone are the days where customers are passively hoping organizations will realize their needs; with easy access to social tools on the web, they are actively expressing their needs by Tweeting, posting, liking, commenting, checking in, sharing and linking.
The number of social customers is growing. A number of recent studies reveal the following:
According to a study by Mashable, 13 percent of customers said they post updates about brands they like.
A study by Business2Community shows that 80 percent of social media users prefer to connect with brands through Facebook.
56 percent of consumers say that they are more likely to recommend a brand after becoming a fan on Facebook.
A study conducted in 2012 by American Express reveals that one in five Americans turn to social media first as a resource for complaints.
Compared to the previous year, 50 percent more people now choose to communicate via social media.

The addition of the social customer to the social enterprise completes the notion of the social business. Social customers have all the power to shape company decisions; they are the ones who initiate and own conversations on the social web. Recognizing that they no longer have control over decisions about their products and services, organizations are realigning their strategies to focus on customer engagement.
Technology to the rescue
With the business world becoming more social everyday, businesses as well as customers are searching for better ways to keep the communication flowing both ways and streamline the customer-business connection.
Recognizing this, a number of innovative technological companies have created tools that help make the transition to the social world easier for both businesses and customers.
With social business software, businesses can promote collaboration and eliminate communication barriers between internal employees, external business partners and customers. With these tools, social businesses encourage can employees to share files, status updates, collaborate on internal wikis and blogs, and allow employees to be connected to each other at all times.
Social business tools allows organizations to leverage a social business ecosystem. Within this,  companies can cultivate their customer ecosystem and generate buzz around their brands by instigating conversation around them. In the customer ecosystem, organizations use social enterprise software to engage with customers in real-time, in their own environment. This results in effective brand promotion, because people tend to trust their peers more than they trust information they read on the web.
For businesses, using these technologies can help them decrease back-and forth communication, predict future trends, increase productivity and most importantly, understand what customers want.
Many software companies have also noticed that the number of social customers is on the rise and have therefore developed social business tools with features that customers can use to easily voice their opinions and concerns about brands directly to companies. A stop up from regular customer service software, these tools are two-way and facilitate social customer service for companies who wish to capture customer feedback and ideas from the social web.
Social business software come in many flavors
Social business software, also known as social enterprise software, or Enterprise 2.0, takes on many forms and functions. There are social software just for customer service (like ZenDesk), ones that help companies capture ideas from customers (Starbuck's My Idea Portal) or directly from the social web (Radian 6). There are even social software that are outperforming the types of software that many enterprises use everyday. We can find enterprise 2.0 issue tracking software (JIRA), and product roadmapping software (VersionOne).
A startup company called OneDesk Inc. has designed a new concept in the social business field. OneDesk is an all-in-one solution suite that is comprised of several applications: Customer feedback management, ideas management, requirements management, project management, product roadmapping and issue tracking. All these applications are connected to each other and encompassed with social collaboration tools that include chat, blogs, wikis, real-time editing/notifications and a social media monitoring tool.
It also comes with a customer portal that companies can use to gather feedback and ideas from customers by embedding it in their website or sending customers a link. In developing this concept, OneDesk's goal was to allow business to capture ideas from everywhere into one place, link them to their objectives, collaboratively work on them with team members, and deliver winning products and services.
Looking for more material on enterprise social? check out our side-by-side comparison of leading solutions in the Top 10 Enterprise Social Software report. Also, make sure to browse our exclusive resources by paying a visit to our social media tools research center.