Enterprise Social: A Primer
Enterprise social software is a broad term used to describe software products that facilitate collaboration and sharing among the members of an organization. Either deployed independently, or implemented as part of an existing software suite—as is the case with the offerings of larger companies like IBM, Microsoft, and SAP—these tools apply the principles and features of Web 2.0 services like Twitter, Facebook, and Wikipedia to the workplace.
"Enterprise 2.0," as it has grown to be called, is a $700 million market that forecasters say is gaining momentum. A study published by Forrester Research in late 2011 predicts that the market for enterprise social software will grow at a compound annual rate of 61% until it reaches $6.4 billion in 2016.
Earlier this week Microsoft purchased the popular microblogging service Yammer. Observers say the acquisition will strengthen social capabilities across the range of Microsoft's enterprise solutions, and it indicates the importance that major companies are placing on providing strong social functionality in their workplace software.
What Are the Benefits of Enterprise Social?
Despite the fact that for many users, Facebook, Twitter, and Wikipedia are time-wasting distractions, their enterprise relatives aim to be very much the opposite. By enabling the same level of connectedness and ease of sharing, but by doing so within the framework of productivity, enterprise social applications can keep information flowing between coworkers without devolving into the sharing of cat videos and vacation pictures.
Most of the top enterprise social products serve as collaboration platforms, and offer sets of Web 2.0 features to support these activities. The specific applications offered vary from solution to solution, but usually include some combination of the following:
Dashboards – Manage your social presence from a centralized location
Social Networking – Detailed social profiles, searchable corporate directories
Collaborative Workspaces – Real-time editing of community pages including blogs, wikis, and discussion forums
Activity feeds – Keep coworkers updated, and follow project progress through microblogging
File sharing – Documents, images, video, slide presentations, etc.
Conferencing – Instant messaging, VoIP, and HD video conferencing
Encouragement – Provide feedback electronically and instantly
Mobile Access – Access your social network on your phone, tablet, or via the Web
Shared calendars – Keep teams on the same page with shared calendar applications
Compatibility – Integrate social platform with existing enterprise solutions (CRM, ERP, CMS, HCM)
Key Players in Enterprise Social
The key players in enterprise social can be grouped in two categories: those who do enterprise social in addition to their other offerings (IBM, Salesforce.com), and those who only do enterprise social (Jive, SocialText). Gartner published a Magic Quadrant for Social Software in the Workplace in August 2011, identifying Microsoft, Jive, and IBM as leaders, with OpenText, Atlassian, and Saba challenging. Telligent and Salesforce.com led the way among visionaries.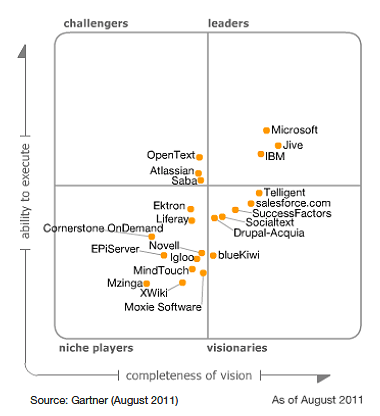 In May 2012 Gartner gave a nod to companies innovating in the space of social and collaboration software in its "Cool Vendors" report. Harmon.ie, MangoApps, Podio, Social Intelligence, and SocialLogix were all featured.
So who's benefiting from enterprise social? Enterprise social is an established segment, and some of the biggest corporations across industries are using it to improve workflow processes, including Nike, Genentech, EMC, Proctor & Gamble, Dell, eBay, Adobe, Cisco, and NASA.
Stay tuned for the next installment of our series on Social Business Software when we profile the top vendors in the enterprise social market.

If you're interested in reviewing the top enterprise social platforms on market, be sure to download our free comparison of the Top 10 Enterprise Social Tools to see how their key features and pricing options stack up to one another.