Cloud Programs for Modern HR Managers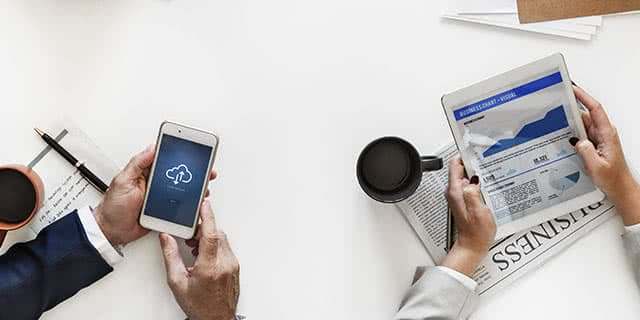 A big part of working in business is being able to recognize new technology as a tool, not an enemy of the process we're used to. Some people in the business world fight back against new technology because it challenges the way things have been most efficient to them. This is not an unfounded concern, but it's important to recognize where it benefits us and think critically about it. Adaptation is a good thing after all, and those unable to adapt sometimes find themselves jobless due to being stubborn.
After all, some people may not work more efficiently in the older methods. Drowning in paperwork and keeping themselves organized is the age-old stereotype that tells us technology is better. And let's face it, technology has no doubt affected HR management and how managers hire people, in addition to how they pay them even! If you and your employees meet that description, then we want to talk to you about a relatively new technology that could be of great use to you: the cloud.
If you're on Business-Software.com, then you probably don't need to have the cloud explained to you, right? Just in case, the cloud is a series of networks that allow you and many others to access and store information and operate on projects from multiple locations and servers. Google Drive, for instance, is a cloud system. iCloud, if you didn't already figure it out, is a cloud system.
Naturally, the cloud is of great use to HR managers. That's why we're going to highlight three of the best new cloud technologies HR folk can take advantage of right here for you:
BambooHR
Cloud programs offer a lot to HR administrators as well, seeing as a large part of their jobs is organization. This allows them to organize information, granting administrators access from many different places. Lucky for HR admins and managers, organization is one of the things that BambooHR does best. And it uses these tools to reach the big picture of efficiency.
A quick look at BambooHR's website will tell you exactly what they're good at and why. Employee self-onboarding, a worthy applicant tracking system, detailed employee reports, and an easy-to-use master database of employees and their records are all badges of honor worn proudly by BambooHR. And of course, being a cloud system, it's accessible anywhere you go.
SoftwareAdvice users gave BambooHR an average of 4.5/5 stars. Ease of use and quality ratings were high; however, functionality was often where the software lagged. One customer complained of glitches and said their help system was not effective. Another noted that it has limited training features. Overall, customers noted that BambooHR was perfect for small companies but may not be as effective for those exceeding mid-level businesses in size, income, or business.
HR Cloud
The name is simple and straightforward, as is the user experience for HR Cloud. The company boasts transparency, and according to their reviews this seems to be an honest claim. More on that later though. For now, let's get into the nitty gritty.
HR Cloud is a cloud-based HR system (yes, that does sound redundant) that takes the stress off HR managers. It has multi-level data security and features task automation and self-service onboarding for employees. Something unique about the platform is that it uses a program called Workmates that's like Slack or other workplace messenger services, which they say helps to build "company culture." Essentially, it's an HR/workplace double-whammy software — all based in cloud technology, so you can access your HR information wherever you go.
On G2Crowd, the transparency claim made by HR Cloud themselves holds up. The company seems to be great at helping users troubleshoot their problems. While the reviews were few, they were mostly favorable, with the only complaint being that the welcome email sometimes pops up in the junk folder. This may change with more users and more time. But for now, this may be a viable option for new HR managers looking to switch to a cloud system.
Sage Business Cloud
Highly recommended across the HR industry, the first cloud program worth mentioning is Sage Business Cloud. If you're familiar with HR software, an intriguing thing to know that Sage recently acquired Fairsail. Don't think this has ruined the software in any way through — the things you loved about Fairsail software are still there.
In short, Sage Business Cloud accomplishes administrative tasks and provides a floor overview of employees and their work status. It's most commonly used by mid-sized companies and does cater to international businesses. Like a cloud program should allow, it's usable by administrators across different platforms and devices. They boast rapid implementation and customer satisfaction, claiming companies should be up and running within 90 days of purchasing their programs. They also offer training on their website for those struggling to get the hang of the software.
The users of G2Crowd gave it 4.3 out of 5 stars, with one user noting the headcount features and the easy reporting capabilities. However, the same user was quick to point out that working with multiple types of currency could be difficult. Another reviewer on SoftwareAdvice noted that implementing it with their accounting system, despite Sage's boasted quick implementation. Most reviews were favorable however.
What cloud-based HR programs do you use? What's your opinion and experience with those we mentioned? Let us know in the comments below!
Photo courtesy of Pexels user rawpixel.com