Coke's 7 Smart Social Media Rules for Success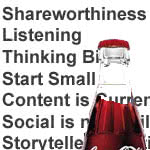 The Challenge: How has Coke thrived in a social media world, ranking as the world's most valuable brand and attracting the biggest Facebook fan base? Learn from their 7 Social Media Rules for Success.
Across all the Voice of Customer research conducted in 2012 by our firm, Ernan Roman Direct Marketing, there has been one consistent finding: consumers have shifted from being passive recipients of "push" marketing/advertising, to selecting companies which engage, listen to, and act on, input from customers and prospects.
Few have done this better than Coca Cola. Born in the 19th Century, few brands have adapted better to the new media conditions of the 21st. It now ranks as the most valuable brand in the world and the most followed on Facebook.
In a recent interview with Fortune, Coke SVP of Integrated Marketing, Wendy Clark lists seven rules for success in social media:
1.
"The #1 thing we think about is being shareworthy in everything we do," says Clark. "If we do our job well of developing useful, compelling, interesting and shareworthy content, our fans become our sales force for us."
2. "Listen. Then respond authentically and humanly… There are more than 15,000 tweets everyday on brand Coca-Cola; any that are questions, we answer. We have to. Consumers expect that we're listening and responding." Clark strives to achieve a Flawsome experience: "You have to be awesome with your flaws, the things that aren't perfect. You want to be human, to speak like a human and act like a human."
3. "Think big. Start small. Scale fast." Coke continually innovates, but it runs small tests before launching globally, analyzing results for learnings. "Because we're built for scale and if we don't get better at testing, learning and then scaling, we have the potential of scaling the wrong thing perfectly."
4. "Social is not a silver bullet. But social can make everything else better… We think in terms of ideas and campaigns that are social (share-worthy) at their core and then we think about how we can amplify the ideas and campaigns." Social works together with other media but does not replace them.
5. "Content is the new currency… The world is not suffering from lack of content. With this in mind, content creation has to be useful, interesting, important, shareworthy."
6. "We might be shepherds, stewards and guardians of our brands, but we no longer control them."
7. "Think of your constituents as storytellers… 10-20% of the content and conversation on our brands comes from us. The other 80%+ comes from others."
Coke's Results:
1.
2. Coke: 56.8 million fans on Facebook (#1); more than half a million fans talking about content per day.
3. Per Wendy Clark: Coke's social media fans are twice as likely to be a consumer and 10x as likely to purchase Coke as nonfans.
Want more on Social Media? Boost engagement and nurture leads by starting with Business-Software.com's top social media marketing software comparison reports.