Could Jive Be the Next Big Social Acquisition?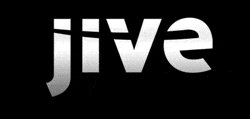 In the aftermath of Microsoft's acquisition of enterprise social networking company Yammer last month, industry analysts are turning their attention toward Palo Alto-based Jive Software. According to the San Francisco Chronicle, Jive is a prime target for Microsoft competitors looking to broaden their social offerings.
Founded in 2001, Jive Software is the grandfather of enterprise social. Though not enjoying quite as feverish growth as its upstart competitor Yammer, Jive is at the forefront of the market for social business software, and is a perennial leader in Gartner's Magic Quadrant for Social Software in the Workplace. Research firm IDC listed Jive as holding the second highest market share for enterprise social in 2011, falling behind IBM with an 8.5% share via $65.3M in revenue.
Taking advantage of social media's popularity, Jive became the first enterprise social company to IPO, doing so at the end of 2011 and raising a better-than-expected $161.3M. The company is backed by Sequoia Capital and KPCB. Owing to rapid expansion and investment, Jive hasn't yet made a profit, but analysts and investors are undeterred, citing the company's impressive growth rates and fierce pursuit of market share.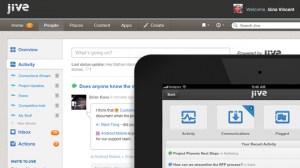 The Jive Social Platform
Jive's primary offering is Jive Engage, a fully-featured, cloud-based social platform that integrates microblogging, social networking, wikis, online communities, blogging, discussion, and instant messaging in a central application. The Jive platform serves two distinct audiences: employees and customers. For employees it provides resources for connecting and streamlining collaboration. It also allows organizations to create customer-facing communities that improve service and support, and enable targeted marketing and sales initiatives. Additionally, all the information users create in Jive is accessible through search, which enhances corporate knowledge management and improves employee access to information.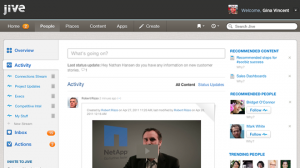 Users who don't require the full suite of Jive products can explore out-of-the-box options that also run off the Jive platform. These include Jive for Teams, Social Intranet, Social Customer Service, and Social Marketing & Sales.
The benefits of enterprise social, as touted by social vendors—enhanced collaboration, information flow, productivity, and engagement—are vertical agnostic, and social software is being implemented by organizations across the spectrum of industries. Jive caters to the enterprise organizations, and some of its larger customers include Genentech, Nike, EMC, Charles Schwab, and Cisco.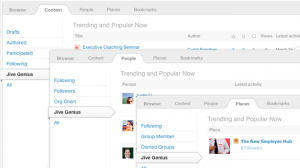 The Future for Jive
Last year Forrester Research predicted that enterprise social would grow to become a $6.4B market by 2016. That figure garnered a lot of attention, including Microsoft's, it would seem, as the company paid $1.2B for Yammer and the chance to be a bigger player in the social arena.
The ball is now in Oracle, SAP, and their competitors' court. Jive and its investors are no doubt watching closely to see what they'll do with it.
Looking for more information on the leading enterprise social networks? Find product reviews and blog posts at our community forum research center.