Data Proliferation: The Biggest Problem For Corporations
Data is impacted by numerous processes, most of which affect its quality to a certain degree. As data proliferation in the enterprise continues its exponential expansion and the size, complexity, and heterogeneous nature of IT systems environments scales to keep up, data quality and trust become increasingly important. Trusted data initiatives will remain strategic.
The business drivers that are pushing (Master Data Management) MDM:
Runaway costs that include bad data
Missed opportunities mostly from lack of transparency from the business pipeline
With the potential jail time to corporate officer's regulatory compliance, security and sensitive data will continue the push towards a standardized view of critical data.
Integrating new businesses as M&A continues, consolidating corporate data from multiple acquisitions.
2014-16 will be great years for MDM, I think standards and the trustworthy view of critical data will be propagated and included in the processes of most businesses. I think we will soon reach a meeting point between MDM and Big Data, as we know big data comes in many forms: some is structured, some unstructured; some is generated internally, some externally. The current MDM solutions are know being built with internal and some external integration points.
When selecting an MDM technology I would recommend use the Gartner or Forrester reports, and in my opinion I would only spend time looking the top right quadrant.
Some companies are naïve when it comes to choosing MDM technologies, wrongly assuming that the market is mature and that everything works fine these days. In my view, this is wrong it will take another 3-5 years for this area to mature.
Below is the year over year Gartner Magic quadrant on MDM: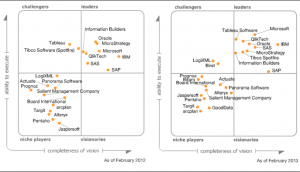 Three tips
Shortlist your suppliers and make sure they have a track record with your type of data
MDM projects are always tricky, follow a think big start small approach. The approach should consider all data domains, but take a gradual, step-wise approach to implementation, delivering incremental business value.
In 2014,I think companies will be moving toward an Enterprise App Store similar to Google and Apple store and this will oblige companies to accelerate their efforts on MDM. (look into creating an enterprise app store)
One of the big accomplishments of these technologies, analysis of data has become a key differentiator within many industries.
Want to read more insider-perspective posts? Browse our entire archive of blog posts on insights from leading industry professionals by visiting the Industry Insights section of the Business-Software.com blog.