Dell Joins the Party: Announces New Tablet
Recently, at the Intel Developer Forum, Dell announced that they will be releasing their 10-inch Dell Inspiron Tablet later this year.
The Dell tablet will run on the Windows 7 operating system, and feature a dual-core atom processor. The Dell Inspiron Tablet will function like other tablets on the market, but will exhibit one key difference. In a slick James Bond-like maneuver the Dell Tablet is able to quickly convert into a Netbook design revealing a hidden keyboard.
During the presentation Dell didn't hold back any punches, and made it obvious that they were coming after Apple. The Dell representative said, "There are times that you have to work. Tablets are great for entertainment, but they aren't conducive to productivity." That's when the Dell representative demonstrated the quick transformation into a Netbook, resulting in cheers and awe from the audience.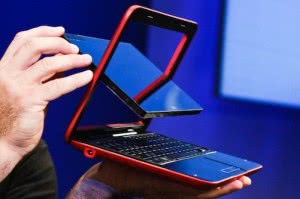 The announcement of the Dell Inspiron Tablet is sure to generate a lot of buzz leading up to its release, and is sure to give the iPad some serious competition. Expect to hear more details about exact specifications of the Dell Tablet in the near future.
Want to access more information on top industry trends and news? Browse our complete collection of software news by visiting the News & Trends section of the Business-Software.com blog.
[Photo courtesy of assisdentciti.]