Dreamforce '14 Software Vendors by the Numbers [Infographic]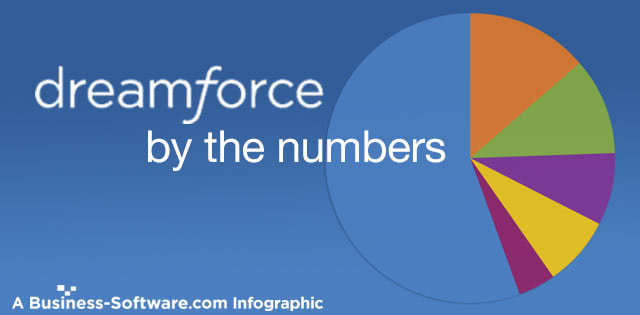 Headed to Dreamforce this year? So is the Business-Software.com team! To mark the start of the annual event, we set about uncovering exactly how the lineup of Dreamforce '14 software vendors would look and what segments of software we'd see represented. Armed with as comprehensive a list of participating companies as we could find, we decided to compile our findings and relay them to you, our readers, as a fun infographic!

Who You'll See at DF '14
Below you'll find details on what software segments will be making an appearance this week and learn about which types of software tools will be best represented at the conference (Hint: business intelligence apps, marketing platforms and sales tools will once again dominate the expo floors).
For those of you who can't get enough of Dreamforce '14, remember to tune in to the Business-Software.com Blog each day of the event for more of our continual coverage — as the week goes on, we'll delve more into who the exhibiting companies are and share our thoughts on the standouts. And don't forget to check out our social media channels for even more insight and #DF14 exclusives (Follow our thoughts @BiznessSoftware).
Sneak Peek: Be sure to stay tuned for our analysis of Salesforce's latest announcements and how the newly revealed direction of the Salesforce platform will affect the CRM world — you can find it on our blog come Monday morning.



Find all of Business-Software.com's exclusive coverage of the Dreamforce '14 software vendors — plus tons of other great content on software reviews, implementation advice, top features and other best practices — by visiting the Business-Software.com blog homepage.