Dreamforce 2013: 10 Company Names You Won't Forget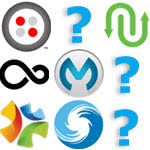 As the Business-Software.com team began prepping for Dreamforce 2013, we were surprised to discover the number of exhibitors with unusual company names. From amusing and confusing to unique and just plain weird — you name it, software companies are doing it. It seems that younger software visionaries are flocking to more imaginative names in droves, incorporating everything from animal names to jargon, playing with spelling and phonetics, or simply making up their own words.
Why the sudden rise in original company names? Although we're not certain of the reasons, there are a couple of logical explanations for the shift: for one, a name that stands out will help a company's brand stand out; another possibility is that owners must lean toward the unusual in order to avoid existing trademarked company names. It could also be the case that today's founders are just letting creativity play a more active role.
Whatever the reason(s) may be, we couldn't help but emit the occasional giggle or raise our eyebrows in response to some of the company names we came across. And so we give you, our readers, the chance to giggle a little too (and learn about 10 interesting products while you're at it). Enjoy!
[Scroll over each company's logo to reveal the type of software they design]
Arkus

This company's name will likely leave you trying to recall where you may have heard the word before — perhaps you know of the German techno producer or the online role-playing game Spiral Knights? (No worries, we hadn't either. Thanks Google.) Even if the term isn't yet part of your vocabulary, it very well should be. The Arkus platform provides a novelty service for today's businesses, simplifying cloud computing by leveraging the software-as-a-service-model to better utilize enterprise-level tools.
ChikPea

When you hear the name ChikPea, the first thing that crosses your mind is…subscription billing, right? Maybe not, but at least you'll remember the name — if only because it makes you hungry for hummus. But back to ChikPea the software company. This San Francisco–based business offers 3 solutions to help you streamline business operations: subscription management, telecom order management and process utilities software.
Hoopla

What's all the hoopla about Hoopla, you might be asking? (Sorry, we couldn't resist.) To start with, the company offers one of those employee engagement platforms that we've seen trending in the software industry as of late. Hoopla's gamification product allows you to build contests around your business needs, providing focus and helping to motivate your team members. They've also got that whole funky-name thing going for them.
LexisNexis
We're convinced LexisNexis knows what they're doing, because creating a corporate name that closely resembles the luxury car brand Lexus is pure genius. The Business-Software.com team has yet to figure out how the name relates to the company's range of business insight and security management solutions, but we're inclined to believe that they're sophisticated.
MuleSoft

And the offbeat company names just keep coming: MuleSoft (we're not even sure what to say about this one) is a next-generation integration platform that streamlines the countless software applications used by modern businesses. And though the company's namesake product sounds like a much-needed respite from an application overload, we're still pretty confused about what a donkey-horse crossbreed has to do with software.
Nuiku

The name of this virtual sales assistant platform is as innovative as the technology — so much so, in fact, that we're still trying to figure out what Nuiku means. This progressive smartphone application was designed to basically turn your salespeople into superheros (Nuiku's words, not ours). We wonder if capes cost extra or are included in your subscription?
Smarsh

Sure their company name might look like a typo, but the Smarsh product line is anything but accidental. The Portland-based business offers a range of communication archiving platforms that allow you to better organize and more easily manage electronic records of emails, instant messaging, social media participation and more.
SpearFysh

If the founders of SpearFysh took their favorite hobby, changed a letter to score bonus points for uniqueness and then made it the name of their new company, then we're totally on to them. Despite not quite grasping the connection between sales techniques and the aquatic activity, the SpearFysh platform incorporates an interesting take on sales data. With SpearFysh, you're able to translate sales-based communications into actionable knowledge through the platform's speech analytics engine.
Twilio

Maybe seeing/hearing the name Twilio makes you think of the word twirl, or perhaps the terrible vampire-ridden franchise that is Twilight. Either way, this cloud communications company likely has little to do with what the name reminds you of and everything to do with streamlining your various phone, VoIP and messaging applications into a powerful but uncluttered cloud API.
Woopra

We're convinced that the founders of Woopra chose this name simply because it sounds happy — and because it's fun to say. Although we have no idea how the funky title relates to any word even remotely relevant to analytics, Woopra's commitment to quality, data-based customer insights has us eager to shout 'woo!' (and then go recommend the platform to businesses who could use some help with their own websites).

Want to read more of our Dreamforce 2013 coverage? Check out our blog on the Business-Software team's Dreamforce expectations, and stay tuned for the other content we'll be posting throughout the week!