From the Community: Salesforce.com vs SugarCRM vs ACT!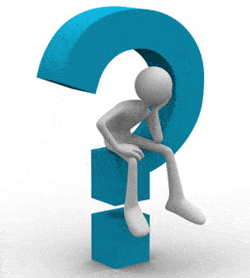 Join us for a detailed look at questions asked by members of the Business-Software.com Community. Today's question comes from Joe G., in Washington, D.C., who asked, "I'm considering upgrading to Sage ACT!—how does it compare to Salesforce.com and SugarCRM?"
Picking a CRM Solution
When it comes to evaluating CRM solutions, you'll quickly find that there's no one-size-fits-all product that stands above the competition. Instead, you have a market thickly saturated with vendors who all claim to do CRM better than their competitors. Additionally, there are loud voices coming from consumers and analysts offering contradictory advice on why one solution is better (or worse) than the next.
Ultimately, selecting a CRM package is a matter of understanding the requirements of your sales team, and determining what solution best facilitates—or enhances—your process. Evaluate different options based on price, delivery model, features, customization, ease-of-use, support, and integration, and rank these criteria based on their importance. Doing this will give you a starting point for differentiating between the myriad options available.
With that said, let us explore the ways in which ACT!, Salesforce.com, and SugarCRM are different, and how each could benefit your organization.

Feature Overview
SugarCRM is an open-source CRM solution for small, mid-sized, and enterprise organizations. It's built on an open source framework, and is easily the most customizable and flexible of the three options compared here. It offers users sales force automation, marketing features, and mobile and social compatibility. The SugarForge development community is a great source for add-ons, as well as support. The primary downside is that to truly capitalize on the flexibility of SugarCRM, you'll need the technical chops to customize it.
Salesforce.com Sales Cloud is an easy-to-use, robust cloud application that boasts more than 100,000 customers. Setup is simple, and the interface is intuitive. The AppExchange is a good source of social and sales applications developed by Salesforce.com partners that integrate with Sales Cloud. Of the three solutions discussed here, Sales Cloud offers the most extensive dashboard options for viewing CRM data. Though not quite as customizable as SugarCRM, there is leeway for user-customization. The primary downside cited by users of Sales Cloud is the steep subscription price.
Sage ACT! is one of the premier small business CRM and contact management products around. ACT! is easy to get started with, delivers a full set of CRM functionality, and integrates with Lotus Notes, Outlook, Word, and Excel. The software runs on the Windows operating system, so Mac users are out of luck.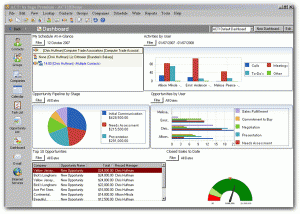 Delivery Model
Perhaps the most important differentiating factor among CRM solutions today is the delivery model—cloud vs. on-premise. The potential benefits of SaaS are lower up-front cost, no hardware maintenance, easy scalability, automated software updates, and employee mobility. Because cloud solutions require subscriptions, you're locked in to a monthly payment that over time could become tedious.
Salesforce.com is the grandfather of cloud CRM, and all of the company's solutions are offered via Software-as-a-Service. ACT! is traditionally an on-premise product, but Sage introduced a cloud version for users who prefer the flexibility afforded by on-demand applications. ACT! can be set up as SaaS through user servers, or by one of Sage's SaaS providers.
Flexibility is SugarCRM's MO, and all editions of the company's CRM can be deployed on premise or in the cloud. Deploy in the SugarCRM cloud, install it locally behind your company's firewall, host in a public cloud, or go with one of SugarCRM's partners.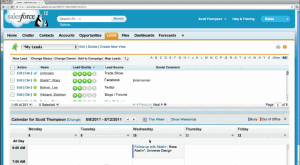 Pricing
Cloud CRM solutions are priced per user per month, whereas on-premise solutions such as ACT! can be purchased for a one-time license fee (also paid per user). Consider the size of your team as you evaluate the pricing options below.
SugarCRM Corporate, the most popular version of the company's CRM software, is available for $45/user/month, with full functionality and optional upgrades for support.
Salesforce.com is a step up in price. Its Professional edition is available for $65/user/month, and offers the full Sales Cloud CRM feature set. For $125/user/month you can get the Enterprise edition, which adds enhanced customization, analytics, integration, and more. Although you'll be making a payment each month for as long as you use Sales Cloud, you may find comfort in knowing that you'll always be on the latest version of the product.
Sage ACT! Pro is available for $269.99 per user, and supports up to 10 users. Premium can be purchased for $549.99 per user. Although a more significant up-front investment, ACT! could turn out to be much cheaper in the long term than either SugarCRM or Salesforce.com. The downside is that unlike Sales Cloud, upgrades are not automated, so five years down the road you might feel like you're using outdated software.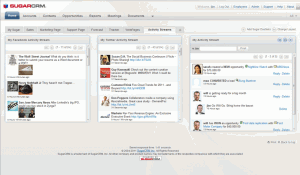 Summary
If you're an enterprise organization, you're probably better off going with SugarCRM or Salesforce.com. Between these two it's a matter of weighing cost and flexibility. SugarCRM is significantly cheaper than Salesforce.com, and it's also more flexible. The downside is that SugarCRM requires a minimum of five users, so for a small sales team it might not be an option. Salesforce.com may seem more attractive on the grounds that it's not open source—a characteristic that intimidates some users.
ACT! is truly a small business solution. It's not quite as flashy as SugarCRM or Salesforce.com, and it's not nearly as flexible or customizable, but it's a proven solution that supplies solid features for managing your contacts.
For more information and direct comparisons between other leading CRM systems, be sure to explore our Top 40 CRM Software report.
Our Top 40 CRM Software Vendor Report includes:
A detailed look at the Top 40 CRM vendors.
Highlights of the core strength of each vendor.
Key background information on each vendor.
Research on what CRM software is and how it can be used to improve your company.