Hearsay Social Helps Companies with their Biggest Challenge: Content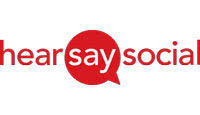 Having a first class social media strategy in place is all well and good, but it won't help you that much if you don't have the content to back it up. Unfortunately, most companies don't have the time and resources to constantly create new and original content, and so their feed grows stagnant. Fortunately, Hearsay Social, which helps enterprises that have large sales organizations and local store networks to maintain a consistent social media strategy across the country, recently debuted their new Content Exchange module—giving companies the ability to easily search, sort through, and discover content that they can then share through their social networks.
Content Exchange currently includes high quality content from media outlets such as Demand Media, Tribune Media Services, and Thomson Reuters—the first to enter into this partnership with Hearsay Social. Access to some content from these outlets is contingent upon licensing agreements with individual companies, but once your organization is signed up, it can easily share and republish thousands of articles, videos, and more from these services.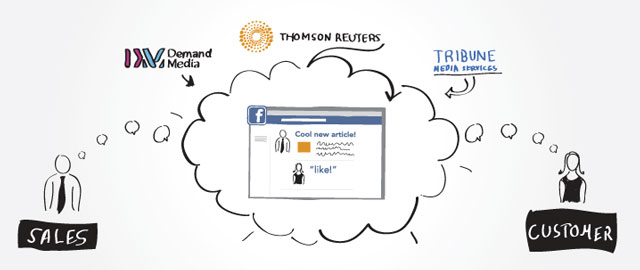 In their release, CEO Clara Shih said, "With 82% of online users accessing social networking sites, social marketing content has become a critical battleground in the quest for customer mindshare and brand differentiation." She's definitely right, especially given the fact that users can access content wherever they want, however they want, so the only thing differentiating your company's social feeds from the competition's is 1) whether you know how to effectively communicate to your followers on social media; 2) whether you have interesting, relevant content to your users; and 3) whether you're seen as an authority when it comes to content curation.
Where Content Exchange helps with the last two points, Hearsay Social as a whole assists enterprises with all the other aspects of social media management. In addition to the usual features such as profile creation, social media marketing, and sales, Hearsay Social also provides modules for compliance, support, and enterprise architecture. The platform's Social Media Compliance module is especially important for brands and companies as widespread as these since managing each local branch's use of social media would be a Herculean task without the proper regulatory tools. Rather than worrying about whether local stores and franchises are following company regulations on social media, Hearsay Social's Compliance Module ensures that your entire workforce across all networks and devices is up to speed on those regulations.
Their Enterprise Architecture module is another feature that really sets Hearsay Social apart. Most social media monitoring platforms are focused on the small business, which would generally have only one or two users logging into the application. Enterprises, on the other hand, will have entire teams of employees who need access to social media accounts, which makes security an issue. Fortunately, Hearsay Social takes that into account with single sign-on integration, quick deployment over vast geographical areas in a matter of weeks, and support for unique enterprise hierarchies, which allows an organization to apply different rules and reports based on business role, geographic structure, etc.
Hearsay Social boasts some pretty impressive clients, including Northwestern Mutual, Thrivent Financial, Farmers Insurance Group, and 24 Hour Fitness. Their customer base is focused primarily on financial services, retail, insurance, real estate, and direct sales, but I imagine that the platform could be easily customized to meet the needs of any organization.
For more, check out comparisons of the industry's leading social tools by downloading the Top 5 Social Monitoring Tools report.