Hot or Not: The Top 4 Team Collaboration Apps Reviewed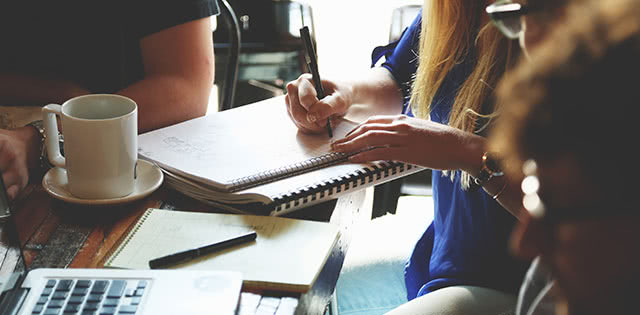 As a businessperson in the modern era, you likely cycle through a number of apps and solutions each day — corresponding with clients via email, chatting about a customer account in CRM, scheduling meetings and conference calls through a calendar app, sharing files via Dropbox or Box.
As fantastic as these various software tools can be, constantly switching between screens to perform such basic tasks quickly becomes irksome. Luckily, in typical tech fashion, there is now an app for that. Or, to be more accurate, there are quite a few apps for that.
Team collaboration and project management apps are surging in popularity as teams and businesses look toward software to solve their problem of too many software platforms. But which apps hold up to the hype, and which are quickly losing their luster? Read on to find out how we rate four of the most popular team collaboration apps around (in no particular order).

Slack

Founded in 2013 by four of the minds behind photo-sharing application Flickr, Slack offers one of the more comprehensive team collaboration apps currently available. From its social media–like feed to its drag-and-drop sharing, Slack ensures users can easily navigate the app to interact with teammates and exchange files and links.
Slack excels as a collaboration tool, with private groups, direct messaging and the ability to organize conversations into conveniently located channels. That being said, the app does not offer much by the way of actual project management tooling, making it more of a platform to centralize internal communication than a solution for overseeing projects.
Notable Features:
Integrate with dozens of platforms such as Asana, MailChimp, Twitter and Zendesk
Share images, PDFs, documents and spreadsheets
Receive notifications from integrated apps
Search archive with modifiers
The Verdict? Best for teams looking to streamline interactions.
Wrike

Wrike combines task management and collaborative communication to ensure teams and departments keep everyone in the loop. The platform allows users to easily review their own tasks as well as what others are doing, helping managers to assign balanced workloads and guaranteeing projects stay on track. Businesses can also connect Wrike to existing tools such as Twitter, Zendesk, a variety of file sharing solutions and other task management platforms.
Advanced functions such as the ability to transform emails into tasks and review performance via multiple report formats take this project tracking tool to the next level. Wrike does have a few areas of weakness, however, including a somewhat clunky navigational design and a lack of built-in chat or direct messaging.
Notable Features:
Track important projects right from your dashboard
Edit documents directly through app, no download required
Browse all current tasks assigned to you on a single screen
Share tasks and collaborate with individuals outside of your company
The Verdict? Ideal for companies seeking team-oriented project management.
Asana

Named after the Sanskrit word for 'yoga pose,' Asana employs functions such as an inbox of automated updates and advanced search tooling to help users maintain order. Additional handy features include guest access for easy collaboration and a tagging structure for teams to track ongoing projects on both a micro and macro level.
The latest edition of Asana offers a sleek interface with a three-column workspace that lets users quickly switch between projects and opt to view by tasks, calendar, files or project progression. It's worth noting that Asana's dashboard design does make the tool less mobile-friendly than other competitors, and the layout can also complicate project oversight for teams with a large number of in-progress projects.
Notable Features:
Integrates with Box, Slack, Evernote, JIRA, Github and others
Subscribe to projects and tasks to receive notifications on progress
Customize tasks with a scheduled date, assigned user, file attachments, tags and comments
Drag-and-drop task prioritization
The Verdict? Great for organizational-driven teams looking to oversee workflows and tasks.
Basecamp

One of the original tools developed for team-based project management, Basecamp remains a go-to for many small businesses looking to affordably track their tasks. The solution provides a relatively simplistic layout through which users can review projects, to-do items and relevant files to ensure the team is on track.
Basecamp offers a number of key features including project notifications, calendar views, an activity feed, task commenting, a search archive and email integration. Although adequate to solve basic project managing requirements, Basecamp's minimal design does complicate oversight of more advanced projects. In addition, some of the most valuable functionality within Basecamp is available only as an add-on with an additional fee.
Notable Features:
Integrates with numerous financial, file storage, app development and customer support applications
Visualize project timelines
Includes profiles of all users with photo and short bio
View condensed versions of discussions and archive older conversations
The Verdict? Perfect for small teams in need of basic project tracking.

Ready to start your team on the path toward more collaborative project management? When shopping solutions, be sure to consider the functions highlighted in our post on the 7 Must-Have Collaborative Project Management Features.
[Photo courtesy of Pexels.]