3 Powerful Collaborative Project Management Platforms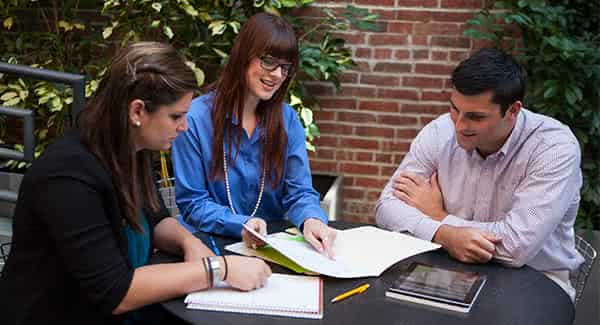 In yesterday's post, we outlined some of the key features that users desire from collaborative project management platforms. Today, we'll be introducing three robust software options that won't break the bank.

Let's Recap: What Is Collaborative Project Management?
Each year more companies are moving toward the open-air office. Bar-top tables stand where the conference room table once stood, sofas and bench-style seating serve as an alternate for cubicles, and collaboration reigns king over the "keep your head down" ways of the past.
In order to better serve companies that are using collaboration to empower their teams, project management software had to adapt to the change as well. These feature-rich platforms allow users to individually contribute or work in various group settings to cross off to-dos and accomplish goals. A variety of elements such as task management, file sharing and in-app communication enable managers and their teams to collectively align their focus, track progress and ultimately work as one well-oiled machine.
What's more, with the mobile revolution in full swing, the bigger collaborative project management tools have already released iOS and Android counterparts — which offer the ability to check-in and complete their tasks while on the go — fitting for the nearly 46 percent of companies that utilize virtual teams, according to a 2012 survey by the Society for Human Resource Management (SHRM).

What Are Some of My Options?
A quick Google search of "collaborative project management software" will result in multiple pages of platforms from companies based around the globe, each one promising to be better than the last. It's easy to get caught up in the creative writing cross-fire that is online advertising, which is why we've done the research and tested the platforms for you. Below are three powerful collaborative project management solutions that won't leave you with buyer's remorse:
Workboard

You may remember Workboard from our Behind the Software Q&A back in January 2015, when we had the opportunity to speak with CEO and co-founder Deidre Paknad about being one of the new kids on the project management block who's quickly making a name for themselves. Co-founded in 2013 by a former IBM executive, Workboard has gained traction in the Silicon Valley and beyond with big names like Marriott, Oracle and CrowdSource already on board.
Deidre and her team have created three options for using the Workboard platform, called Basic, Elite and Elite Group. The basic version, which is "Free Forever," offers a stellar project management application for an unlimited amount of users and is packed with dashboards, workstreams, action items and light reporting tools. For those looking for more reporting and analytics, it's recommended you look at the Elite level. At $50 per month per manager, the Elite membership serves up cascade goals, OKRs and KPIs, along with any other acronym you can think of for goal setting, tracking and reporting. Elite Group offers concierge services and discounted pricing for Elite level memberships for two or more managers.
The Workboard dashboard is clean, efficient and very easy to use. With an at-a-glance view of 'My Work,' users can see what they have due today or this week, and even review tasks that are past due or have been delegated to other team members. With an unlimited amount of Workstreams, managers can set individual project categories and goals, such as 'website redesign' or 'social media.' Organizational roles and hierarchies can be set within the application as well, which makes the automated progress reporting more effective.
Basecamp

Founded in 1999, Basecamp is the oldest project management application in this group. Previously called 37signals, the team behind the popular platform and its sibling counterparts rebranded and simplified their product line to focus on their core product in 2014. Basecamp has their sights set on everyone from the freelancer and the SMB to the multinational corporations — and boasts quite a few big-name customers like NASA, Twitter and Etsy.
Basecamp's pricing structure is set up differently than most of the other project management apps out there. Rather than a per-user or per-team plan, Basecamp sets pricing based on the number of overarching projects and corresponding data storage plan. The base level, offered at $20 per month, affords an unlimited amount of users 10 projects and three gigabytes of storage, while an annual unlimited package boasts up to 500 gigabytes of storage, priority support and an unlimited amount of projects for $3,000 per year. Between the two endcap packages lie multiple options, sure to fit any budget or data requirement.
With an aesthetically pleasing yet spartan user interface, Basecamp displays only what users need within that menu — making for a tactful experience and a very minimal learning curve. Projects are set up with discussions, to-do lists, files, text documents and an events calendar. To-do list tasks can be assigned to users working on the project, while others, such as managers or executive leaders, can be looped into the progress. Project updates can be sent to other team members' email inboxes; and responses to the email will automatically populate into the discussion thread. For users on the go, the Basecamp mobile app look and feel is very similar to the desktop version — making for a near seamless experience.
Redbooth

Founded in Barcelona in 2008 as Teambox, the company has since rebranded as Redbooth and opened its headquarters in Redwood City, California. The Redbooth executive team has extensive experience in the tech industry, with roots from Tripwire, Oracle, WebEx and more. The team behind the tool now seeks to offer both a collaborative project management application and a powerful communication tool for teams. Since being founded, the company has been backed by a respectable list of investors, in addition to high-profile customers, including Spotify, NVIDIA and Volkswagen.
Redbooth offers three levels to their platform: Professional for $5 per user per month, Business for $15 per user per month and a Private Cloud membership, hosted on your own local network. The Professional level will offer integrations with Google Drive, Dropbox and Evernote, while higher-level tiers include Outlook, Zendesk, MS Project and Box Enterprise. Additionally, there are improvements to support, onboarding and reporting as you enter the Business and Private Cloud levels.
With HD video calls and chat in group or one-on-one form, Redbooth brings an additional component to the collaborative workspace — allowing individuals and teams to work even closer. Much like web conferencing software, meetings can be scheduled or started immediately and are integrated to Google Calendar. The application itself is very modern feeling, with a monochromatic color scheme, icons and contrasting text. Adding tasks, sub-tasks and files is easy, although the lack of representation of sub-tasks directly under the tasks can be a little pesky when looking at a glance. It's important to note that Redbooth adds a feature to track time for each task directly within the app, which can be great for freelancers or those with billable hours.

How Do I Know Which Is Best for My Team?
There are hundreds, if not thousands of collaborative project management tools available today — and while the market is ever-changing, these are some of the strongest performers available that fit the productivity and budgetary needs of various teams. Before making a decision, take the time to list out your needs and desires in features and functionality, budget and integration requirements.
There's no need to worry about implementation, as most of these tools are web-based. Additionally, apps are available on both the iOS App Store and Google Play market, and require just an email login. For smaller teams, full implementation can take a matter of hours, whereas bigger teams will need some more time to organize projects, upload tasks and sort out hierarchies.
Take a few moments and play with each platform — it only takes a few minutes to establish an opinion, as these systems all offer small tutorials and an easy interface. With free trials available, managers or team members can explore the application before making a decision.

We Want to Hear from You!
Have you used Workboard, Basecamp or Redbooth before? Leave your comments and feedback on our Twitter or Facebook. If we missed your favorite collaborative project management app, send us a shoutout and let us know why it's the best!

[Photo courtesy of Hubspot]