How to be Part of the Mobile Revolution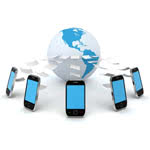 There are more phones sold than PCs. In the near future there will be many, many, many more phones sold than PCs. Also most of these phones will be smartphones. Tablets are also going to surpass PC sales in the coming years.
With so Many Mobile Phones and Tablets How Can the Telecom Industry Generate New Revenues?
The first thing to understand is what are people doing on their mobile. Any other industry would need to start doing surveys. However the telecom industry just needs to check their networks. This is the first possible new revenue stream. Big Data business intelligence about what mobile users are doing. Are they buying apps? From where? Are they using apps? Which ones? Are they browsing the web? Where? The data volumes are massive but the value is extremely high. Machine learning could be used to cluster different types of users. As soon as these clusters are big enough then it is possible to sell the data. The more precise the clustering, the higher the value.
If You Know What Customers Do, Then Help Them to Do It Better
Via opt-in it would be possible to actively help users. Recommendation based on similarity is possible: other users have "bought this app," "looked at this page," "subscribed to this service," etc. If successful then advertisement will generate revenues.
Enable Others to Accelerate the Mobile Revolution
What would an entrepreneur need to start a mobile business? Likely 80-90 percent of the needs are the same:
Find capital
Register a company
Find employees
Design a winning product strategy
Set-up a mobile presence (mobile portal, news, blog, etc.)
Develop mobile application or SaaS (user management, single sign-on, reporting, analytics, code versioning, etc.)
Test mobile application or SaaS
Deploy mobile application or SaaS to different stores.
Charge for in-app or content
Advertisement
Sales & campaign management
Accounting
Etc.

Be the restaurant, tool shop and hotel, next to the gold mine. Do not try to look for gold. Try to make money from the gold diggers. Provide enablement services.
What Would an Enterprise Need to Manage the Mobile Revolution?
Everybody brings their own smartphone and tablet to work. This can save the company millions in purchasing equipment but on the other hand costs a lot more money in management.
Enabling new devices to connect to enterprise resources
Securing access (storage encryption, single sign-on, etc.)
Monitoring usage
Mobilizing business processes
Helpdesk support
Etc.

Bring your own device (BYODaaS) and mobile business processes as a service (MBPaaS) are areas to focus on.
What Would Consumers Need From the Mobile Revolution?
Lots of things. Unfortunately consumers are already heavily catered for by Apple, Facebook and Google. Operators are likely to fail if they go in direct competition with over-the-top players. However operators also have a history of being difficult to work with, slow and greedy. There is no killer app. There are only some assets operators have that are still valuable:
Who calls who? (On iPhones and Androids this asset is becoming less valuable)
Free call forwarding (Lots of business models do not survive paid call forwarding, e.g. Voicemail in the Cloud, PBX for consumers, etc.)
Quality of Service (every day seems more like location. A big promise but at the end somebody else found a workaround.)
Micro-payments and micro-subscriptions (Visa, Google Wallet, Paypal & Square are heavily attacking this one.)
Identity (MSIDN is globally unique but OpenID/oAuth and other innovations are allowing Facebook and others to offer almost global identity)
Etc.

The number of unique assets is shrinking. It is now or never to make money with them.
Learn more about mobile device management by downloading our free Top 10 Mobile Device Management Software comparison report, or browse top MDM and other IT management solutions on our IT management resource center page.
[This post originally appeared on Telruptive and is republished with permission.]