MDM vs. EMM Software: Decoding the Acronyms
BYOD policy or not, your employees are likely using their smartphones and tablets at work. And while the thought of dozens of uncontrolled endpoints can easily prompt a panic attack in the IT department, today's enterprise mobility management solutions are worth celebrating. In fact, there are a variety of EMM software suites built to handle the unique problems mobile devices pose to businesses. The only question is, which solution is the best fit? We're here to help uncover the various solutions that comprise enterprise mobile management software.
EMM vs. MDM (And Other Mobile Management Acronyms)
Enterprise mobility management (EMM) refers to the way companies respond to the growing trend of utilizing mobile computing within a business context. As mobile devices continue to wedge deeper into employee's professional lives, companies must develop EMM strategies to meet the myriad concerns of mobile business computing. EMM software, therefore, helps businesses regulate company device usage.
As with many software segments, the acronyms surrounding enterprise mobility management and related solutions (MDM, TEM, MAM, etc.) are beyond confusing. If EMM software is a freshly baked pie, then each of the smaller segments are a slice of that pie, with specific characteristics that, when combined, make up the end-to-end solution that is enterprise mobility management. Here are some of the segments that are often grouped as part of larger EMM software suites.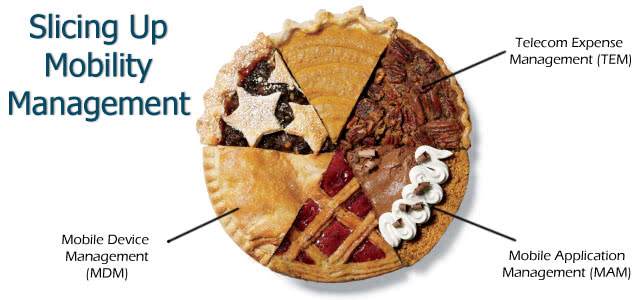 Mobile Device Management Software
Mobile device management software solutions were created as a way to—you guessed it—manage mobile devices and tablets. Some industry professionals claim that standalone MDM software is on the decline, since companies now seek a broader solution with more comprehensive functionality. Still, in 2013 mobile device management solutions accounted for more than half of EMM vendors' revenue.
MDM software ensures that mobile devices are kept secure and up to date. Typically, these solutions provide tools that allow IT staff members to remotely configure, wipe or lock devices from a centralized console. Companies also use MDM software to back up and restore devices, install software and troubleshoot problems. In a nutshell, MDM software is all about the device itself, not the applications or data that are on the device.
Mobile Application Management Solutions
While MDM is all about the device, MAM is all about the applications. As the name suggests, mobile application management (MAM) software is responsible for making sure that users can only access company-approved applications on their smartphone or tablet. Therefore, MAM solutions can update or remove apps from a device, and restrict usage within certain applications. This software provides application-level permissions, and often include application development platforms and tools.
Mobile application management solutions often offer containerization, which separates corporate data from personal data on the device. Containerization can protect corporate integrity, and is ideal for managing users who need a strict division between personal and business personas.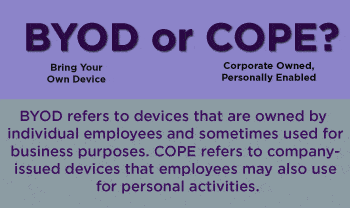 App wrapping is an alternative to containerization. With app wrapping (also known as sandboxing), fine-grained security policies are wrapped around specific, individual applications, allowing IT teams to add multiple layers of protection to any app. Like containerization, app wrapping protects corporate data and will not interfere with a user's personal applications. Both of these MAM features appease employees, since they ensure that companies aren't spying on their employees' personal activities. While MDM software protects a company's devices, MAM software protects the applications and data stored on each device.
Telecom Expense Management Software
While less common than MDM and MAM software, telecom expense management (TEM) solutions are a useful component to an enterprise's EMM strategy. TEM software automates the management of various mobile costs, such as data and wireless. These solutions offer fulfillment and provisioning tools, along with rate plan optimization. Invoice management and deep reporting and analytics help reduce telecommunication costs across the enterprise. This software is great for large businesses with large mobility costs.
Enterprise Mobility Management: Offering End-to-End Mobile Solutions
An MDM or MAM software solution can be great for small and midsize businesses with straightforward needs. Yet for larger businesses and companies with complex device usage, these one-off solutions just won't cut it. Big businesses need enterprise mobility management software to maintain and enforce the proper processes for safe device usage across the enterprise.
The best EMM software solutions will manage devices, control applications, offer containerization or app-wrapping solutions and automate expense management procedures. EMM software also manages connectivity, ensuring that employees can always use devices as the company intends. This comprehensive solution can handle the myriad needs these devices create, solving each problem from a centralized, all-in-one software application.
Ready to Find Software to Manage Your Company's Mobile Devices?
Now that you know more about the various types of mobility management solutions, it is time to choose the right software for your company. The first step, then, is determining what issues your company is currently facing.
Does your business need to control the applications on certain mobile devices?
Does the device itself need protection?
Are you worried about the security of data on personal devices?
Once you better understand your company's needs, you'll be able to determine the best solution, whether it's a comprehensive, end-to-end EMM software suite or a pared-down mobile device management software.
To find the mobile device management solution that's best for your company, download our free Top 10 Mobile Device Management Software report, and compare the leading solutions by pricing, key features and deployment models.
Photo Courtesy of Vernon Chan