How to Find Hidden Revenue in Your Contracts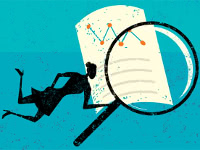 According to Gartner, more than 50% of companies this year stated that increasing sales effectiveness and efficiency was a primary business objective—and yours has probably done the same. But have you given contract administration the same attention? And if not, why?
Whether you realize it or not, there is a lot of money and opportunity hiding in your contracts, and the only way to find it is with effective contract management. Contract management is no longer just about risk mitigation, it's about revenue, so if you're not making contract management a priority, here's why you might want to consider making a change.
The revenue gained by enhanced transparency
Without the ability to evaluate the performance of individual contracts, or the ability to measure your entire contract portfolio quantitatively, you will always wonder if you're leaving money on the table—at least after reading this piece. From both buy-side and sell-side perspectives, contract management surfaces key data that brings immediate value to the table.
On the procurement side, there is considerable value in making your entire portfolio available in one system. Visibility enables your contract administrators to identify those contracts and agreements—such as maintenance agreements for shelved software—that cost you money with no return. (Want to find some extra cash? Stop paying invoices for services you aren't using!)
With the right tool, administrators can effectively review contracts, enable you to terminate ones you don't need, and put you in a position to negotiate a better rate for those you do need.
On the sell-side, there are even more benefits in enhanced contract transparency and exposure.  With the visibility provided by an effective contract management solution, your contract administrators can see any obligations and triggers that entitle you to additional revenue at a glance. Remember that $2 million spend commitment your customer agreed to, but didn't meet? No longer will that kind of waste go by unnoticed.
How to realize revenue gains with a proactive approach to contract management
Often when businesses talk about contract management, it's reactive and not proactive, as topics like compliance and risk mitigation aren't always top of mind for C-level sales executives. But contract management can be a proactive, strategic move—so here are some ways contract management empowers your contract team to become revenue generators for the organization.
Increasing productivity—If you have an administrator in the system actively hunting for revenue within your contracts, and then triaging that information to a sales rep, you can kick your sales reps off of that particular administrative task. Align work with expertise in this situation and the result is that both employees can bring in more revenue.
Streamlining workflows and processes—Beyond discovering hidden revenue, capturing metrics and key performance data allows administrators to find opportunities to reduce bottlenecks in processes, eliminate barriers between business units, and target training more effectively. Then, by standardizing workflows, you help employees get through work quicker and make the processes repeatable.
Shortening deal cycle time—After you've streamlined workflows, you can then standardize and configure dynamic scenarios to accommodate a wider range of tasks and processes. Doing this makes the processes repeatable, and it also eliminates inefficiencies that would have otherwise extended the time spent on a deal.
Want to sell contract management to IT? Here's how!
With improved transparency, insights, and productivity, a contract management solution will transform your contract administrators into a new source of revenue for your business. If you could stand to benefit from increased revenue, which every business can, perhaps it's time to sit down and chat with your IT leader. Before then, help yourself build a case for contract management and check out our beginner's guide to contract management.
Download our Top 10 Contract Lifecycle Management Software report for a free side-by-side comparison of top CLM solutions. Read more about CLM implementation on our Contract Management research center page.