Icertis Contract Management: An Exclusive Product Review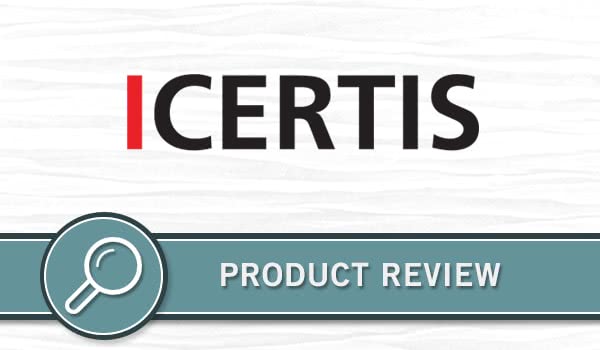 Properly managed contracts are vital for enterprises dealing with hundreds or thousands of agreements that pertain to customers, employees, partnerships, payments and beyond. Yet as valuable as a contract management solution can be, often the system ends up being cumbersome, confusing to navigate and difficult to implement across a multi-departmental or multi-location corporation.
Fortunately, contract lifecycle management vendor Icertis offers a standout solution with a flawless user experience. The Icertis Contract Management (ICM) platform provides a simple yet powerful system featuring a clean interface that eliminates clutter and guarantees a smooth, efficient implementation. With ICM, users are able to transform complex contract-related processes into easy-to-accomplish tasks by using readily accessible tools to create, edit, manage, approve and execute enterprise-level contracts.
Enterprise-Wide Contract Management
Icertis outshines many of its competitors with the platform's ability to manage all types of contract needs across the enterprise — including buy-side, sell-side, NDAs, service agreements and HR contracts — as well as pertinent metadata, workflows and other contract-related processes. Furthermore, ICM provides this robust functionality in role-based dashboards that reveal only the authorized activities and contract information relevant to the individual or role in question.
In the cleanly designed notification center, contract generation and execution is broken down into user-specific action items that enable team members to quickly identify their responsibilities regarding in-progress agreements. Elsewhere in the dashboard, users can review visual breakdowns of contract processes that display details such as the number of days since the last action was taken and whether the next step to be performed is external or internal.
In addition, Icertis provides comprehensive contract tooling without being overwhelming to use or clunky in appearance. The system makes creating a new agreement easy with drop-down menus that can be programmed via rule workflows to auto-populate templates and assignment details. Users building new agreements are also provided with a straightforward multi-step process that shows how close the contract is to execution.
The Microsoft Azure cloud-native solution can even process external documents, and integrates with Word, Excel and Outlook for a seamless contract workflow experience.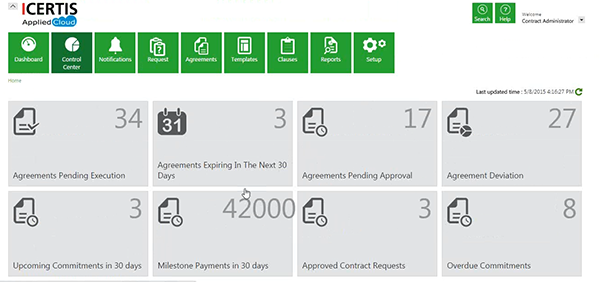 Risk and Compliance Control
One of the most impressive features within Icertis' contract solution is its built-in ability to detect additions, changes, deviations and other edits made to the agreement during the process — with notifications of said changes automatically submitted to the relevant user (be that the approval manager, contract creator, legal counsel or otherwise). Additionally, ICM can generate side-by-side comparisons of clause variations that allow the legal representative or contract manager to conveniently review deletions, additions and deviations for a specific document.
The platform also provides a time-stamped history of all alterations and actions relevant to a specific contract, ensuring every team member involved in the process can easily determine which user performed a specific action. The risk and compliance tools can even help enforce contract terms for discounts, prices, rebate calculations and other financial components.
Contract Analytics
Icertis offers advanced reporting capabilities specific to any number of contract characteristics, such as external party involved, contract amount, type of agreement, agreement duration and level of risk. Platform users can also drill down into details for a specific agreement or group of agreements for information on deviations, cycle times, sales metrics and status-based statistics (i.e. pending renewal, expiry date, etc.).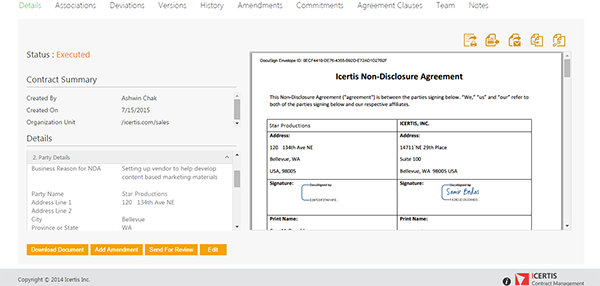 Final Verdict: Icertis Empowers Enterprises with Comprehensive Control of Contracts
With more than one million contracts managed, Icertis certainly understands an enterprise's contract lifecycle management needs, and has developed a product so uncomplicated it's guaranteed that users will always know how to perform each of their requisite tasks. Don't let the simplistic design deceive you though, as there's no question that ICM is capable of performing many complex and traditionally convoluted actions in the clearest, most efficient manner.
On top of providing an exceptional platform, Icertis takes contract management a step further with integrated tools for collaboration between team members and platform users as well as for external parties. ICM includes a handy collaboration portal where third parties can view pertinent documents, receive notifications of agreement changes and communicate about contracts in progress.
Lastly, ICM is fully integrable with ERP and CRM systems including Salesforce CRM, through which the Icertis platform can extract client codes and other details. Additional integration with DocuSign and EchoSign provides the added flexibility for all parties involved to sign documents virtually or physically, depending on contract terms and guidelines.
Visit www.icertis.com to learn more about Icertis Contract Management and schedule a product demo.

Check out other expert analyses like this Icertis exclusive product review by visiting the expert picks and reviews section of the Business-Software.com blog. When you're ready to compare solutions, you can also browse our FREE Top Contract Management Software Vendor Comparison Report.