Integrating Business Intelligence Into an ERP Implementation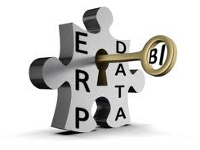 During the course of the most recent U.S. presidential election, the accuracy of quantitative data in polls of likely voters was a key talking point among political pundits and analysts. Much work has been devoted to dissecting the data, questioning the validity of the data and drawing meaningful conclusions. After all of that, however, no one really seemed to have any strong quantitative sense of who would win the election as Election Day drew closer. In fact, although the outcome of our election may be clear by the time this blog goes to press, I and most others had no idea who would win at the time I was writing this article.
Just like politics, businesses and other organizations crave better data and information to help guide both their strategic and their day-to-day decisions. Organizations across the globe have invested billions of dollars in their ERP systems over the last 20 years, but few of them have found effective ways to make sense of the reams of operational and financial data being gathered in the system. In addition, new regulations – such as Sarbanes-Oxley – require public companies to be more transparent in their financial reporting, which not all companies can readily achieve. Clearly, this is a pain point for many organizations, which is why ERP vendors such as SAP, Oracle and Microsoft have invested heavily in acquiring – or developing their own – business intelligence capabilities.
Given the increasing importance of data and business intelligence in modern ERP software, companies are leaning on their systems to provide this level of functionality. Here are three things to keep in mind when incorporating business intelligence into your ERP implementation:
Business intelligence is not the same as reporting. ERP systems have always provided decent levels of reporting. In the past, most of this information was fairly superficial and more focused on supporting transactions rather than analysis or decision-making. For example, a report of open purchase orders is a lot less meaningful than predictive analytics that estimate future purchasing needs. In order to effectively leverage business intelligence, companies need to look beyond fancy end-user reports. Instead, they need to understand how information is gathered in the system and transformed into meaningful decision-making tools. As a general rule of thumb, ERP vendors that provide business intelligence or business warehouse modules are more likely to provide this functionality.
Flexibility is key. Different organizations have different ways of analyzing and using data, especially those in different industries, and these needs evolve over time. Therefore, it is critical that companies look to flexible business intelligence solutions within their ERP systems. ERP systems that provide multiple ways of analyzing and presenting data are more likely to evolve with an organization as its needs evolve. In addition, they help organizations adapt to the power of available information as it is collected over time. Organizations also need to look for flexibility in terms of how data is delivered (e.g., traditional reports, executive dashboards, mobile applications, etc.).
Define business intelligence requirements. In order to accomplish the first two points above, organizations need to define requirements related to business intelligence. While traditional requirements focus on how transactional business processes should work, business intelligence requirements require an organizational definition from a different perspective. In addition to focusing on how work is completed, ERP project teams should also decide how information will be used and decisions will be made. For example, it is helpful to define how demand will be forecasted, how inventory decisions will be made, and other more analytical and decision-based processes. In addition to leveraging these requirements during the selection stage of a project, organizations should also use them to ensure that the ERP software incorporates these functions while being implemented.
These are just a few steps to help you incorporate business intelligence into your ERP implementation. While traditional ERP initiatives focus on automating operations, newer ERP implementations need to focus just as much on how information will be used. Business intelligence, data and predictive analytics are, in many ways, the holy grail of ERP implementations, so it is important to select and implement an ERP system that supports this potential.

Ready to shop ERP solutions with BI modules? Download our Top 20 ERP Software report to compare features, pricing and deployment models of leading ERP solutions. Or browse more resources on ERP implementation and other expert advice in our ERP resource center.
[This post originally appeared on Panorama Consulting's 360 ERP blog and is republished with permission.]