It's Still Rock and Roll to Me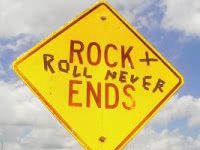 I gave a presentation recently to a new networking meeting, the Montreal Startup Breakfast Club. I talked about developing a content marketing strategy, and reviewed the rigorous methodology we have developed to govern our own internal content-marketing activities as well as those of clients. The novelty of using the term "content marketing" was evident to the people in the room and my presentation was well received, notwithstanding my explanation that I use this relatively new term to describe things I have been doing all my working life.
For example, I told the two dozen folks at breakfast yesterday, what is a daily newspaper if not a content-marketing platform? A newspaper develops what it hopes is original, high-quality content that it makes available for far less than what it costs to produce that content. The business plan says the content must attract an audience that can then be sold to advertisers. Setting aside for a moment the fact that newspapers as content-marketing platforms have not yet made a successful transition from their age-old, print-based model, they still sit as a perfect example of what marketers try to do with this approach — create high-value content that attracts an audience that can then be engaged to achieve organizational objectives.
The rise of content marketing as an umbrella term for a whole host of marketing activities is an example of how the terms, tools and techniques available to marketers might be in constant flux, with new things flying at us on an almost-daily basis, but the underlying fundamentals have barely changed a wit. Let me explain.
My presentation referenced all sorts of approaches and tools that simply didn't exist when I started my career, things we now take for granted, like websites, blogging, email campaigns, social media and so on. However, it also included tactical options that were around long before I entered the workforce, like media relations, three-dimensional direct mail, collateral and so on. And, most critically, it prescribed a methodology, a process for the development and implementation of a content-marketing strategy that I first developed more than two decades ago, long before the term content-marketing was coined, and that has needed only modest refinement through the 20 years of innovation, new channels and new technologies that have been introduced since.
As with everything I do in marketing, the development of a content-marketing strategy begins with the customer. What do your customers want and need by way of content? Where else can they get the information they need? What channels and sources do they turn to for this information? How do they behave on these channels?
As with everything I do in marketing, the next step is creating the right product — in this case, the right content. With content, the third step in my four-step marketing methodology — positioning and messaging — is intrinsically entwined in the product development since messaging is your product.
And the final step in the strategy development process is determining the right mix of tools and tactics, the appropriate levels of resources, and the analytics you're going to use to measure your success.
My point is that the tools at our disposal change all the time; the fundamentals remain constant. "You can't kill rock and roll," another old man used to sing, and you can't kill marketing fundamentals, this old man would intone.
Image: Plants are the Strangest People
Francis Moran and Associates is an associated team of seasoned practitioners of a number of different marketing disciplines, all of whom share a passion for technology and a proven record of driving revenue growth in markets across the globe. We work with B2B technology companies of all sizes and at every life stage and can engage as individuals or as a full team to provide quick counsel, a complete marketing strategy or the ongoing hands-on input of a virtual chief marketing officer.