Behind the Software: Q&A with Kaybus CEO Seenu Banda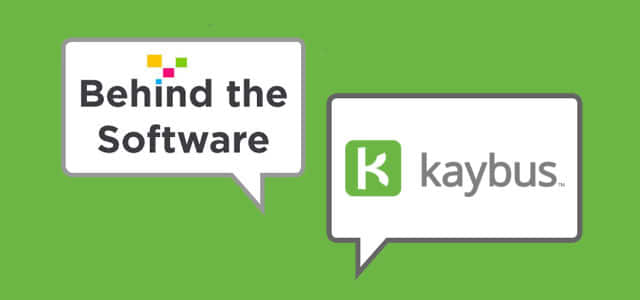 We've all heard the saying "Knowledge is power" — and in the business world that couldn't be more true. Knowledge comes in various forms, from marketing collateral and videos to big data and analytics. These nuggets of knowledge are captured and stored across an endless amount of data repositories around the world and are then used by companies by way of the executive, marketing, sales, operations teams, etc.
By providing users with a consumer-like enterprise platform that collects, organizes, identifies and recommends valuable data, the team at Kaybus moves to take knowledge management to a new level — what they call knowledge automation. In this Q&A with Kaybus we spoke with Seenu Banda, CEO, about the company's passion for delivering quality knowledge and its fast-growing appeal to customers since coming out of stealth mode.
Before we get started, why don't you tell us a little bit more about the founding of Kaybus? What exactly is knowledge automation and how do you feel a tool like this will benefit companies?
About the Company


WEBSITE: www.kaybus.com
LAUNCHED: 2012
HEADQUARTERS: San Francisco, CA
Kaybus was founded at the end of 2012, and we are now coming out of stealth mode about two years after getting started. In that time frame, we raised $11 million in venture capital. We have assembled some great talent, with half a dozen PhDs and highly selected technologists, to solve one particular problem.
We address this problem with what we call knowledge automation. The problem in the industry has been the following: with an abundance of information being created and changed nowadays, trends show that 90 percent of the information we have today was created in the last 48 months; and if we talk two years from now, we would say the same thing again.
With so much information being created by enterprises, the processes and tools we have today to make the information useful and usable for different job functions requires a lot of manual work, time and effort. The problem is that what worked a few years ago has changed, and will continue to change further – so it is like catching up with a train that is running faster than you. We will never do it.
We want to use technology to solve that problem — for the first time that includes gathering, analyzing and presenting the information that is being created and getting spread out across various repositories and hundreds of applications. We have the ability to automate and bring that knowledge and information into companies in an intelligent and highly usable format. That is what we call knowledge automation.
Knowledge automation is a completely new space in the software world — what did you feel was lacking in the existing marketplace that required developing this new category?
"It's a knowledge system in the sense that it connects the information from its origin all the way to the businesspeople who are using it."
Sometimes I say, just to be a little funny about it, "Kaybus is like a bus that takes information from its origin of creation all the way to the point of consumption, whereas the traditional knowledge management systems are more like bus stops, not a bus." In knowledge management systems, you put information into the knowledge base, you retrieve and use it; however, those knowledge management tools are passive and static and do not necessarily do anything by themselves.
Kaybus is fundamentally different. It's a knowledge system in the sense that it connects the information from its origin all the way to the businesspeople who are using it. If you are using the system for sales purposes, it helps to improve sales performance and sales effectiveness by making information so easily available to the sales staff and customer. If you are a service professional, the most trusted information is brought in, in such an effective way that it is effortless to find the answers you need to support your customers, and so on.
It is not any one of these features that makes it a better search, database or information population tool. It's a whole lot more. It is about the ability to harvest the information the organization has collected and put it behind the highly specific purpose to achieve better results. That is our method with Kaybus.
How is all of this content harvested and collected by Kaybus?
Kaybus can easily be described in three primary modules. We call them Morph, Match and Measure. Morphing is a set of functions and tools that connect to various repositories such as Box, SharePoint and Salesforce. Kaybus connects to these repositories so that information is brought in and turned into usable knowledge.
We use some natural language processing and curation technologies to provide a YouTube or Netflix-like recommendation of material. The process makes knowledge easily discoverable; you don't need to be smart about how to search, because Kaybus does it for you. With Morph, amassing the right information is very achievable, while providing a consumer-like presentation to the user.
Once we have gathered the information from outer repositories, we want to be very specific in matching the right knowledge to the right user. Whether the user is searching for something or they are involved in a certain task, the information will find them and present itself when appropriate. In a similar way, it is very similar to how YouTube may naturally present users with recommended videos.
The third module is broad and perhaps the most strategic for Kaybus; and that is what we call Measure. We measure the result of how the knowledge is presented to the users and the impact on their business results. The system helps business leaders by offering a complete overview with the ability to show their primary staff the impact on bottom line, inefficiencies, what knowledge is being utilized and what actions should be taken to better impact their business results.
Putting those three things together, Morph, Match and Measure will enable enterprises that use Kaybus to fundamentally impact their sales, service and marketing functions.
What are the three most valuable features within the Kaybus platform?
There is a significant set of functions within the three modules we discussed. Number one is the consumerization of the whole knowledge functionality. What do we mean by that? A number of people within an enterprise are accustomed to using sophisticated and easy-to-use applications outside of the business environment. Applications such as Facebook, Google and Uber differ from the enterprise systems that are complicated, very ineffective and inefficient.
Kaybus makes highly sophisticated enterprise knowledge functions available in a consumer-type, intuitive user interface. Our state-of-the-art user experience is as good as many consumer solutions, if not better. This will demystify how a worker might be able to find information and how to use it for the right purpose.
The second feature is, as we describe it, knowledge information. Almost 70 percent of the information within a company is not actually usable or useful for people in sales, service and operations. Kaybus will gather all the scattered information that is available in the enterprise and format it appropriately to make it readily available to the users. This feature is putting almost three times more information at work for you, with four times the efficiency.
The third feature that we are quite excited about is the analytics portion of knowledge usage. Analysis is important to discover how the knowledge actually impacts the business. What do our sales people need? How can we help them free up almost an hour and half a day in searching for, filtering and trying to use information? How can we make their life easier and more productive? The analytics feature will help business leaders stay dynamic, and tuned in to their business practices and profit.
As of now, your company website lists Kaybus as a solution for Marketing, Sales and Customer Service teams. Why start with these three areas of the business? Do you foresee other teams adopting the technology in the future?
"With this straightforward application, teams can start using [Kaybus] in a highly contained, ready-to-use format in less than two weeks."
What's very interesting is almost every CIO we talked to is frustrated with increasingly growing and scattered repositories, with an average of 400-plus applications trying to use these silos of information. Kaybus actually has a very fundamental benefit to bring to the enterprises, and that is eliminating the chaos and clutter — taking advantage of all these different silos.
As we help enterprises start using Kaybus, we give them the prospect of a highly desired and readily available set of features, in the areas of sales, service and marketing. For example, an enterprise can get started using Kaybus within one department, such as sales, and the salesperson can view and be on top of all the knowledge they need without any effort.
With this straightforward application, teams can start using it in a highly contained, ready-to-use format in less than two weeks. As the user base expands, the full capabilities of Kaybus come forth to bear fruit for the enterprise with information that can be purposed for the service, marketing, operations and engineering teams. The general capabilities we talked about are applicable to almost all departments that use knowledge within an enterprise; however, we have to be very strategic and very helpful to the enterprise, and we do that by making it easy to get started in the sales, service and marketing areas.
As you mentioned earlier, Kaybus has only been out of Stealth Mode since mid-February, raising $11M in funding and featuring a handful of technology and communications customers in the Silicon Valley – What do you attribute to the acceptance and early adoption of the tool in such a competitive location?
The answer I think is actually pretty straightforward. The need that we are trying to address is quite fundamental and quite common across various enterprises. The trends that are helping us to be highly relevant and gain quick acceptance include the growing problem of scattered information, the number of repositories that are turning into silos of knowledge bases and applications that are unsustainable from an IT point of view. We have been able to build something in a couple of years that can have a fundamental impact on the enterprises.
As a relatively new company, what are some of the challenges or hurdles you've encountered in the past year?
"We hope to scale very quickly and build highly practical, mature solutions in order to help our customers."
The industry has been very hot, so to speak, in the Silicon Valley. In the past two years, a challenge we've faced has been fighting with everyone for hiring quality talent. We're not concerned about the number of engineers we can recruit; we are concerned about recruiting experts on the subject matter. We hope to scale very quickly and build highly practical, mature solutions much faster than we used to be able to, in order to help our customers. That is basically the challenge.
Looking to the future of Kaybus, are there any new capabilities users can expect in 2015?
In 2015, we expect the initial solution that we are deploying in sales, service and marketing to grow to a stage of influencing the IT department within the enterprise. We are making it easy for CIOs and IT infrastructure teams to grow their capabilities as easily as an end user might be able to use knowledge and access information. How can they connect one more repository, and how can they make knowledge more discoverable in a particular way?
This is what is going to come out in 2015, and I believe Kaybus will not be the only one trying to solve these problems, as they are quite big. We'll be one of the ones pioneering some of this functionality in the knowledge automation segment.
Lastly, where do you see the segment as a whole heading in the coming year and how do you foresee Kaybus growing with that segment as a leader?
I see that knowledge automation has to be a segment of itself. As the segment grows in size and popularity, people may want to tweak it this way or that way, but there is no better place to keep all the knowledge. Knowledge automation will grow to be a kind of umbrella for several individual automation platforms, such as sales and marketing automation.
Knowledge automation is going to evolve as a collective segment as well as sub-segments where knowledge automation will impact all these functions.

Check out our other Behind the Software exclusive interviews by visiting the Business-Software.com blog homepage.