Key Players in Enterprise Social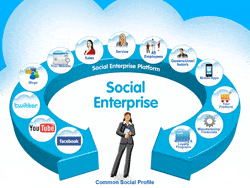 Recent weeks have seen considerable consolidation in the social software space as large companies like Oracle and Microsoft attempt to keep pace with the their more agile competitors.
Last week we overviewed the fast-evolving enterprise social market in our blog post, Enterprise Social: A Primer. Today we look at vendors who are pushing the segment forward with their innovative and widely adopted solutions for enterprise social networking and collaboration.

Let's begin with Microsoft. The software giant's recent $1.2B acquisition of enterprise social networking pioneer Yammer last week has brought issues of social strategy to the forefront of the business software conversation. Although a leader in collaboration and productivity software, Microsoft hasn't yet delivered a true enterprise social product. Analysts contend that Yammer could be the glue that binds Microsoft's disparate, unconnected offerings, and provide a much-needed social component to the Office suite of products. At this stage Microsoft intends to leave Yammer as a standalone social platform that will operate alongside its Sharepoint, Office 365, Dynamics, and Skype product suites. Current users of Microsoft products can expect to benefit from added social functionality as the company integrates Yammer in the coming months.

Palo Alto-based Jive Software competes at the forefront of the enterprise social market with its flagship product Jive Engage. Jive Engage is a fully-featured social platform that integrates microblogging, social networking, wikis, online communities, blogging, discussion, and instant messaging into one central application. All the information that users create in Jive is easily accessible through search, which enhances corporate knowledge management and improves access to information. Jive had its IPO at the end of 2011, raising a better-than-expected $161.3M. According to research firm IDC, Jive had the second highest share of the enterprise social market in 2011 at 8.5%, behind IBM.

For some, the name "IBM" conjures images of the boxy, yellowed, and archaic PCs of a bygone era. Though for a company with a reputation of being a thing of the past, IBM has reigned as undisputed leader in the forward-looking arena of enterprise social. Earlier this month IDC identified IBM Connections as the market leader in enterprise social for the third year running, bringing in $105.4M in revenue for 2011. The cross-platform Enterprise 2.0 application provides a full suite of social networking components that are managed through personal, customizable Homepages. Additional features include file sharing, and plug-ins for integration with popular IBM, Microsoft, and mobile applications.

Founded in 2004 and operating out of its Dallas, Texas, headquarters, Telligent Systems is an enterprise collaboration and community software company that builds its products on the .NET and SQL Server platform. The company's chief product is Telligent Community, a social solution for support, interactive marketing, and associations. Used by companies including Dell, Microsoft, and Cadbury, Telligent Community is designed to help organizations build customer-facing communities that enhance brand image, foster customer engagement, and add relevance to customer communications. Of course in addition to Community, Telligent offers an employee-facing enterprise networking solution called Telligent Enterprise, which like Community runs on the Telligent Evolution platform.
Fervent cloud computing advocate and CRM software leader Salesforce.com is also a major player in enterprise social. In June 2010 the company launched Chatter, an on-demand enterprise collaboration platform based around a real-time news stream that coworkers can use to broadcast information, and receive updates about projects, customers, or whatever else community members find relevant or interesting. Chatter users can interact by creating groups or posting messages on personal profiles—a ubiquitous feature of enterprise social networking. According to Salesforce.com, 150,000 companies are using chatter, which is a testament to the company's reach.

Cited by Gartner in 2011 as a challenger in its Magic Quadrant for Social Software in the Workplace, OpenText is battling it out with the market leaders with its OpenText Social Workplace (OTSW) software. OTSW was designed with the purpose of enabling users to create teams, easily identify expertise within an organization, and build on prior work. Not merely a cute workplace "Facebook" with "Twitter-like" functionality, OTSW aims to replicate how people work in the real world, but to do so with the added advantages of online collaboration. OTSW is about bringing people together, sharing knowledge and resources, and delivering impactful results.
Looking for more information on enterprise social networks and solutions? Browse our collection of enterprise social blog posts and product reviews on the community forum research center page. To compare the leading community forum platforms, download the free Top 10 Forum and Community Platforms report.