Mini-Series: My Take On Managing a (Partially) Remote Team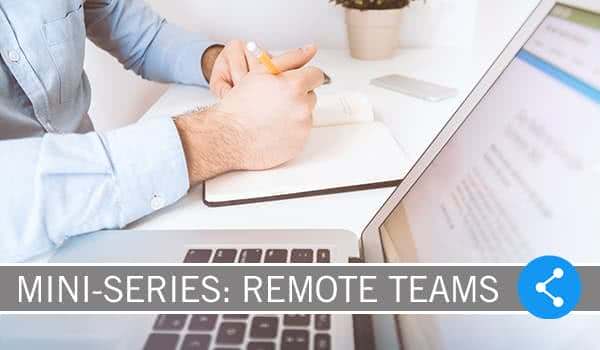 Allow me to preface this post by saying that I have only been managing a (partially) remote team for about six months. While the dust of the transition is still settling, I can say that we've safely made it through the hard part of the change — and that's where my insight comes from.
Our team had always been chained to the office environment — but when circumstances arose last fall for one of our rockstars to leave the Bay Area, we knew that had to change. The cloud, which we write about so often, instantly became our best friend and digital tools swapped out our tactile methods for doing business. We only had about two weeks to identify, re-work and implement the necessary changes before Erin would be back online — now 650 miles away.
The list of benefits for remote employees is practically limitless. Whether it's a sense of freedom and autonomy that can be lacking in a corporate office, the void of office-place distractions or the ability to listen to music without one earbud dangling, 91% of respondents of a recent survey claim to feel more productive outside the office's four walls. Having very recently made the transition to being a remote employee myself, I can say that I agree with the 91% most of the time.
It's not all rainbows and Unicorns
You know the old saying, "There's a fine line between love and hate"? Well I think whoever said it was talking about remote workplaces. You see, when things are good — it's heavenly; but when things are bad, it's hell. While it appears remote workers give up the in-office distractions, they're actually trading them for an entirely new set. Coffee shops, co-working spaces and residences all have their share of noises, tasks and triggers — nevermind the challenge of completing one's work without the physical presence of management.
Overseeing a team that is equally split between in-house and out in the world is no easy feat. Quick roundtables, brainstorms and check-ins become more difficult, as you lose out on the "in-the-moment" style meetings for favor of those that are mutually scheduled. Balancing workload, communication and task management can become quite elusive, which is why it's critical to enlist the help of modern technology. This combination of tools, methods and practices have helped me lead with confidence and ease, despite being away from my team.
Here's what's helped my team:
Google Apps
There's no shortage of companies that stand behind Google Apps, and for good reason. The suite of tools allows teams to utilize email, chat, calendar, video conferencing, storage and more at a minimal monthly cost. My team is using the new Google Meet to get together for weekly calls. Video call quality is great, as is the ability to present my screen to participants.
MeisterTask
Last fall, I found MeisterTask while searching for a task and project management tool that was comprehensive and powerful, but also very easy to use. I wanted a product that felt organic to use, not like added work. While I haven't fallen head over heels with the reporting and analytics, the day-to-day use for time tracking, project status and collaboration is a step above the competition.
Unlimited mobile-to-mobile calling
Chat boxes are great, especially for the generation that prefers texting to any other form of communication — but sometimes a conversation warrants a phone call. Whether it's to discuss a project, workplace drama or a good old fashioned vent sesh — you'll want to have your teammates (and your work-wife/husband) saved on speed dial.
Regular in-person visits
Not even crystal clear video calls can substitute face-to-face communication forever. We try to work from headquarters for a week or so every quarter at least. Being able to interact with other teams, strategize with senior leadership and enjoy company lunches together helps foster employee engagement and company morale.
Expletives
While seemingly unconventional to recommend to a business-person — sometimes the you-know-what hits the fan. We've experienced internet outages, dead mics on conference calls and even mini travel disasters — and in the moment, a good shout to the sky helps burn off some of that tension. If you're not already a believer, give it a shot the next time something goes awry (just do so away from HR!)
Considering the move to a remote office?
Before making the decision to pursue a remote environment, I urge you to look at the impact from all facets. You've read my take on managing a remote (or even partially remote) team, but what about the viewpoint of the remote worker — and their day-to-day struggles, or perhaps the employee that hangs back and represents the team to the rest of the in-house staff. Remote work appears to be the way we're headed in the business world — it's advised to invest the time now in preparing for the future, rather than playing catch-up.
Do you think that we have the best grasp on how to manage the shift, or the suite of technology to see it through successfully? Let us know your thoughts on Twitter or Facebook!