Marketers Continue To Struggle With Big Data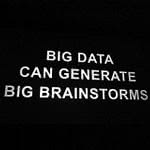 It would appear marketers the world over are collectively losing sleep over one thing: who will win the Oscar for Best Picture. I kid. Just wanted to see if you were paying attention.
No, what I am referring to is that two word phrase that is surely on the agenda of many a marketing meeting from sea to shining sea. A two-word phrase that marketers concern themselves with all the live-long day or at least a significant part of their day: Big Data.
And depending on who you listen to and/or believe, either marketers are handling their new-found wealth of prodigious piles of information quite well and are using insights gleaned from the data to their benefit or, quite simply they are not.
The headline of a recent article on Harvard Business Review: Marketers Flunk the Big Data Test. The article references a study done by CEB of nearly 800 marketers at Fortune 1000 companies which revealed that "the vast majority of marketers still rely too much on intuition—while the few who do use data aggressively for the most part do it badly."
The study also revealed:
On average only 11 percent of the decisions marketers make when it comes to consumers is based on data
Over 50 percent of the marketers surveyed said they rely on past experienced and/or their intuition to make decisions
In a list of what they rely on to make decisions, marketers listed data dead last after engaging with their co-workers, seeking expert advice and data last on their list — trailing conversations with managers and colleagues, expert advice and one-off customer interactions.

But is using your gut necessarily a bad thing? I can tell you as one who has worked the "marketing" side of the aisle, trusting my gut instincts has served me well. Christa Carone, the CMO of Xerox, believes there should be a happy medium and there's nothing wrong with trusting your gut.
"I wouldn't want to give up the data that helps us make fact-based decisions quickly. But I fear that marketers' access to and obsession with measuring everything takes away from the business of real marketing," she told me recently. "It's impossible to measure 'squishier' meaningful intangibles, such as human emotion, personal connection and the occasional 'ahhhh' moment. Those things often come with a marketer's intuition, and they deliver big-time. To me, this means trust your gut even as you're trying to embrace Big Data."
Could not agree with her more. There is no way to tell what someone is thinking or feeling. That does not show up on Google Analytics, at least not yet. A good marketer will know his/her audience and be able to not only use the data that is available to them but also integrate their personal experiences and knowledge into their decision-making.
Tsunami of Data
That's the phrase Acxiom CMO Tim Suther used when I spoke to him earlier this year for a piece I wrote for CMO.com entitled How To Rein In The Riches Of Big Data. And he of course was spot on for marketers, whether they choose to believe it or are even aware of it, are faced with a seemingly endless amount of data and as Suther puts it "the best companies and brands will be those who do a better job of controlling it."
And speaking of awareness or in this case, lack of it–from a recent eMarketer article: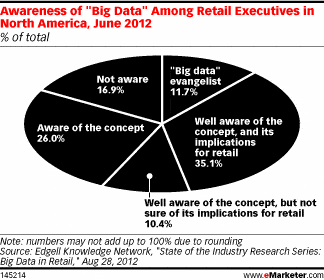 The writer of the article chose to look at the positive side, writing "only 17 percent were unaware of the concept of Big Data."
To me, I look at it from the complete opposite perspective and believe 17 percent who were unaware of Big Data is 17 percent too many. Now I will admit I do not know who these retail executives were that were surveyed but how in the world can they not know about Big Data at this point in time?
Have they been out of the office for a few days, months, years? C'mon boys and girls, this is the big time, this is Big Data. I understand there are concerns about how to handle the data, what to do with the data and so on but the fact remains marketers – from ALL industries, have a tremendous opportunity to increase their bottom line significantly.
A recent Oracle survey of of North American retail executives showed that nine in 10 thought a failure to capitalize on the benefits offered by data translated to lost revenues.
Exactly my point.
As for how to use the data, Carone believes in not over-complicating things but rather taking a "simpler approach to aggregating the data and mining practical insights from the data." She says marketers need what she describes as "more elegant interfaces" that can bring all the data together to deliver those much sought after "aha" moments that "really influence marketing strategies and spend."
Sources: eMarketer, CMO.com, Forbes

Want to read more insider-perspective posts on marketing techniques and big data? Check out our marketing resource center for additional marketing content such as best-practice tips and advice for implementation. Or browse our entire archive of tips and advice from software industry experts by visiting the Industry Insights section of the Business-Software.com blog.