Does Microsoft Office 365 for Nonprofits Meet Your Donor Management Needs?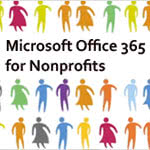 Welcome to Business-Software.com's Nonprofit Week special! Connect with us on Twitter or Facebook to continue the conversation and receive updates on other exclusive Business-Software.com series and events.
Last month marked the launch of Microsoft's Office 365 for Nonprofits donation program, sending not-for-profits everywhere scrambling to sign up for free editions of leading Microsoft solutions. As commendable as the software giant's donation program is, we couldn't help but ponder the all-important question: Can Microsoft Office 365 really meet the donor management needs of NPOs?
Microsoft's Foray Into the Nonprofit Sector
By now the majority of computer users are familiar with the Windows Office platform, having employed it at one point or another to create documents, compile data or build presentation slides, among other tasks. It's also common knowledge that the Office suite of products is great for a variety of daily workplace activities, capable of being manipulated in countless ways to meet particular documentation needs. But with the company's growing momentum behind its not-for-profit version, it seemed time to realistically evaluate the platform as a solution for NPOs.
As any nonprofit director or board member knows, philanthropies require an assortment of financial, marketing and client relationship management capabilities that can be difficult to find in a single software system. And with our Nonprofit Week of content addressing the specialized software demands of NPOs, we were admittedly curious about how Microsoft Office's charitable product would handle all-important nonprofit tasks like donor tracking and fundraising.
The Pros: Where Office 365 for Nonprofits Shines
The nonprofit edition of Office 365 excels at a number of features that would come in handy in the bustling environment of a nonprofit, including communication and sharing features, mobile capabilities and security strengths.
Connectivity – Microsoft Office for Nonprofits offers a robust suite of communication tools, allowing team members to stay connected with one another as well as with constituents. A consolidated contact card centralizes social updates and provides one-click access to chat functions, while multi-party conferencing tools ensure your network members remain in sync. The platform's correspondence features can be particularly helpful for charities with part-time staffers or other instances where employees want to stay in touch while in different locations.
Sharing – The online document storage feature lets you share files with others, including constituents and other individuals outside of the organization. Because the function also syncs with your PC for offline access, you can easily review updates and revisions made by others, even when your network connection is off. Other sharing capabilities include adding comments to documents, a newsfeed that streams all relevant updates and team sites to centralize document creation and revisions.
Mobility – Included access to Office Web Apps makes it incredibly easy for you to alter documents, presentations, spreadsheets and more on the go. With the virtual Office feature, you can edit and share versions via the mobile device–optimized applications — another useful function for a small nonprofit with members who work part time or from home.
Sizing – The option to choose from a few different plans (all specific to the nonprofit sector, mind you) is of great value for charities. Often nonprofits of different ages have needs unique to their size and whether they're growing, just starting or already grown. The ability to choose between an Enterprise E1 for Nonprofits edition and and Enterprise E3 edition provides NPOs with more flexible options than many nonprofit software solutions offer. Microsoft plans to introduce two additional not-for-profit plans as well, Office 365 Small Business and Small Business Premium for Nonprofits.
Security – With a robust suite of backup and security elements, Microsoft Office takes care to protect your organization's data. Anti-spam and anti-malware functions help deflect potential threats, continuous backups work to assure data security and disaster recovery capabilities protect against technological glitches.
Of course Microsoft Office has another advantage going for it: the trusty platform has been around for a number of years and is easily one of the most recognizable products on market. With Office 365 for Nonprofits acting as a reincarnation of the original suite, the software will likely be an attractive option for startup nonprofit organizations who want a low-hassle solution.
Not to mention the whole freebie incentive thing they've got going on.
The Cons: Office 365 Doesn't Hold a Candle to Your Nonprofit Fundraising and Donor Management Systems
Unfortunately for some NPOs, the allure of free Microsoft software could prove harmful in the long run. Despite offering a number of tools and functions that charitable organizations might find valuable, Office 365 for Nonprofits simply doesn't cover the extensive range of activities that not-for-profits perform.
As beneficial as the features above may be, a nonprofit that implements Microsoft's product will likely end up with a jerry-rigged solution. The product provides no efficient way to track gifts, grants, donors and the like, unless you're willing to spend all of your time in Excel. In terms of industry-specific features such as fund accounting, a donor database and communication tracking, Office for Nonprofits lacks the tools necessary to properly manage and streamline these workflows.
Despite the availability of cool tools and the allure of free software, Microsoft's nonprofit platform just doesn't compare to the industry products on market. There's also the fact that many of the leading donor management systems such as DonorSnap and Little Green Light offer affordable pricing plans for small nonprofit organizations.
Our vote: If your NPO needs or anticipates needing the specialized features for proper management of nonprofit-related activities and workflows, we recommend you skip the Microsoft Office freebie and invest in one of the solutions designed specifically for charities. To be honest, there's really nothing nonprofit-specific about the special edition of Office. It's a great add-on, but ultimately doesn't replace any of the functions you would find in a donor management or nonprofit accounting solution. Yet at $4.50 per user per month, the Enterprise E3 nonprofit edition could prove valuable for a startup NPO willing to use Microsoft's general spreadsheet and document modules.
Check out all of our Nonprofit Week content in the Nonprofit section of our blog!