Mobile Business Apps: SugarSync Cloud Sync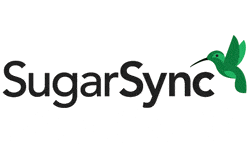 Everyone has a trick for making files accessible on multiple devices. You may e-mail a document to yourself, upload it to GoogleDocs, or drag it into Dropbox for later reference. But what happens when you forget to share a file with yourself before leaving the office, or find yourself needing access that you couldn't have predicted?
SugarSync is a cloud file sync, online backup, and file sharing service that addresses the need for mobile file access with its Personal Cloud service. SugarSync has been doing cloud data sync since the company was founded in 2004, and it has received accolades from the likes of Bloomberg, The Wall Street Journal and Time magazine. Far from a middling startup, SugarSync has raised $26.5 million in venture funding since 2005, giving the company the freedom and resources to polish its intuitive, flexible product.
Start Syncing
Getting started with SugarSync is easy. Download the free app on your phone or install the client on any device you'd like to sync. The first time you download SugarSync you'll create an account, and for any subsequent device you simply log in. Part of the beauty of SugarSync is its compatibility with a broad range of devices—iPhone, iPad, Android, BlackBerry, Symbian, and Windows Mobile devices are all supported, as are Windows and Mac computers. This means there's no need to fret if you're a Windows person at work, a Mac person at home, and a BlackBerry person on the go.
During setup on each device you'll have the option to name that device and select an icon to represent it the SugarSync manager. All your synced folders across devices are managed from a central menu that is consistent in look and usability across platforms. The setup process is incredibly easy, and offers a short walkthrough to make getting started even easier. Once you've installed the client software, add and manage synced folders through the SugarSync icon your system tray or menu bar. SugarSync creates a "Magic Briefcase" folder on each of your devices and automatically syncs them, which is a bit unnecessary given how easy it is to customize your syncing preferences.
What Can It Do?
If you're wondering who stands to benefit most from SugarSync, it's anyone who works on multiple devices, travels, or collaborates. With SugarSync you get remote access to your data—whether it's spreadsheets, PDFs, Word docs, photos, music, etc.— from your mobile phone, tablet, PC or Web browser. You get continuous, automated online backup of your data in a secure Personal Cloud, which is accessible from any Web browser. When there's no need to schedule backups, you can be confident that your files will be available no matter where you are.
More than just a data syncing and backup service, SugarSync is a great tool for collaboration. Give a group of people access to a synced folder, and any change made to a file within that folder will be automatically synced as soon as it's saved. Simple file sharing is also easy with SugarSync. You can share files via social media, e-mail, IM, or your blog. On the receiving end, there is no registration required. You just need to click the link and you'll see the most recent version of that file.
SugarSync: Final Thoughts
SugarSync is not purely a mobile app, but it facilitates mobility by eliminating the feeling of "being away." There are so many apps out there that purport to enhance productivity but end up being more of a burden than a timesaver. SugarSync is not one of these apps, and that becomes evident soon after download.
One of the first things that people new to SugarSync want to know is, "Is it better than Dropbox?" Although similar in many respects, SugarSync has a few features that separate it from Dropbox. For one, SugarSync's free option provides more than double the storage space of Dropbox, with room for unlimited storage bonuses through referrals. Second, and in most significant, with SugarSync you can sync any file or folder on your device. There's no equivalent "Dropbox" into which files must be dragged. In fact, you could even use SugarSync to back up your Dropbox folder, which would be a good start for anyone interested in making the transition.
SugarSync is free for users requiring up to 5GB of storage space. Pricing plans range from 30GB ($4.99 monthly and $49.99 yearly) to 250GB ($24.99 monthly and $249.99 yearly). All paid plans can be tested out free for the first 30 days. Happy syncing!
Want to read more on mobile business apps? Learn more about the best ways to manage your mobile apps by checking out our exclusive top 10 report on mobile device management software.