Behind the Software Q&A with tibbr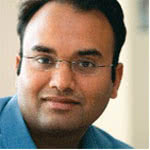 With the amount of social collaboration tools out there today it's really easy to get overwhelmed. The worst part is that that belies the bevy of truly impressive solutions that are out on the market right now. The solutions that stand out the most are the ones that make good on moving their conversations past simple extensions of watercooler conversation.
Enterprise software veterans TIBCO have created just such a standout in the form of tibbr. In this Q&A with tibbr, we sat down with Sriram Chakravarthy, VP of products and engineering for TIBCO, to learn more about how the team is setting tibbr apart.
How did the Tibbr project get started? What was the inspiration at TIBCO to branch out into enterprise social?
About the Company

WEBSITE: www.tibbr.com
LAUNCHED: 1997
LOCATION: Palo Alto, CA
Sriram Chakravarthy: We started this journey 3 years ago–it was myself and a few others. We looked at the emergence of tools like Facebook and Twitter and understood how useful this could be to an enterprise workforce. With tibbr, we wanted to provide a platform that helps employees get work done faster. That's been the goal from day one. We knew we wanted to do something different from the more casual social collaboration tools that just lent to watercooler-type discussions.
In order to impact how work gets done and increase productivity with collaboration, we knew we had to hone in on three things: One is social in a form that's amenable to the way you work. To us, the most important thing is a fully integrated approach. In the workplace social is not about following colleagues. It's about content, applications and systems, too. The information stored in outside systems and apps,—in files, documents, and data—could be on your desktop, your SharePoint server or other systems. tibbr brings all outside people, apps and systems into one collaborative, fully integrated experience, so all are participating members of the social networks and sharing valuable information with one another.
The second thing is creating relevant conversation. Microblogging is typically about sharing vacation pictures or the burrito you had for lunch. In the workplace, that doesn't translate to business operations in a smarter, faster way. So how do we effectively bring microblogging to your current project, the latest marketing initiative or the customer experience? With tibbr, we introduced the notion we call "Subjects." You can think about Subjects like hashtags redefined, making information relevant. You can easily follow Subjects relevant to your position, like specific reports, departments or customers, so the right information is proactively pushed to your wall.
The third is making it social enterprise ready. This is where TIBCO plays a big role. TIBCO has been a leading enterprise software company for over a decade, so we have an acute understanding of this space and the security needed to support the world's biggest and most complex companies.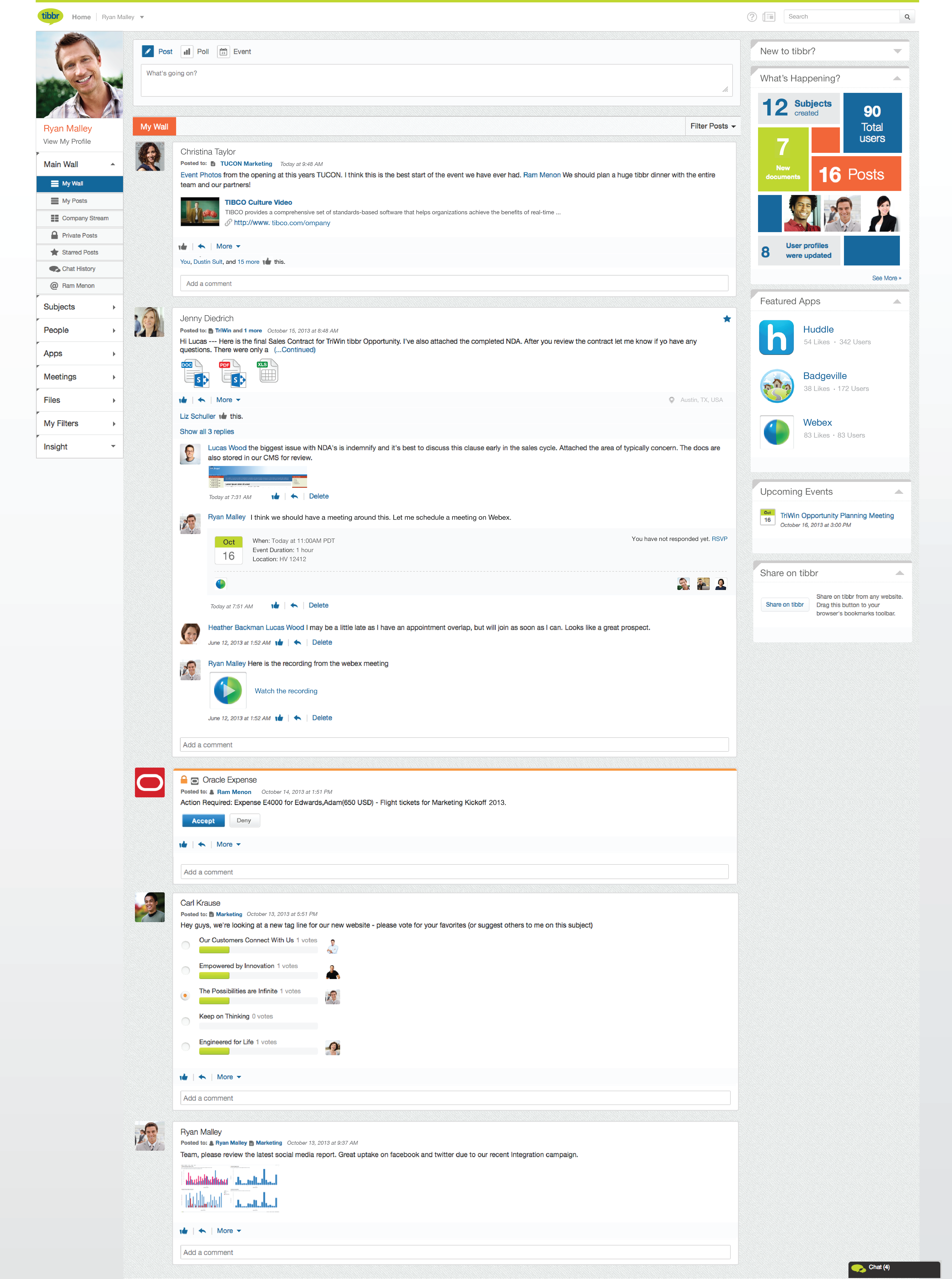 How are you setting yourselves apart from some of the established enterprise social players like Yammer and Jive?
Sriram Chakravarthy: We launched in 2011 and have been very successful, adding more than 6.5 million paid users—and I'd like to stress the word "paid". A lot of our customers—like KPMG, Schneider Electric, CGI and enterprises with 100,000-plus employees—select a product like tibbr for the three reasons that I talked about earlier.
How can employees work smarter? We've been seeing it over and over again: people are saying, "We don't want something that enables watercooler-type discussions. We want much more than that." The question then at hand is how can employees work smarter and faster using social collaboration?
That is a unique challenge. The demand goes beyond simple microblogging and extends to specific, new capabilities specifically designed to expedite the existing workflow and enable employees to access critical information and insight easily. We have countless customers that have tried out freemium products like Yammer but ended up unhappy with the experience, and ultimately with the result. In fact, 74 percent of our customers have tried out competitor products before they selected us and opted for a more advanced, valuable approach to collaboration.
What are some of the ways that enterprises are getting collaboration wrong? What are some of the internal dysfunctions that are going on that you find yourself having to address with tibbr?
We're seeing a few things. The first one that people say is, "We tried Yammer; we tried Chatter, but there's too much noise. Everybody is following everybody, and people think it is an internal Facebook. That's not what we want."
Because of the structure that our Subject approach puts in place, anybody using our product is more closely aligned to their own specific work matters. That's number one: how do we go beyond an internal Facebook?
The second thing customers say is "Great, we have people connected to each other, but we want more. We want this to actually impact our bottom line." Directly typing collaboration to productivity and business performance has been a challenge this market has faced since day one. Not everyone is convinced that social technology opens up new revenue streams.
At tibbr, we've carefully thought out each features to fundamentally improve how existing work processes are carried out. For example, one of our customers is a commercial airline in the United States and they use tibbr for better customer service. If you are flying with this airline, you probably know about the delays because you have subscribed to the alerts. The airline sees cases where the customers go to the gate agent but the agent is not aware that the flight is delayed. With tibbr, the airline was able to push what they call "operational information" to the gate agents. They would then get real-time alerts of what's going on.
Another similar example is Orient Overseas Container Line (OOCL), the second largest container shipping company in the world. They use tibbr for internal collaboration as well as information collection. OOCL is sending a big shipment where it needs to reach Walmart in a week. If they hit rough seas on the way, they want to have a way to push this information to those on the ground. This not only ties together people, but it brings relevant information right into the handheld device. Our customers use tibbr beyond just a means for interacting with each other.
How does tibbr differ from a more traditional project management or task management solution like Jira or Asana, which have interdepartmental communications, but very specifically based around tasks? Does tibbr operate the same way?
We take a different approach. If you look at Jira and Asana, you'll see they are very structured. You have to assign a task to somebody then track its progress.
We're not focused on these types of structured interactions. We do that as well, but we want to tap into the more unstructured ways people collaborate. In the examples, I talked about the serendipitous discovery. Somebody can post unaware of where to find the expert, not knowing from whom they would get the information. We provide a platform to connect people to the information they're looking for.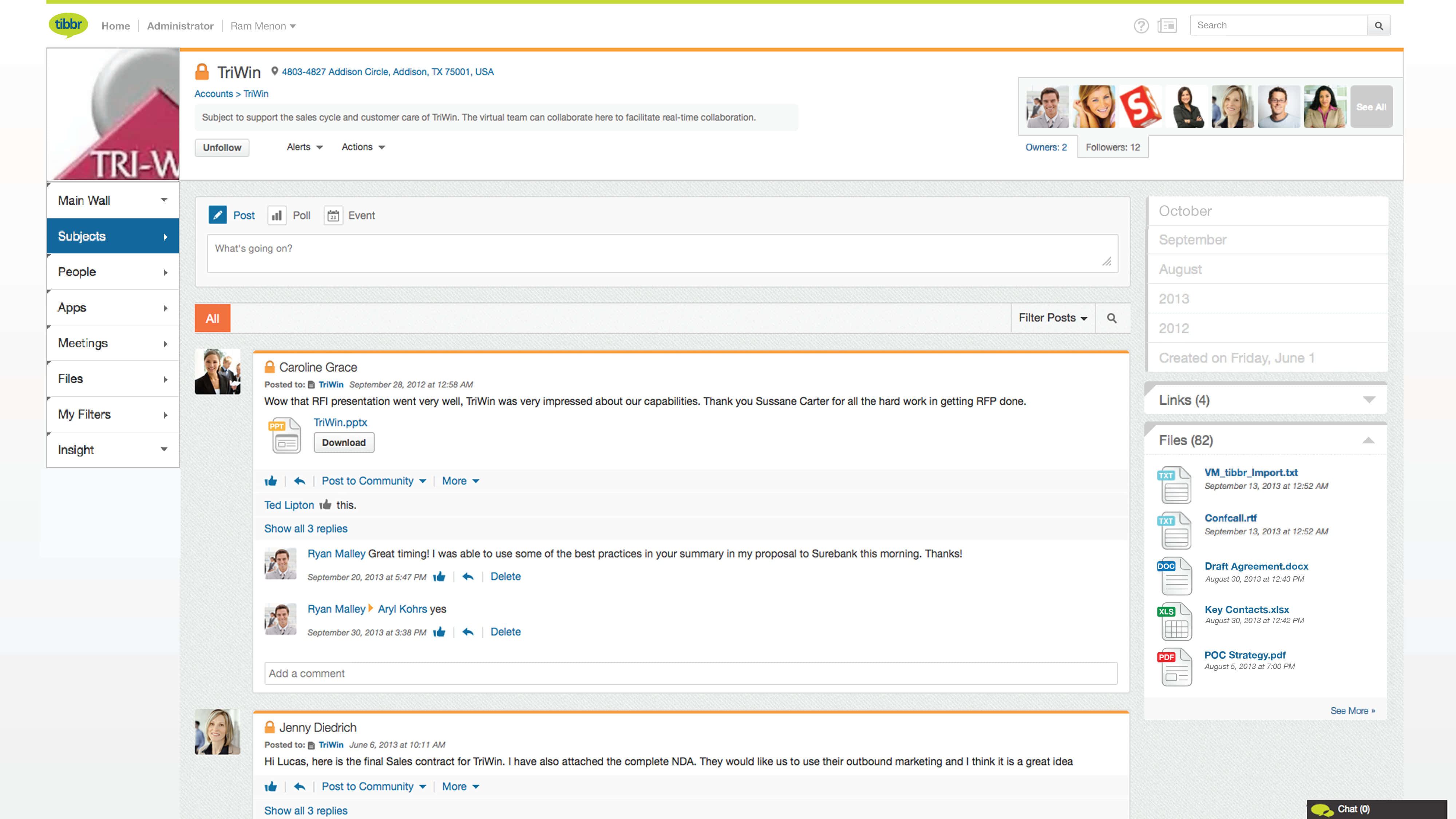 Playing devil's advocate: What are the advantages someone would get from using tibbr versus just sending a company-wide email?
Well, you still could use email, and many companies still do. But by sending a company-wide email, you're actually antagonizing a lot of people. Everyone is already inundated with email so it's distracting to be added to a broader emailing list, particularly when it's not relevant to you. That's one part of it.
The other part is that email isn't intelligent, and it doesn't track communication. Even within TIBCO, for example, knowledge had built up. Whenever we closed a large deal, our head of sales prior to tibbr used to send out a company-wide email saying a lot of useful information. If you'd been with the company for the past 10 years, you would take that information, archive it and hopefully find a way to get to it. But if you just joined the organization and want that information, there's no way to get to it.
tibbr lets you post information to Subjects, a directed way to get info, meaning that a new employee can go into the customer Subject and see all the key information pertaining to each customer in the last few years. You can see how we closed AT&T. You have that discovery mechanism in place. Essentially, tibbr creates living repositories of information and collective knowledge through its subject based approach.
How many of your customers for tibbr are companies that have already come to you earlier through something like ActiveMatrix or Spotfire?
That's a good question. About 65 to 70 percent of tibbr customers are net new for TIBCO. That's an interesting stat and important for us. With tibbr, we reach a different audience than our other IT-focused products.
And even within our existing customer base, we are able to go after a different group within an organization. Previously, we might've sold to the CIO. But with tibbr, it's often the corporate communications, HR, and marketing departments who are the main decision-makers on a project.
How important is mobile compatibility for you? How much of a gap is there in terms of functionality between the mobile version and the desktop version?
Mobile is absolutely critical. 67 or 68 percent of our users primarily access tibbr through mobile, through their iPhones, iPads, Androids and Blackberry devices.
We've taken a different approach to mobile by doing detailed analysis on what people like to do on mobile devices. Mobile presents unique opportunities that are entirely different from the desktop and require an app to be rebuilt from the ground up. On mobile, there's a demand for elements of discovery, personalization and from the design standpoint, instant satisfaction with minimal swipes to action and an easily navigated interface.
We provide almost all functionalities on mobile that you'd get on the desktop, though the vehicle for their delivery might be different, as it's all rethought to fit the mobile platform.. Obviously some of the things–like administration functions–we don't provide, as we don't expect users to need it.
More importantly, we provide functionalities that are only available on mobile. For example, we have an augmented reality view built in geolocation capabilities. It turns the concept of the "check in" on its head by turning locations into data hubs that proactively stream critical work information specific to the place as you approach it. If you're traveling in London, you can pull up your tibbr app on your iPhone or iPad and immediately find the customers close to you. Or you can be in a warehouse and view the different aisles that need to be inventoried. Location on mobile opens up new doors for providing value to services.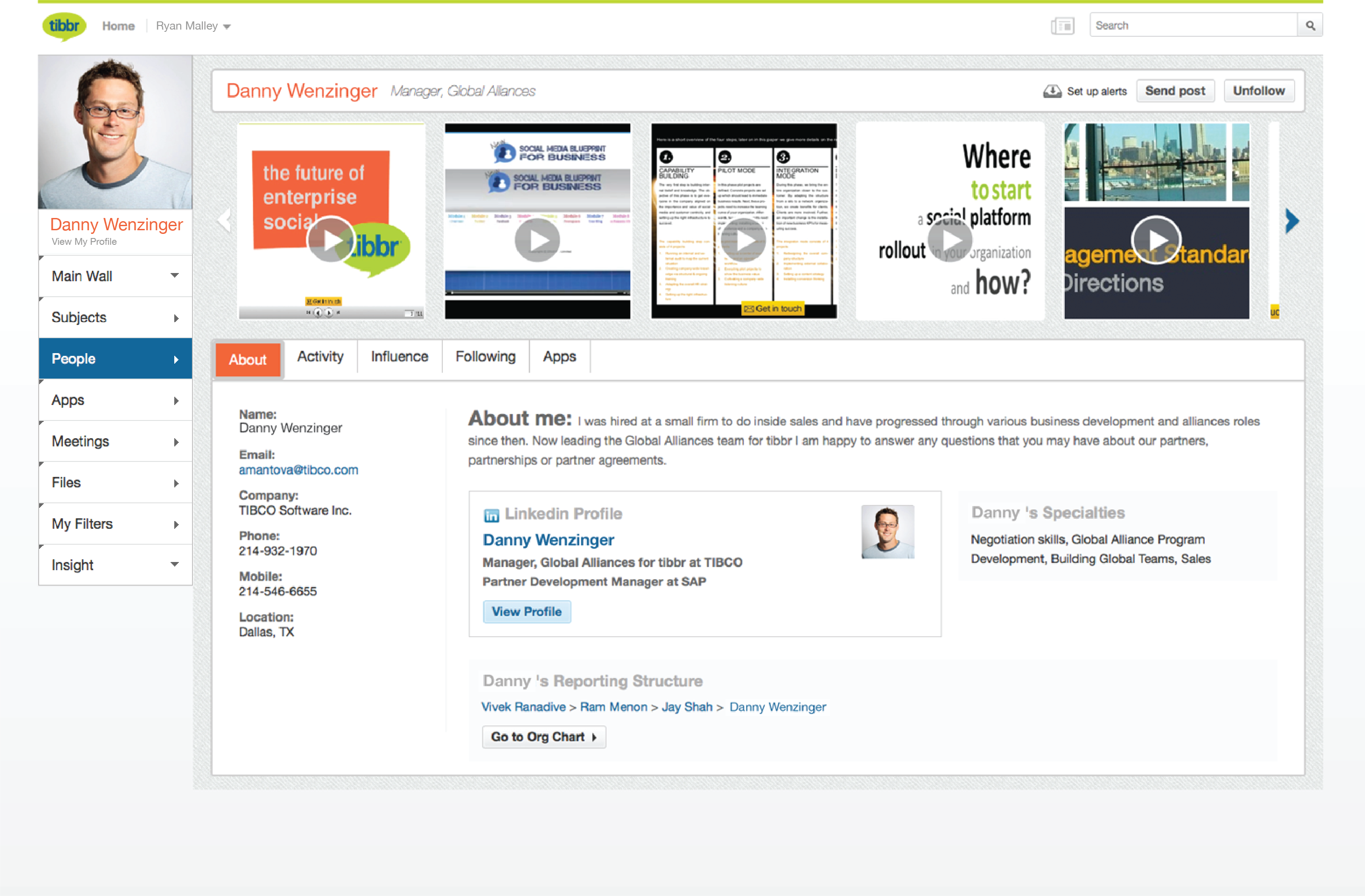 What's the biggest challenge that you are currently facing? That could be either technology-wise or business-wise. How are you addressing it?
Technology-wise we are probably at least a quarter ahead of our competition. The biggest challenge is articulating how our customers get value out of the product.
We had an event in Germany a month or so back, where some of our large customers talked about tibbr. We heard really cool stories. Our challenge is broadcasting this message and get those things known to the rest of the world so they can see how tibbr can make their workplace more productive.
Where do you see the segment going in the near future? What kind of challenges as well as opportunities do you see on the horizon?
We are seeing interesting developments in this sector. The marketplace is getting more crowded. Every other week we hear about a new microblogging or internal social tool.
Where we see this headed is based on what we're seeing with most of our customers. The CIO of one of our large customers said, "I don't want to buy a screen to play my SAP channel, another one to play my Oracle channel, another one to play my Salesforce channel. I'm looking for a screen that can play all the channels. I'm looking for an experience for our employees where they can go to one player to have access to all the information that they want from other employees, external sources, their own processes, applications and content."
I think that's where we're headed, and the industry also. The challenge is this: how do we keep that simple?
Learn more about tibbr or other social tools by browsing the Social Media Management resource center page. Or compare leading industry solutions by downloading one of our free social media tools software comparison reports.