NewsGator Fills Enterprise Social Gap for Microsoft Sharepoint

When NewsGator got its start in 2004, it wasn't as an avowed Gold Certified partner of Microsoft with a focus on social mangement solutions for businesses and enterprises. Instead, the initial focus was on individual consumers and selling them on a then-relatively new way of organizing and consuming news content online called RSS (Really Simply Syndication).
Through programs like NewsGator's NetNewsWire and Feed Demon, RSS allows individual posts and new content from multiple sources to be picked up and repackaged as news bulletins on a central portal or reader application. As the popularity of RSS among individual users in the 2000s, however, NewsGator was already making inroads into switching its focus to the enterprise and business software market. The move would culminate in a partnership with Microsoft to merge the NewsGator software and functionality into SharePoint, Microsoft's long-running collaborative/document-sharing platform for organizations.
The Lockheed Connection
NewsGator owes the partnership to none other than huge American defense contractor Lockheed Martin, who in 2006 developed a skunkworks project that combined NewsGator's RSS tools with elements of SharePoint and Google enterprise search and deployed it as a so-called "Facebook for enterprise."
The product of the Lockheed project was dubbed "Unity," referring to its objective of unifying various office productivity and communications tools–emails, email attachments, messaging, and meetings to name a few–under the aegis of a single social media-esque program. While the defense contractor went on to create another, more refined enterprise social application in 2009, Unity's ties to NewsGator RSS tools caught the attention of Microsoft's SharePoint team, who encouraged NewsGator to continue developing enterprise social technology in the style of Unity.
NewsGator's work also got the attention of Mobius Venture Capital and Masthead Venture Partners, two venture groups focused on early-stage companies in high-growth fields. In the space of five rounds from 2004 to 2009 they invested roughly $39 million into the enterprise social developer with additional contributions from Vista Ventures.
The following year NewsGator debuted Social Sites, its current flagship enterprise social platform, at the 2007 Enterprise 2.0 Conference, a few years before the debut of a Lockheed Eureka Streams.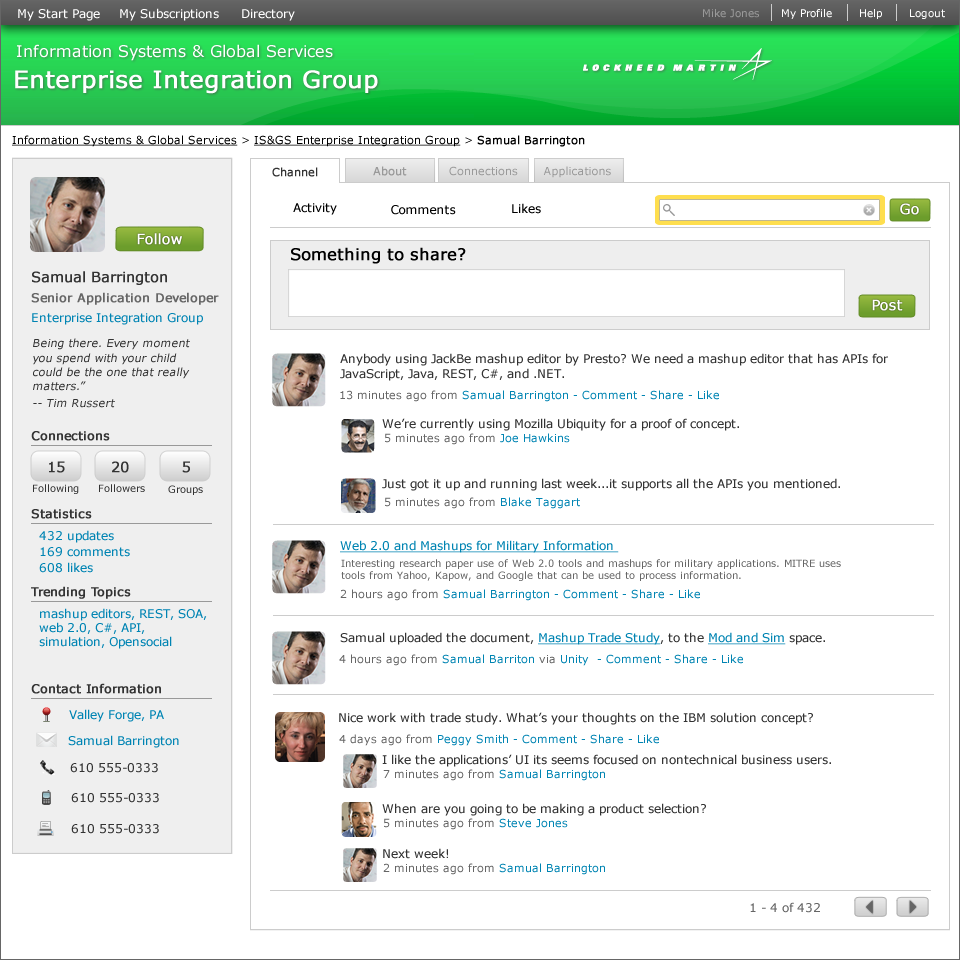 Social Sites for SharePoint
Social Sites is currently joined at the hip with Microsoft's SharePoint platform, adding functionality in a number of areas in which SharePoint was initially lacking:
User social profiles for colleagues and administrators
Social Insights via analytics tracking trends in response to postings on social media and company blogs
Facebook Wall-estyle "microblogging" tools for users
Activity streams that sort out and track individual conversations conducted between colleagues online
Being a solution dating back to 2001, SharePoint's roots as an enterprise social solution were in a world that lacked the influence of frenetic real time-updating social media outlets like Facebook and Twitter, which was reflected in its functionality. Consequently, the deep partnership with NewsGator by way of the popular Social Sites seemed like a good fit.
Social Sites' versatility as an enterprise social solution landed it many large-scale enterprise clients like Adidas, Deloitte, JP Morgan Chase, Merck, and the U.S. Army. In 2011 NewsGator won Microsoft's award for U.S. Partner of the Year, a distinction reserved for partners "demonstrating excellence in innovation and implementation of customer solutions based on Microsoft technology."
So good was the fit between Social Sites and SharePoint that many were confused when Microsoft announced its decision to acquire Yammer, another competitor in the enterprise social segment.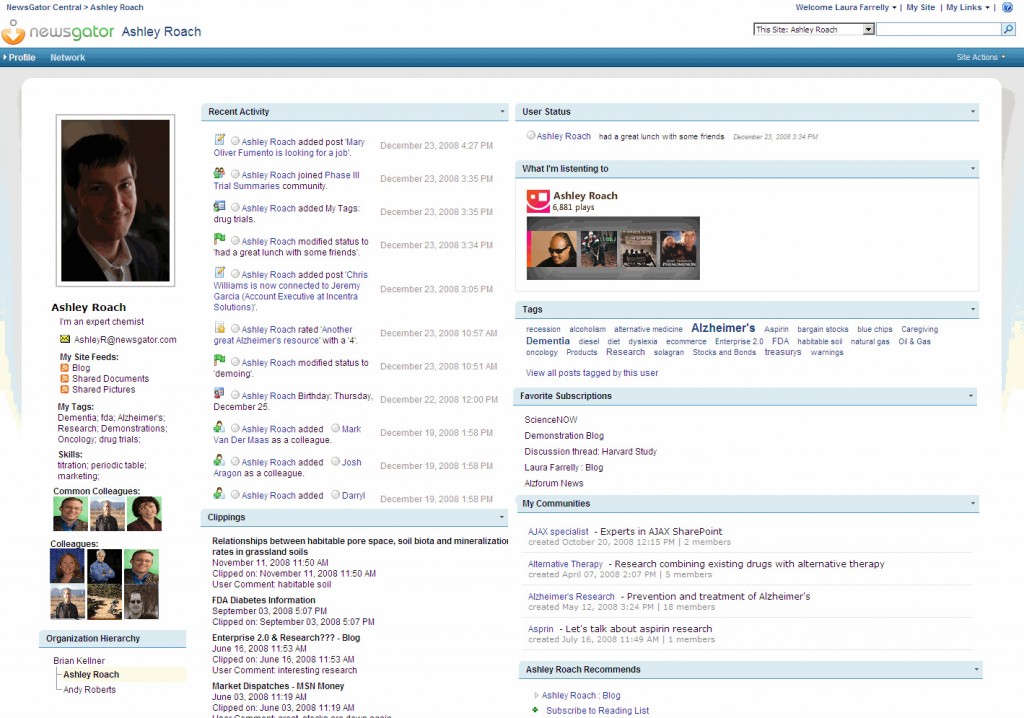 Sharing SharePoint With Yammer?
On June 25, 2012 Microsoft made an official announcement that it would be acquiring Yammer for a head-turning $1.2 billion While the move was ridiculed as one of the worst-kept secrets in technology, it did elicit many questions about the future of Social Sites as part of SharePoint and of NewsGator as a preferred Microsoft partner in the enterprise social segment.
Commentators like Malcolm Ross, VP of product marketing at BPM developer Appian, said the move reflected poorly on the future of existing Microsoft partners like NewsGator. JB Holston, NewsGator's CEO, went public on the company blog the day after the announcement and several technology news outlets later on, saying that Microsoft representatives had contacted and assured him that the Yammer purchase was not a negative reflection on NewsGator or Social Sites.
Holston said that he was confident that, going forward, the purchase of Yammer would "help, not kill off" NewsGator. As of July he's blogged about the addition of integration of data between Yammer and Social Sites. Whether or not Microsoft will perceive any redundancy in its enterprise social offerings, especially in the wake of posting its first-ever negative EPS in Q4 of 2012, remains to be seen.
For more information on enterprise social be sure to explore our social media tools resource page, where we collect all related blog content, product reviews and premium offers.