Online Clothing Retailers Boost Sales with Virtual Fitting Rooms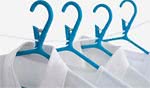 In October we introduced you to 5 ecommerce trends you might not be aware of, and since then we've noticed that one of those trends is exploding. Virtual fitting rooms are bridging the gap between the convenience of online retail shopping and the experience of trying on clothing in stores.
For online retailers, these products have the potential to greatly increase the number of sales and reduce the number of returns by helping customers feel more confident in their purchases. They also have the potential to provide important data on how customers shop. Here is Business-Software's sneak peek into what's on the horizon for virtual fitting rooms!
Fits.me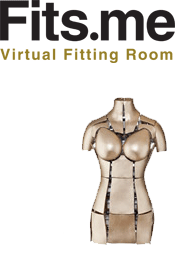 Estonian company
Fits.me
 has taken a high-tech approach to the virtual fitting room problem by creating a robotic body model that can adjust to reflect thousands of different body sizes and shapes. Both the model and the clothing are real, so this is about as close as shoppers can come to seeing how the garment will fit their bodies. The tool doesn't require shoppers to sign up or log in to use it, so it's easy to entice users to try it out. Fits.me identifies and groups garments that share a common fit and select one of those garments to represent that group – retailers then ship representative garments to Fits.me to be photographed. They then take up to 2000 pictures of each product, digitize them, and set up a white-label online "fitting room" for you. The whole process takes 2-3 weeks to set up and implement, so it's not the most expedient solution. But if you can spare the cost and time, Fits.me is well worth the investment.
Metail

UK-based Metail lets shoppers make a virtual model that "tries on" clothes for them. Metail has an aesthetic appeal that is missing from some of the other solutions; shoppers enter key measurement data to generate a virtual model of themselves, which they can then personalize by uploading a picture of their own face and changing the model's hairstyle to compliment different outfits. Metail uses images of actual garments over virtual bodies to help demonstrate fit for customers. Like Fits.me, Metail requires retailers to provide product samples to photograph and digitize each garment. However, Metail's interface is user friendly and potentially scalable across the industry; while users don't have to log-in to use the service, they do have the option of saving their model and accessing it from any site that uses Metail, eliminating the need to create a new model for each site or shopping session.
See it in action at Warehouse.co.uk
Clothes Horse

Clothes Horse takes a no-nonsense approach: they ask shoppers for their basic measurements and some info about the fit of their favorite clothes, then provide a recommended sizing for the garment they are viewing. The New York-based company prides itself on speed and ease on the consumer end – viewers can answer input data to get recommendations in a matter of seconds and get back to shopping. Rather than relying on visual aids to help customers gauge the fit of a garment, Clothes Horse gives a concrete suggestion for which size will meet the customer's preferences.  Unlike the other virtual fitting room tools featured here, Clothes Horse lacks a visual representation of clothing; they'd rather tell shoppers exactly how something will fit rather than show them. If your goal is to take the guesswork out of online shopping and make it a streamlined experience for site visitors rather than recreate an in-store experience, Clothes Horse provides a practical, no-nonsense solution.
See it in action at Duke & Winston
Webcam Social Shopper

Webcam Social Shopper by Zugara is a cost-effective virtual fitting room solution that is fast and easy to implement. Shoppers simply turn on their webcams and stand in front of the camera, and WSS projects and image of the clothing onto their screen. Shoppers can adjust the position and scale of the image, change the color of the garment and take photos to share on social media sites using hand gestures (no need to step away from the image and return to your keyboard to make adjustments). With the premium package, customers can view multiple items and proceed directly to checkout from the fitting room. Social Shopper is a far cry from actually getting to try on a garment, and is certainly less accurate than other kinds of virtual fitting room. However, the ease of implementation and the shopper's ability to make their online shopping experience social makes Webcam Social Shopper a good budget-friendly option.
See it in action at LazyLazy
For more information on specific ecommerce software solutions be sure to reference our exclusive research report on the Top 10 Retail Management Software. You can also check out all of our related content on the Ecommerce/Retail Management resource page.