Shopify vs Bigcommerce: Ecommerce Vendors Go Head to Head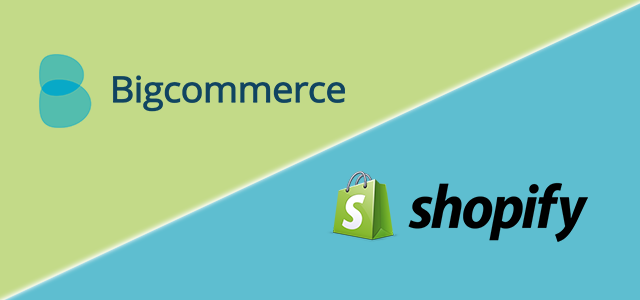 In 2015, there aren't many brick-and-mortar stores that don't offer the convenience of shopping online. What's more, with Google Shopping Express, Amazon and other online giants, it's no surprise how fast the ecommerce segment is growing on an international scale. According to a sales forecast from Forrester Research, Inc. released in 2014, ecommerce sales are expected to soar to $414 billion in 2018, up from $265 billion in 2013.
Companies like Shopify and Bigcommerce have begun springing into action, promising customers a simple, fast and effective solution to get their store online. As two of the tried-and-true brands, we thought a good old-fashioned head-to-head would be the perfect way to let Shopify and Bigcommerce duke it out.
About Shopify:
Shopify was founded in 2006 by a group of people looking to sell snowboard equipment. The team was looking for a marketplace where they could utilize their own brand to build relationships and sell goods. When all the options on the market fell short, they created their own ecommerce software solution, and Shopify was born.
Shopify now has over 150,000 active stores totaling $7 billion in sales. A few key customers of Shopify include Google, Dodocase, LA Lakers, Tesla and General Electric.
About Bigcommerce:
Newer to the scene than Shopify, Bigcommerce has made a name for itself since being founded in 2009 by Eddie Machaalani and Mitchell Harper. Bigcommerce operates out of Austin, Texas and Sydney, Australia — and recently opened their San Francisco, California-based operation in 2014. The team also raised $50 million in Series D funding last year and is planning to focus on international expansion.
70,000 customers in 150 countries rely on Bigcommerce to process their $5 billion in sales. Samsung, Ubisoft, Schwinn, Pergo and Marvel are some of the select customers of Bigcommerce.

Let's dive a little deeper into the inner workings of both Shopify and Bigcommerce to see how they stack up against one another:
Pricing
Shopify:
Shopify has a range of pricing options available, based on feature sets, file storage size and credit card transaction rates. With the starter pack at $14 per month, the flagship unlimited package at $179 per month and a couple of options in between, there is a solution for just about any company looking to break into the ecommerce realm — with no setup fees. Unless purchasing an annual or biennial plan, the contract is month-to-month, allowing users to cancel at any time.
Bigcommerce:
With three packages available, users are to select an option based on feature sets, transaction fees and data storage sizes. It is important to note that there are one-time setup fees and data-migration costs associated with the lower-level packages. Bigcommerce does not lock users into a contract, allowing them to cancel at any time.
Templates
Shopify:
The designers and partners at Shopify offer users a range of modern, clean and, for the most part, very aesthetically pleasing themes and templates. Whether you're looking for a bohemian, hipster or minimalist vibe — Shopify has them covered (in addition to the more traditional templates).
The templates, ranging in price from free to $180, are image-heavy and allow users to populate large hero images. When searching for the perfect theme, users can sort by various features or functionality to whittle down the best fit for their needs.
Bigcommerce:
Similar to Shopify, Bigcommerce offers a range of free and paid themed templates. While some of the paid versions, ranging in price from $120 to $250, are clutter-free and modern feeling, there is an array of lackluster templates — especially in the free section.
That's not to say that these templates don't have the potential to be amazing — you'll just need a better eye or graphic designer to bring the page up to speed, as users have pointed out that some may feel dated.
Product Management
Shopify:
With its top-notch inventory management system, Shopify store owners can add an unlimited amount of products and corresponding variations, including price, SKU, weight and inventory totals. Further organization is available with categories such as season, sale, etc. Layouts allow for multiple product images, as well as the purchase and download of digital products.
Bigcommerce:
Similar to Shopify, Bigcommerce also features an unlimited amount of product options and variations, which include price, SKU, weight and inventory counts. Product images are high-resolution, automatically resize to your template selection and feature zoom capabilities to give customers a better idea of what they're buying. With the implementation of smart product rules, store owners can set parameters such as free shipping over a certain dollar amount spent.
With Bigcommerce, store owners can sell physical merchandise, event tickets, services and digital downloads. With pre-order support and the ability to mass-edit product information, Bigcommerce seeks to make the back-end experience as trouble free as possible.
Store Management
Shopify:
While not as aesthetically pleasing as the Bigcommerce dashboard, the team at Shopify has done a good job at incorporating the data into a streamlined user interface.
Drop shipping and order fulfillment are available through Amazon, Webgistix and Shipware. With one-click order fulfillment, completing customer orders takes less than time than before, which allows store owners to focus on what really matters — getting their name out there. Refunds and inventory management are just two of the features available on the go, allowing users to manage their store from any device with an internet connection.
Bigcommerce:
The Bigcommerce dashboard, simply put, is beautiful. The layout, design and functionality are both intuitive and easy on the eyes. Such a simplistic design makes it very easy to read, interpret and act on the data and analytics provided.
With drop-shipping functionality, a comprehensive inventory tracking system with stock/supply notifications, simple returns and automatic sales tax based on geographic location, this is an area that Bigcommerce definitely got right. What's more, with mobile functionality, store operations can be managed from any smart device. The tool even integrates with QuickBooks to make bookkeeping a breeze.
Marketing
Shopify:
Marketing your business, even on the most basic level, takes some skill. By supporting SEO best practices and user reviews, offering free Google and Facebook ad credits and customized discount codes and coupons, the Shopify marketing features allow users of any technological prowess to manage their online presence with efficiency.
Social media integration, MailChimp email marketing and the option to sell gift cards also comes standard with the Shopify platform. Shopify even allows Facebook fans of your store to purchase products without leaving the Facebook application.
Bigcommerce:
The Bigcommerce marketing component is just as visually striking as the dashboard. Marketing capabilities within Bigcommerce come in the form of customizable promotions and coupons, search engine optimization, social media and multi-channel marketing. Powerful email integration is available in three options, MailChimp, Constant Contact or iContact. Additionally, these campaigns can be created using a smart customer list, which bases the marketing effort on previous purchases, order total, date, country and more.
Partners/Integrations
Shopify:
Shopify offers resources to help store owners expand their business. These features come in the form of workshops and webinars, marketing materials, access to private forums, newsletters, blogs and in-depth platform documentation.
Through a partner program, freelancers can earn 20 percent of monthly revenue share when referring clients to Shopify. Designers can also sell ecommerce themes on Shopify, earning up to 70 percent for each sale. What's more, using the Shopify API to build an integration or add a product feature results in earnings of up to 80 percent for each app sold within the Shopify App Store.
Bigcommerce:
Bigcommerce offers professional assistance for every stage of your online store by providing designers and marketing services from full service agencies at an additional cost. There are even people readily available to assist with the setup and integration of third-party applications, such as your POS, CMS, OMS, etc.
Beyond professional assistance, Bigcommerce shares discounts and promotions from its vast network of partners. These may include discounted stock imagery or waived activations for tax software.
Support
Shopify:
The team at Shopify offers 24/7 support in the form of email, chat, telephone and an extensive FAQ page. Beyond the traditional support system, there is a community-style forum for users to help one another with their ecommerce endeavor. (There's even a thread to ask for feedback on your store's website.)
Through Shopify's Ecommerce University, users can gain even more knowledge to further enhance their site. With a free ecommerce report store grader, store owners are given grades on key aspects of their online shop, from SEO to design.
Bigcommerce:
Bigcommerce offers users support via email through their dashboard, chat or 24/7 phone support. Additionally, there is a wealth of knowledge provided in the Bigcommerce User Guides within the support section. Like Shopify, the team has also implemented a community-style forum that allows users to help solve problems and work collectively.
What's more, through Bigcommerce University, users can watch an assortment of helpful videos that range in topic from building your store and attracting shoppers to creating buyers and even building brand loyalty.
Overall Usability
Shopify:
With beautifully crafted templates, a range of price points and a vast array of functionality, Shopify stands as a powerful yet easy-to-use ecommerce tool. Although the back-end isn't as impressive in design as Bigcommerce, the functionality is there. Users can harvest valuable data and insight regarding their online store. Shopify may be better for those with limited design skills who can benefit from the stunning built-in templates. With higher transaction fees, the pricing may surpass Bigcommerce relatively quickly, even without startup costs. We suggest giving the 14-day trial period a try to see if Shopify could work for you.
Bigcommerce:
While some of the template designs may be lackluster, the back-end dashboard design is a home run. Users with more experience in design, layout and imagery may find that they can make tweaks to the Bigcommerce themes to fit their needs nicely. That being said, with the assistance from marketers and design agencies, the tool may also be the better fit for the shop owner who is more people savvy than tech savvy. (That is, if you're willing to pay for the additional service.) Bigcommerce also offers a free trial, 15 days to be exact, that is easily available on their website.

So there you have it, a direct comparison of Shopify vs Bigcommerce. Who's the winner? Well, that's a little more difficult to distinguish. With so many industries recognizing the need for an ecommerce solution, it really comes down to the functionality and ease of use for your specific needs. Give the free trials a try for a hands-on comparison experiment. We'd love to hear what you think — be sure to share your feedback on our Twitter or Facebook pages.

For more ecommerce options, download our FREE Top 10 Ecommerce Software Report today!