Oracle Social Relationship Management Suite to Leverage Social Acquisitions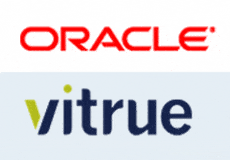 The big trend in technology this summer has been the consolidation of the social landscape by the big vendors. Salesforce.com, SAP, IBM, and even Google have made aggressive moves to round out their social offerings, buying up innovative young companies in the social media monitoring, social data analysis, and social marketing areas.
One of the most active participants in this social land grab has been Oracle, who on Sept. 10th presented the fruits of its efforts, a new Social Relationship Management (SRM) suite comprising the products of Vitrue, Collective Intellect, and Involver—the trio of big acquisitions made by Oracle over the past five months.
According to Reggie Bradford, senior president of product development at Oracle and founder of Vitrue, the SRM suite will include two major components: social monitoring/engagement and social marketing.
Collective Intellect contributes social listening functionality to the suite. Its products are designed to help businesses mine the massive quantities of data created in Facebook, Twitter, Pinterest, and other outlets for actionable, business-relevant information. Involver adds marketing capabilities to the suite via its social development platform. But at the core of system is Bradford's Vitrue, a social media marketing platform that has helped leading global brands across industries become more targeted and effective with their social media campaigns. Vitrue counts McDonald's, American Express, Proctor & Gamble, IKEA, and Frito-Lay among its customers.
Founded in 2006 and based in Atlanta, Ga., Vitrue has evolved from being a "white label YouTube" to offering a comprehensive social relationship management platform worth an estimated $300M.

SRM vs. CRM
There's no real consensus on what exactly "social relationship management" is. The phrase has been applied to a variety of products, primarily social-enabled CRM solutions likeNimble. But from Vitrue's perspective SRM goes deeper than offering a social integration with your CRM system. Where CRM improves an organization's ability to manage relationships on an individual level, SRM provides resources for managing relationship at the community level.
Vitrue's SRM platform offers marketing professionals an integrated, cloud-based resource for publishing social content, creating branded social pages, and analyzing marketing data generated in the social sphere. Combined with Collective Intellect's listening platform and Involver's development platform Oracle will have a powerful social solution. According to executive vice president Thomas Kurian, Oracle's new SRM suite will allow users to manage customer feedback, provide support, analyze SRM data, and integrate with existing Oracle applications.
Though Oracle may have been late to the social party, it's shaping up to be a strong contender in the social sphere. Be sure to check out the social tools resource center page, where we've compiled product reviews, blog posts and articles on social solutions. Ready to choose a social tool? Browse the industry's top products in our free reports on social business tools.