Performance Management: If You Don't Measure It, Does It Count?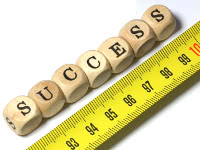 Maybe. If business is good, then maybe it's OK to not measure everything. But then when there's a lull in sales, you don't have as much insight into what works and what hasn't worked. That's why, if you're trying to grow your business, performance management and getting as much insight and as many numbers as possible is the best way you can improve.
Performance Management: What to Follow, What to Know
Know if your business is gonna make it
If there's one thing you should be measuring, it should be your liquidity, figured out by determining your Current Ratio. Of course, it's important to think in the long term, too, but, for the short term, this is a big hint to if your company will sink or swim.
The Current Ratio = Current Assets divided by Current Liabilities
In a nutshell, the higher the result, the more liquid your company is. But if you are much more than 2, you probably aren't using your assets well enough. If you're less than 1, you should be worried.
Know if your designs are working
Nowadays, with the wonder of A/B testing, or split testing, you can really get an insight into what people think. You can test the design and content of your website, the copy in a newsletter, the success or failure of a banner or Facebook ad. In a nutshell, A/B testing is a way to cheaply and relatively quickly test the conversion and click-through rates of the original version of something versus a small change that could make a world of difference.
Know what your prospects are thinking
Did your clients open your contract? How much time did they spend looking at your service list? Your pricing table? Usually, it's a waiting game. You attach a PDF or Word Doc and email it off. Then you wait. If you use proposal software with tracking and analytics, you know exactly when your client opens your proposal, how much time they are looking at which section and if they've signed or commented on any part.
Plus, with a well-developed proposals dashboard, you can keep track of your wins and losses, drilling down to each section, tailoring your sales quotes to what your clients need and want. (And deleting what they don't.)
Know your best customers
What does that mean? Well, mostly that's your top ten percent. It can also be any clients who refer your business elsewhere, aka your brand advocates. This group counts because they are the best to tell you what they like best about your product or service (never assume) and can help you steer in the right next direction.
Know how much you are selling of what
Well, this one's a given. If there's one part of your company you should be measuring, it's your sales team. How many people do they need to call/meet to close a sale? How much time does it take to close a sale? How much money do you have to invest in marketing and sales to close? What do you have to do to keep up customer support to keep that sale?
But When is Measuring Too Much?
Employee evaluations: Yes, goals are set and should be met. But there needs to be a balance of the quantitative and qualitative. Balance numbers and instincts.
You can't measure loyalty: There are some things you are going to do — like taking the little extra time to promote your customers' businesses — that can't be measured. Most of the time, the human factor of your brand can't be quantified, but it's important to keep it up and build brand loyalty, especially when it comes to customer support and social media.
Measuring hours not success: I live in Spain and time spent at work is overvalued, where they don't appreciate the most efficient person, but rather the person that stays later. People work at different paces and focusing on time spent (within reasonability) to complete a task. Outcomes are much more important.
Want more on Business Performance Management? Get the latest news on cloud BI and real-time analytics with Business-Software.com's Business Intelligence resource page. To get recommendations on the best performance management solutions, download the free Top 10 BI report.