Piston Cloud Computing is Bringing OpenStack to the Enterprise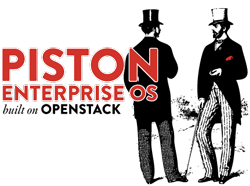 We've discussed cloud computing pretty often over the past month or so, writing about cloud 101 and demystifying the cloud, and there are many companies, both new and old, who are offering their own solutions to the business world's growing need for scalable cloud computing. The problem is, though, that most solutions are pretty much the same, thus making it difficult for one company or one solution to stand out in any noticeable manner from the rest.
Piston Cloud Computing, however, is doing its best to make itself stand out. Built on OpenStack, the core product from Piston Cloud Computing, Piston Enterprise OS, is a scalable private cloud platform that's meant to provide businesses with an end-to-end solution for building a private and secure storage and compute cloud. Piston Enterprise OS was introduced to the market last September and is one of the few enterprise-level cloud computing solutions that we've seen so far on OpenStack.
Founded in 2011 by Joshua McKenty (CEO), Gretchen Curtis (CSO), and Christopher MacGown (CTO), it's clear just from looking at their website that Piston Cloud wants to show that it has a unique identity, opting for an 19th-century-meets-modern-day aesthetic as opposed to a corporate, enterprise feel. It's whimsical and clever, providing a little extra context to their name, and yet it doesn't take away from the fact that they're clearly a technologically savvy company.
As an IaaS provider, Piston Cloud offers enterprises a fully automated cloud operating system that's meant to make private cloud environments more secure and easier to manage. Interspersed with buzzphrases such as "dynamic cloud operating environment" and "fully-automated bare metal cloud operating system" are images evoking the sort of woodcut images and engravings you might find in an Victorian era magazine, catalog, or primer. It definitely demonstrates that Piston Cloud has a sense of humor, which certainly goes a long way these days to set them apart from corporate behemoths like Oracle and SAP; and though their site gives off a start-up feel, their product is very clearly billed as an enterprise-level solution.
Earlier this week, Piston Cloud announced a new partnership with Gridcentric to deliver a Virtual Desktop Infrastructure (VDI) solution along with every Piston Enterprise OS license in the form of Gridcentric's Virtual Memory Streaming technology. The hope is that this partnership will not only make it easier and cheaper for enterprises to adopt a VDI solution across the organization, but also eliminate some of the storage bottlenecks that occur when a server is loaded with too many desktops, which is often a problem when it comes to desktop performance.
Want to learn more about Piston? Check out their site, or watch the video below in which they demonstrate how you can get the Piston Enterprise OS setup in ten minutes.
Want more information on the top cloud hosting solutions? We've compiled the top product reviews, blog posts and premium content on our cloud hosting research center page. Here, you'll find all of the information you need to choose the right cloud solution for your business.