Top Companies to Watch in IaaS - Part 2: Contenders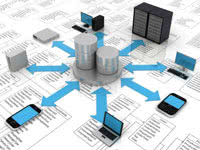 Last week, we highlighted the five leaders in IaaS solutions. The list was heavy on big, established names. However, the IaaS market is changing so rapidly, that there are plenty of other companies that could be game-changers in this crowded field. Here are the top five companies you should keep an eye on.




Main Contenders

GoGrid is the largest pure-play IaaS provider, offering virtual and physical servers, storage, networking, load balancing, and security scaled in real-time and in multiple data centers using a web interface or API. But besides their extensive offering and very competitive pricing (pay-as-you-go pricing starts at $.06/hour, but prepaid plans can be discounted to as little as $.02/hour), a big selling point is their ecosystems of solution providers, called GoGrid Exchange, allowing partners to sell their software on top of GoGrid server images, similar to the Amazon Web Services platform.

What Rackspace does is fairly simple: they host websites, email systems, and other software. So in order to really stand out, they know they need to do more than just provide great hosting options. Enter "Fanatical Support," Rackspace's above-and-beyond-the-call-of-duty support service, which has their customers raving. The results have paid off. Rackspace counts 40% of the Fortune 100 among their customer base, and their stock value has gone up more than 27% this year to date.

Joyent, already a big cloud player in the US, recently announced its European IaaS offering. It's a logical step for a company that has been expanding non-stop since its launch in 2004. Originally a provider of hosted applications like mail and contacts, Joyent now offers a wide spectrum of cloud computing and hosting services. A series of acquisitions in '09 and '10 culminated in an $85M round of funding in January '12. Joyent attributes this growth to the success their customers are having in the US, which has generated an increasing demand for real-time computing performance in Europe and also Asia – which is next on Joyent's target list.

NaviSite made headlines in 2011 when Time Warner Cable purchased the company for $230M shortly after Verizon bought Terremark for $1.4B. At the time, NaviSite had 1,200 customers in its 10 data centers in the US and the UK, focusing on enterprise hosting capabilities, application management and cloud services. NaviSite has found great success in the SMB market,
Dimension Data, a big systems integrator, bought OpSource in June '11. Their services include a public service cloud, a private cloud, and managed hosting and services. The acquisition gives OpSource unprecedented access to Dimension Data's global footprint and client base. The company's big play is to bring existing customers into a cloud computing ecosystem. Priced below AWS, OpSource says their offering surpasses Amazon's in terms of user-friendliness.
Up-and-Coming Solutions to Watch
But that's not all. It's almost impossible to create a top 5 without resorting to general IaaS requirements. So here is a list of other companies that are worth considering. Each offers a unique take on the cloud, from newcomers to visionary established players:
Want more information on the top cloud hosting solutions? We've compiled the top product reviews, blog posts and premium content on our cloud hosting research center page. Here, you'll find all of the information you need to choose the right cloud solution for your business.