Top Companies to Watch in IaaS - Part 1: Key Players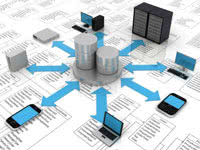 Infrastructure-as-a-Service is certainly not a new field, but with the growing popularity and complexity of the cloud, the IaaS market is in a constant state of flux. In December 2011, Gartner published a Magic Quadrant, largely dominated by big vendors like Amazon, IBM, and CSC. But there are many other vendors to keep an eye on as well. In this two-part article, we will first look at the key players in today's crowded IaaS market. Next week, we'll list the top 5 contenders.
Key Players

The undeniable giant in IaaS, AWS is a rich infrastructure platform, providing all the necessary computing, database, networking, and security resources for your business. It's enterprise-size computing made available to all users willing to sign up for a free account. AWS currently has the biggest market share in IaaS, and it's continuing to tighten its grip: in June '12, the company announced a free 24-hour customer service line for billing and account issues and technical support, along with a further reduction of the pricing for its top two tiers, Business and Enterprise (10% flat fee is now pay-per-use).

It makes sense that, CSC, the global IT services provider, is also active in the IaaS area, and they are in a big way: CloudCompute, a VMware vCloud Datacenter Service, combines leading technologies from VMware, VCE, Cisco and EMC with CSC Trusted Cloud Data Centers and CSC managed services. CloudCompute comes in three different versions: 1) public, multitenant hosted at a CSC site; 2) private, single tenant in a CSC data center; 3) private, single tenant in-house at the customer – with a common architecture across all three versions. CSC prides itself on listening to what the industry wants. As a result, they have started offering a CloudCompute platform for businesses – BizCloud – as well as a platform specifically for US government organizations – CloudCompute for Governments.

In case there was any doubt that Terremark is a big player in the IaaS market: in 2011, Verizon bought the company for $1.4B. This year, Terremark formed a cloud partnership with EMC, who will provide the technology behind Terremark's cloud services and hybrid data centers. The company is also a big customer of VMware, offering clouds based on VMware's vCloud tools. There have been a lot of executive shake-ups since the acquisition, but Terremark is nevertheless expanding its service offering, with a particular focus on growing a larger footprint in the European cloud market.

Following hot on the heels of the Terremark acquisition, Savvis was bought by CenturyLink in early 2011 for $2.5B. CenturyLink, the nation's third largest telecommunications company, now operates 48 data centers worldwide. Savvis' aim is to provide cloud services that drive IT excellence, giving your IT department a competitive advantage. In recent years, Savvis has been involved in several lawsuits, involving security and spamming concerns, but this hasn't stopped the company from continuing to open new and expand existing data centers.

BlueLock provides virtual data centers in the cloud, powered by VMware's vCloud. Users can create their own virtual machines from a catalog of templates, or they can upload active virtual machines. BlueLock is built on open standards with Open Virtualization Format (OVF) packaging for the transport of workloads and interoperability. One of the company's big selling points is its Portfolio tool, which monitors cloud usage, enabling companies to manage and even cap how their bill develops every month.
Want more information on the top IaaS and PaaS solutions? We've compiled the top product reviews, blog posts and premium content on our cloud hosting research center page. Here, you'll find all of the information you need to choose the right cloud solution for your business. Next week, we will look at the top 5 contenders, including Rackspace and GoGrid.