How Practice Management Software Streamlines Medical Practice
A recent Forbes Magazine article sheds some light on just how many doctors are practicing in the United States at the present, stating that there are about an estimated 800,000 in practice currently. While it's unknown how many of these doctors are using modern practice management software, there is plenty of evidence of the benefits that such software has to offer to practices.
Primary categories include: remote access, secure storage, reduced operational costs and fewer missed appointments. These immediate benefits will be underscored in the key points that follow.
Remote or Internal Access
Doctors and medical practitioners lead rather busy and hectic lives these days. Thanks to emerging mobile technologies and cloud server solutions they can now access their entire practice on the go. This is especially helpful if, for example, a patient requires an emergency prescription refill on the weekend but the doctor is out of town. A refill request could, under this example, be submitted to the doctor and then electronically prescribed by the doctor from a mobile device.
This would enable the doctor to effectively meet patient's needs whether or not they were in the office or even in the same country, provided they had a mobile and internet enabled, compatible device to access their practice management system with.
HIPPA Compliant & Secure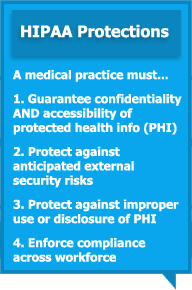 All computers and information containing devices in a doctor's office or medical practice are required by U.S. federal law to be HIPPA compliant. This compliance is designed to ensure the confidentiality of patients' records, which are required to be securely stored and only accessed by authorized personnel.
This law is also intended to help reduce instances of fraud while protecting patient privacy and offering a veil of security for medical records, which often contain numerous confidential details about the patients being treated. All practice management software is designed to meet or exceed biding HIPPA compliance standards.
Reduced Operational Costs
In the wake of the Affordable Care Act (ACA), more doctors are being forced to lower their rates and accept different insurance company mandates on fee agreements to comply with the new healthcare law in the U.S. This also presents another problem: the cost of operations for a medical practice. Using the proper software, overhead costs can be drastically reduced to enable the fielding of fewer staff members and the treatment of more patients daily to help offset these increasing costs for medical providers. The software also enables better billing methods and tracking methods to ensure that doctors can more easily sustain their necessary cash flow.
Fewer Missed Appointments
According to an article on the Daily Mail, a British newspaper, about one out of every ten patients missed a medical appointment in England last year, resulting in more than 5 million missed appointments that cost doctors untold millions of dollars. With the right software in place, appointment reminders can be automated as a phone call, an email, a text message or all three to help patients either show up for their scheduled appointment or to reschedule it, further helping to curb lost revenue.
If you're looking for more information on practice management solutions, be sure to check out our Top 10 Practice Management Software report as well as our comprehensive medical software resource page.