How to Reach a Highly Targeted Audience with Facebook Ads
For many people, Facebook is the social platform to end all social platforms. But it's been a long time since Facebook has been solely a platform for keeping in touch with friends – it's also a great place for consumers to communicate with companies. Since Facebook accounted for 1 out of every 5 pageviews on the Internet in 2012, advertising on Facebook offers businesses a lucrative platform for accessing a wide audience. If you're ready to tap into this massive market, Facebook has made it easy to create highly targeted and effective ads.
Getting More Likes: Sidebar Ads
If you're looking to increase your likes, sidebar ads are still a great way to get exposure. As long as your users stick around on their News feed, they'll see your ad out of the corner of their eye. Since users spend on average 20 minutes per visit, you've got a relatively long time to capture their interest per view. Most sidebar ads include an image, header and brief ad copy.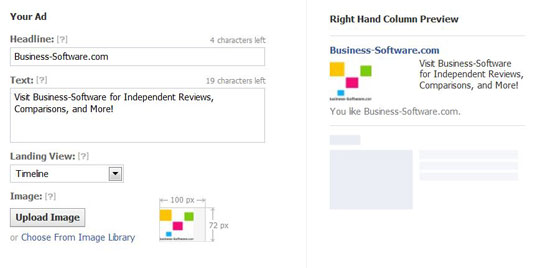 Increasing Engagement: Promoted Posts
Now that you have a strong fan base on Facebook, you want to keep them interested. Promoted posts can be used by individuals to make sure that their most important posts are seen by their friends, but if you have a business page you can also take advantage of promoted posts to put your content in front of readers. This feature gives better visibility to promoted materials, increasing the likelihood that Facebook users will engage with posts. It's important to keep in mind that these two forms of advertising are not exclusive; you can take advantage of both simultaneously.
What We Like about Facebook Ads
Huge Potential Audience: With an estimated 800 million+active users, chances are your target audience is already using Facebook. You'll be hard-pressed to find another marketing platform with even a fraction of the potential audience of Facebook. But the true value of Facebook's massive user base is its diversity- whether you want to hone in on a single demographic or use Facebook to slowly branch out from your user base and reach different kinds of consumers, Facebook provides a melting pot of consumers to choose from.
Flexible Pricing: Most marketing venues with large user bases like Facebook come with an equally hefty price tag  (Superbowl Commercials, anyone?). But Facebook offers relatively low pricing options, as well as pricing model flexibility to accommodate different budgets and styles. While CPC pricing is much more popular with Facebook advertisers, CPM is offered as an alternative. Can't decide? You can test both to figure out which one works best for you.
Flexible Targeting: Facebook ads have some of the most flexible targeting specs available. You can hone down your audience by age, interests, education, location and connections, making sure that your ads reach the people who are most likely to be interested in your product. That flexibility leads to more clicks and more business.
 Hashtag Targeting: Picking the perfect keyword isn't always easy, so Facebook lets you generate lists of people who are interested in topics by using closely related keywords. For example, #running might include running shoes, running gear, trail running, etc. This lets you streamline the targeting process and takes a bit of the guesswork out of selecting keywords.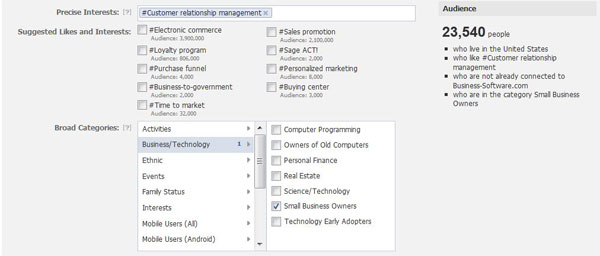 What We Don't Like about Facebook Ads
Overcrowding – Lately Facebook has increased the number of sidebar ads that appear up to 7; since consumers are unlikely to click more than one of these ads at a time, the higher this number creeps, the less bang you'll get for your buck.
Low Character Limits – Facebook gives you 90 characters of text with a 25 character header- even fewer than Twitter's 140 character limit.  Although shorter ad copy is better in the long run, we'd like to have a little more flexibility here.
High Threshold for Small Businesses – Small business looking to promote your posts? Better wait until you have a little more traction. Facebook requires your business page to have at least 400 page likes to qualify for promoted posts, which can be a little high for businesses who are just starting out. Starting with Sidebar ads, which are available to all users, is an effective way to get the likes you need.
Getting the Most out of Facebook Ads
Facebook real estate is prime advertising property, so make sure that your ads are compelling to get the clicks you want!  
Keep your content relevant
to your targeted audience, and include a call to action to encourage your audience to interact with your ads. For more tips on getting the most out of social strategy, visit Business-Software.com's
social tools research page
.