Score More Leads by Integrating CRM into your CMS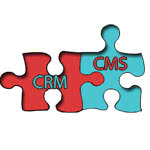 If you've got a website then you've got a content management system to manage it, and if you have customers you probably use a customer relationship management software to keep track of them. Since CRM and CMS are both useful tools for interacting with your customers and fostering good relationships with new leads, why not bridge the gap and integrate them?
While most major CMS platforms feature plugins that let users integrate CRM data directly into their CMS, CRM integration is one of the most underutilized features available to CMS users. By integrating CRM functionality into your CMS, you can take advantage of untapped relationships to score more leads and establish greater customer satisfaction.
Give Your Sales Team a Boost
Sales teams are already using CRM to stay on top of leads and manage customers, but they can learn even more about those customers by being tuned into what's going on on your site. Since your website is more often than not the first point of entry for potential customers, allowing your sales team to easily scout website visitors can prevent valuable potential leads from slipping through the cracks. Is someone new asking a lot of questions about your product on your blog? Sales can help convert them before they lose interest. By giving your sales team access to site traffic and usage data, whether known or anonymous, you can empower them to keep track of trends and problems to deliver better service.
Improve the Customer Experience
CMS is a great tool for distributing information about your company, but not all site visitors are alike. Standalone CMS platforms don't always allow for the level of personalized service delivered by CRM systems. Keeping better track of who is on your site and how they use it can help you tailor your content and design to create a more personalized experience for your users. Anyone who has used Amazon.com is familiar with the "Related to Items You've Viewed" box, which draws on browsing and purchasing history to give Amazon users a more personalized shopping experience, increasing the likelihood that they will make a purchase. CRM plugins allow you to automatically create customer profiles every time someone downloads a white paper or fills out a form on your site, ensuring that you can bridge the gap between browser and buyer more effectively.

Reap the Benefits of a More Holistic Analytics Solution
We all know how important data analytics is to the success of a business, but too often our data is incomplete or fragmented across multiple business management tools. The ability to marry your revenue data to your online marketing campaigns is one of the most useful features of an integrated CRM. Integrating CRM and CMS analytics lets you easily and accurately gain insights into the data you collect. Whether you're seeking out untapped leads or trying to find out if your last campaign brought in more business, a more comprehensive analytics tool can help answer any question you might have.
Recommended CMS Platforms with CRM Integration
If you're just getting started with your site, integrate a CRM plugin from the start to keep a strong handle on who is consuming information about your company. If your site is already running and you already have a CRM, there's still room for you to bring the two together. CRM integration isn't a new idea in the CMS world, and many established CMS platforms feature plugins to connect directly to your existing CMS. If you're convinced that bringing your CMS and CRM together will benefit your company, check out some of these strong pairings today.*

Sitecore & Microsoft Dynamics      WordPress & Salesforce            Drupal & SugarCRM               Joomla & Zoho CRM
*The above list of pairings is not comprehensive; visit individual CMS platform sites for complete listings of compatible CRM systems.
Looking for more information on implementation tips or CRM platforms? Check out the CRM software resource center for access to CRM posts written by industry experts, advice on adoption and product reviews. If you'd like to find suggestions for content management solutions or best-practice tips, visit our CMS resource center instead.