Selling Blind: Turn the Lights On With Story Coaching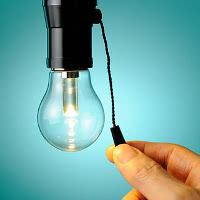 Salespeople are selling blind, because they are not being coached on customer knowledge. Without an accurate customer map, they can't link their capabilities to their customer's pain points. This results in lost sales, because customers are left to try to figure out why it makes sense for them to buy, or even worse, why they should care.
We'll show you how simple it is to find, and then fill customer knowledge gaps. And your sales team will do it in as little as 10-minutes a week.
Simply have one of your salespeople share a relevant customer 2-min. story each week, and then have their peers provide feed-back.
This type of sales coaching is made by your salespeople, for your salespeople. They'll learn by doing, and then by observing their peers. This is the same process that Toastmasters has used to train over 4 million people since 1924.
And studies show that the benefits of sales coaching aren't fuzzy, they're overwhelming. In CSO Insight's 2013 study of 4,500 companies, for example, they discovered that companies that had a defined vs. an ad hoc system for sales coaching were:
2X more likely to be a trusted advisor vs. just an approved vendor.
+17 percent more hit quota.
+24 percent forecast deals won.
Find and Fill customer knowledge gaps
Without a helicopter view of the customer's world, salespeople are selling blind. And when they do stumble upon a customer's pain point, they can only refer to vague pain points (i.e. "time consuming" or 'prone to error"), because their knowledge of the customer is superficial. The result is that too many salespeople are trying to rescue customers that are only ankle deep in problems. No wonder over 60% of sales opportunities end with the customer deciding to do nothing.
You can coach your Reps with stories to find and then fill customer knowledge gaps in just 10-minutes a week. Because stories present a clear picture of hell if customers don't and heaven if they do buy your product, knowledge gaps are immediately exposed when the picture is out of focus.
Increase value & win more sales
And once Reps learn how to fill the gaps[i], their ability to sell value will explode. They'll learn, for example, that as they crank up the contrast between the before and after picture of the customer owning their product, they also crank up the value of their product in the customer's eyes. And that's when the magic happens. It's the contrast that creates the spark for the customer that ignites the Reps sales process.
Here's how it works
At every sales meeting your Reps will decide what they feel is the most pressing challenge their customers face.
You will then assign a Rep to deliver a 2-min. story[ii] at the next sales meeting (see story template & guide click. This should take the Rep less than an hour).
After the Rep delivers the story, you will assign different Reps to evaluate the story and provide positive and constructive feed-back on the following criteria:

Are you a Buyer?
Is the story memorable?
Is the contrast clear between the before & after?
Drilled down to the tangible impact of the customer's pain points?
Too long? (more than 2 min. or 250-350 words)
Lost? (more than 1 point).
Based on the feed-back, the Rep edits their story, writes it up, and publishes it so that your team will have a valuable sales asset to use to help win future sales opportunities.
Just like Toastmasters, your Reps will learn by doing. But they will also learn from observing their peers tell their stories. So by doing and observing, they'll discover for themselves why some stories pop and others flop.
The Reps will then be able to take these bite sized customer insights and deliver them in a short effective story, so that customers may start to tell themselves a new story where new choices make more sense.
[i] Knowledge is gained by learning from their peers, or by interviewing sales engineers, customer service, or customers.
[ii] The Rep can create the story on their own, or interview a peer, sales engineer, customer service, or a customer.
Insight Demand (www.InsightDemand.com) is a Sales Training company that helps our clients tell a better story so that your salespeople are able to sell value and differentiate your offering.