Setting Objectives For Your New Website? Don't Forget About Increasing Customer Interaction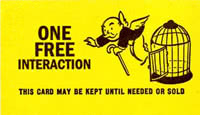 At Intechnic, we strongly believe that the most critical step in developing your new website is clearly defining the objectives for your website.  These objectives should be SMART (Specific, Measureable, Achievable, Relevant, and Timely).
Examples of website objectives are, "Increase Sales by 20%," "Generate 100 new leads per month, " etc.  In addition to engaging, customer oriented content that brings your product or service to life, your site must include strong calls to action and ways for your customers and prospects to interact with your company.  The greater the opportunity for "touches," the more valuable your website becomes as a business tool.
Here are some simple ways you can greatly improve your website's value as a business generating tool:
Links to Social Media
If you are active on Twitter and Facebook – and by active we mean posting thoughtful and customer-focused content – your site must have an easy way for your prospects and clients to follow you.  These days, people pay more attention to Twitter and Facebook than their mail and even email.  Using your website as a tool to gain followers will spread your message quicker (especially with sharing) than traditional marketing channels.
What to Avoid
Don't post just for the sake of making a post.  Social media content should be relevant, timely, and informative.  It is okay to have the occasional light-hearted post, but that should not be the bulk of your content.  Social Media is an extension of your brand and should be treated as such.
Email Newsletter Sign-up
While social media is great for a quick message, newsletters are allow you to go more in-depth on a top and deliver messaging that is focused on the interests of specific prospects and clients.
What to Avoid
Don't be a spammer.  Much like social media, don't send out an email just to send out an email.  Nothing will get a prospect or client to disengage quicker than making them feel like you are a Nigerian diplomat looking for assistance in moving money into America.
Mailing List
Now, you might be wondering, who the heck still uses direct mail.  While it is true that social media and email are phenomenal tools for developing lasting customer relationship, direct mail is still great way to connect with customers in the physical form.  Plus, by gathering a customer's name and address, you can work with a data provider to append relevant information like demographics, buying behavior, psychographics, etc.  This will allow you to target your marketing efforts, versus a broad, shotgun approach.
What to Avoid
Direct mail, while still one of the most effective direct market tools, does also come with a price in terms of design, print, postage, etc.  As a result, you want to make sure you use it wisely.  Use it when there are definitive benefits to putting your message directly in the hands of your clients and prospects.  If using direct mail versus email or social media does not add value, save your marketing dollars for other efforts.  Also, make sure your list is up-to-date and postal regulation compliant.  Nothing wastes money and time more in direct mail than getting a huge stack of returned mail or getting rejected by the USPS for not meeting their requirements.
All three methods not only allow you to increase your interaction with prospects, but also to gain a deeper level of information about your prospects and customers.  Having this information will allow for more focused marketing and increase the value of the relationship on both sides.  For you, it means higher sales.  For your customers, it means more relevant offers and fewer offers that are not of interest.
Looking for more information on email marketing? Check out our side-by-side comparison of leading platforms in the Top 10 Email Marketing report. You can also browse exclusive Business-Software.com resources on marketing by visiting the Marketing Software research center.