Technology Isn't Killing Brick-and-Mortar Stores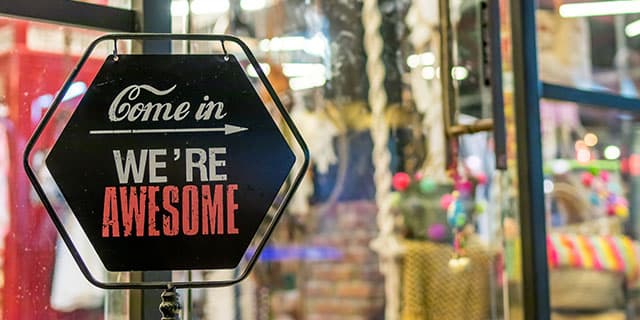 As time moves on, so does technology, and the rest of the world must keep up. Many times, progression means leaving our past behind. It can also mean the practices and institutions we previously held to might be invalidated or could disappear. Some believe that this is the way of brick-and-mortar stores.
Brick-and-mortar stores, if you're unfamiliar with the term, are businesses with physical storefront locations. Many times, they are local or small companies, also referred to as mom-and-pop stores. Many people think that the digital age is destroying brick-and-mortar retail, but it turns out that's not the case.
While eCommerce has changed the practices behind many aspects of business, it hasn't made physical storefronts obsolete. In fact, you may be surprised to find out that right now brick-and-mortar stores are on the up-and-up! While there are challenges, they are also increasing in popularity. So, let's look at the challenges and the advancements technology has presented to small storefronts and what we can do in response to them now.
On the Positive: eCommerce Has Not Killed Physical Stores
As mentioned above, you could be under the fair assumption that e-commerce has completely killed the physical storefront. But on the contrary, the facts say otherwise. Believe it or not, brick-and-mortar stores still have a place in the digital age. While they only account for just under 10 percent of online sales, there was still a projected growth of $6 trillion from 2014 to 2018 according to an infographic by Rutgers University.
Now, it would be incredibly easy for anyone to do a simple Google search and find a think piece decisively proving one's point, no matter their stance. But facts matter when discussing issues like this one. And when looking at the facts, the results can be surprising. If you were to ask the question "Is technology hurting brick-and-mortar retail?" the answers would be both "yes" and "no."
This is where some clarification is needed. For example, a lot of the retail closures we're hearing about are those affecting major retailers. Fits Small Business recently put together a facts vs. fiction study regarding the death of retail. What they found is that small stores are thriving and learning to use technology to their advantage. (Bigger retail chains are doing this too, but many of them have many stores and have not been able to stay afloat due to the high expenses, causing them to run their stores competitively with eCommerce.)
While mom-and-pop stores still need to learn how to use technology to their advantage, they have the advantage of social movements on their side. "Shop local" and "shop small" are popular trends currently.
The Negatives: Adaptation Can Be Difficult
Since everyone and everything changed with these rapid advancements in technology, it has become necessary for all stores to adapt. Stores needed to adjust to the changing equipment and processes that have become standardized. Some have done so successfully; others have struggled quite a bit. There is a lot you could miss if you aren't careful.
For instance, one challenge posed by the internet is all the different venues in which you must update your information. If an online listing of your business contains the wrong address, phone number, hours of service, or contact information, you could lose a potential customer forever. It is for this reason that local listings must be updated frequently. Word of mouth isn't the only way brick-and-mortar stores survive nowadays. Not to mention, there may be a lot of listings to keep track of.
That's not the only challenge, though — another good example is that it may require more work of you. In an infographic they put together about work addiction, the folks at Regis College argued that the way technology has made business communication mobile has pushed people to work harder than they did before. The fact is, when your work is always in your pocket, it never stops. Business owners who don't know how to maintain a good work-life balance, or who can't keep up with the speed at which their store needs them off hours, will likely see the consequences of this.
How to Navigate This Digital Plain to Your Advantage
To adapt, you need to understand how all these new strategic obstacles work to your benefit, rather than your demise. In other words, you need to use digital advancements to help you, instead of letting them destroy you. New technological developments need to be understood, and ultimately, they should be embraced.
In 2019, it's essential that you use the proper software to keep yourself afloat. Social media, inventory management, mobile apps, marketing tools, quick and efficient bookkeeping and even webstores are at your disposal now. A significant amount of retail purchases is done online. Even if you're trying to keep your storefront afloat, you still need to stay relevant with the way people buy and order products. Having in-store specials and marketing your location well locally via social media, directory listings and other forms of online advertising will bring people in locally and help to build brand loyalty. After all, who wants to pay for shipping on something they can walk or drive to and pick up that day?
However, a commonly overlooked point about the digital age and how it helps business owners is the freedom of information. With a simple Google search, you can learn how to do just about anything. This means with a few clicks you can compare software, learn about new marketing trends and watch videos about them. Who wants to take the time to read a book about running a business when you can spend an hour to watch a video teaching you the same thing? This freedom of information has, without a doubt, helped mom-and-pop businesses thrive in this digital era, and it can help you do so as well.
Your Thoughts
So, what about you? Have you used the digital age to your business advantage? It'd be great to hear how, so feel free to share in the comments!
Photo by Artem Bali from Pexels