The Best Free Web Conferencing Services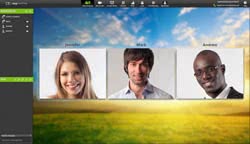 The market for free Web conferencing services looks a lot different today than it did a year ago. The much-loved Dimdim, which offered free conferencing for up to 10 attendees, was acquired by Salesforce.com in 2011 and decommissioned, leaving Dimdim users scrambling to find a sufficient replacement. Many found their way to Mikogo, a once-free solution that now only offers paid plans. And TokBox—another player in the video chat space—recently discontinued its conferencing service to focus on its API. But despite these setbacks, there are plenty of Web conferencing options for the frugal among us. Check out some of the better choices for free Web conferencing below.

The clear leader in free Web conferencing is AnyMeeting, an ad-supported conferencing/webinar service that offers comparable functionality to some of the top paid options. Meetings are easy to create, and participants can communicate through instant messaging, video, and voice chat. Additionally, you can share desktops, create polls, and record meetings for future reference. A "mood" features allows attendees to express to the presenter whether they have a question, agree/disagree with the topic being discussed, or prefer a change of pace. All this comes in an intuitive, aesthetic package that isn't over-burdened by advertisements. AnyMeeting supports up to 200 meeting participants.

Conference calls are completely free on Skype, provided that all participants (up to 25 per call) already have Skype accounts. Create a "group" in your contact list, drag and drop desired contacts into the group, and click "call group" to initiate a group meeting. Participants can share screens and send instant messages. If you'd like to incorporate a video component, at least one member of the call must have Skype Premium or a group video subscription. This is available for cheap, and allows users to chat in stunning HD video.

ooVoo offers free video chat for up to 12 participants. In a similar fashion to Skype, ooVoo users can start a call, and then add contacts from their contact list to create a group video chat. Unlike Skype, the video component is free with ooVoo. The disadvantage of this approach to conferencing is that users must already be ooVoo members to attend calls, unlike with AnyMeeting, which makes it simple for anyone to attend. For casual calls between colleagues, a service like ooVoo or Skype may be the way to go. But if you're presenting to a group of strangers, save them the hassle of installing new software and choose AnyMeeting. ooVoo supports PC, Mac, Facebook, Andriod, and iOS.

Vyew is a browser-based collaboration and communication service that offers ad-supported free plans beside paid plans, which come with expanded functionality and more capacity. From personalized meeting rooms, users can engage in real-time desktop sharing, white-boarding, VOIP, video and text chat, and plenty more. The free version supports 10 real-time participants, and allows for the creation of 20 "rooms." Rooms are the virtual spaces in which conferences take place—they're always available (for those who have access), and store meeting materials indefinitely.

Buddy Meeting is a free browser-based conferencing service that's easy to set up, supports up to 10 meeting participants, and lets users share video, audio, and other files. After the administrator creates a new meeting, Buddy Meeting sends a link via e-mail that can be shared with other attendees. The UI is intuitive, but not nearly as elegant as the other options available. If you're looking for a free Web-based solution that's easy to get up-and-running and provides basic white-boarding features, Buddy Meeting could be for you.

If you're intending to use a Web conferencing service for sales purposes, check out SalesCrunch. The sales-specific conferencing/presentation service is designed to streamline the conferencing experience for the presenter, as well as their potential customers. Presenters get personalized meeting rooms where they can host meetings and presentations, and there's no software for attendees to install. Also, SalesCrunch provides analytics for measuring the quality of outreach; find out who is reading your e-mails, who is forwarding them, etc., to make future communication more effective. SalesCrunch offers a variety of plans, including a free option. The free personal account allows for unlimited online meetings for up to 10 participants.
Want more on Web Conferencing Software? Browse additional blog posts, product reviews and a comparison of the top 10 web conferencing platforms using Business-Software.com's web conferencing resource page.