The Case For – and Against – ERP Customization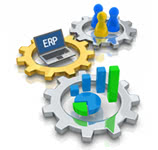 When it comes to ERP systems, the word "customization" is one of the most dreaded terms that an executive hears. In fact, I would estimate that at least 90-percent of Panorama's ERP selection clients indicate a strong preference for zero or no customization. In other words, most CIOs and CFOs want to use the system out of the box without making any changes to the software code. There will always be configuration and personalization, which every ERP implementation requires, but when it comes to heavy-duty changes to the software, most executives don't want to hear about it.
However, something strange happens during implementation. Inevitably, the business identifies one or more things that the software doesn't do quite right, so they request to make just one minor change to the way the software is designed. Of course, this is a slippery slope, and one minor change to the software code typically leads to several more. This phenomenon is true of most implementations that we help manage for our clients, and our research outlined in our 2012 ERP Report (and in the graphic below) found that only 11-percent of organizations implement their ERP systems without customization:
To be sure, there are pros and cons of customization. First, the disadvantages:
Upgrades become more complex, costly, and risky. Every change made to ERP software makes upgrades that much more complicated and costly. We work with a large number of companies that have simply stopped upgrading and maintaining their ERP systems because the customizations have made the upgrade paths too cumbersome and costly. In fact, it's a key reason why so many companies look to replace their existing ERP systems – not because there is something wrong with the system per se, but because it has been customized beyond the point of recognition.
Customization may be a symptom of organizational change management issues. Often times, it isn't the customization itself that is the problem. Instead, it is merely a symptom that the organization doesn't want to adopt new business processes and software functionality. This could suggest that the business may need to invest more heavily in organizational change management to help key stakeholders and employees adapt to new ways of doing things. Our PERFECT Change™ organizational change management offering is one of the service offerings most demanded by our clients, largely because of the resistance commonly seen in ERP implementations.
Despite these disadvantages, however, there are advantages as well. For example:
We live in a customizable world. Whether it's how we customize our Facebook profiles, create personalized radio stations on Pandora, or order individualized products from our favorite consumer products companies, we live in a society that is growing more accustomed to customized and unique solutions. Ironically, our clients that demand the most homogeneous ERP systems are often the ones that provide the most customized, make-to-order products in their industry. In addition, the new generation of younger employees is used to flexible technologies, so a completely uniform and generic approach to their work lives is a hard adjustment.
Successful organizations have competitive advantages to protect. The concept of off-the-shelf ERP software assumes that an implementing organization has no competitive advantage. If every company could use generic, non-customized ERP software, then any company could replicate the competitive advantages of competitors simply by implementing the same packaged software. Obviously, this would merely cause companies to change to find other sources of competitive advantage unavailable in standard ERP systems. In order for a company to have a true and sustainable competitive advantage in certain areas, it has to be something that can't be replicated on a large scale with generic ERP systems; otherwise it wouldn't be a competitive advantage.
So what's the right answer? Unfortunately, there isn't one. Every company is different and will find its own spot on the spectrum of no customization to heavy customization. The right answer for your organization most likely depends on how unique your business is, how established its business processes are, and how open to change the organization is. Keep in mind that customization has its risks, but reducing customization simply puts more pressure on your team to effectively manage organizational change and resistance. The key is to find the right balance.
What is your organization's approach to customization? Let us know in our latest ERP poll! And learn more about ERP success by accessing our free on-demand ERP webinar series. Particular titles of interest may include Lessons Learned From Best-in-Class ERP Implementations, Business Process Reengineering: A Key Component of ERP ROI and Organizational Change Management: A Critical (and Often Overlooked) ERP Implementation Success Factor.
If you're still looking for additional information on some of the other ERP systems out there, try checking out our exclusive Top 20 ERP Software report. Additionally, take a look at the Business-Software.com ERP software resource page, the hub for ERP-related content from us and our network of guest contributors.
[This post originally appeared on Panorama Consulting's 360 ERP blog and is republished with permission.]