The Evolution of CRM: Then vs. Now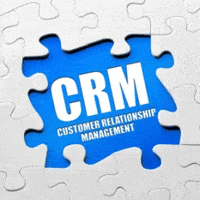 The history of customer relationship management is about as old as the drive to keep professional records. You could argue that it predates the Egyptian scribes who kept their records on papyrus, and includes the Renaissance merchants who sold exotic wares to their 16th century customers. Its modern predecessor is the Rolodex—the paper and plastic forefather of contact management software that was ubiquitous on office desks during the mid-20th century.
But things changed in the late 1980s, starting with the widespread adoption of personal computers and the client/server computing model. These advances armed legions of front-end professionals with PCs and opened the door for software developers to create programs to replace the Rolodex and offer expanded functionality for managing customer interactions in the digital world.
The first product to emerge during this era was a contact management solution called ACT! released by Conductor Software (and now owned by Sage) in 1986, which was followed by competing offerings from Goldmine and similar vendors. Contact management software evolved to incorporate features related to the automation of sales activities such as lead management, opportunity management, and deal tracking. These functions are fittingly referred to as sales force automation (SFA).
A seminal event in CRM's history was Siebel Systems' entrance to the SFA market in 1993. By the mid-'90s Siebel had launched its enterprise SFA products, and by the late '90s the company dominated the CRM market with a 45 percent market share. During this period the big vendors such as SAP and Oracle followed suit, also establishing strong footholds in the market.
The origin of the phrase "customer relationship management" is disputed, but many attribute it to research firm Gartner from around 1995. The term CRM beat out "customer information system" and "customer information management."
The CRM market underwent a major disruption in 1999 when Marc Benioff launched Salesforce.com, the first significant cloud-based CRM system. Initially Salesforce.com was viewed as a novelty tool for small businesses and the company took a hit during the dot-com bubble burst, but it emerged from these setbacks stronger and it's now a major player in the CRM market.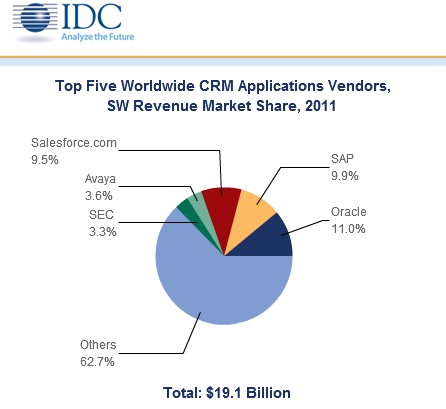 CRM: Then and Now
So how does today's CRM differ from the products first introduced nearly two decades ago? The most obvious differences are the "mobile" and "social" trends that characterize much of the CRM innovation of late. Although Siebel pioneered mobile CRM as far back as 1999 with the release of Siebel Sales Handheld, that software is a far cry from the CRM applications available today, which deliver unabridged functionality for mobile phones, tablet computers, and laptops.
That said, the following quote from a Siebel press release in 1999 offers an interesting window into the future of the market: "Siebel Sales Handheld offers the power and flexibility of Siebel applications on devices that fit in a pocket or a briefcase … Siebel Sales Handheld ensures that sales representatives can be fully mobile and informed at the same time, providing them with the information they need to build and manage customer relationships."
As we approach the end of 2012, Social CRM is nearly a $1B annual market according to Gartner. Social CRM leverages Web 2.0 principles to engage clients and prospective customers on the Internet across communities and social networks. These concepts and the tools that social CRM harnesses to deliver value didn't even exist before 2004. And social CRM solutions exist almost entirely in the cloud, another example of a prevailing trend in CRM.
In terms of features, the CRM systems of yesteryear were fairly limited in their capabilities. They stored customer contact information and automated basic functions like follow-up reminders, but often fell short of their goal of unifying the view of the customer across business departments.
Today, a good CRM product can integrate with the rest of a business's IT software portfolio to provide a comprehensive portrait of a customer that includes all their interactions with the company, beyond simply listing their address.
From a design standpoint, the UI elements that surfaced during the Web 2.0 craze—minimalism, sleekness, informed color and texture selection, etc.—have spilled over to influence software interfaces across a broad range of products, including CRM. Compare any early Windows-based CRM system to its modern counterpart and try not to cringe or use the word "clunky."
CRM is enjoying a renaissance and seems to have outpaced the sour reputation many systems garnered in the late '90s due to pricey and/or failed implementations. Time will tell whether "social" amounts to anything more than a trend, but if history is any indication, the CRM landscape will look much different in a decade than it does today.
Looking for a next step in your CRM research? Our CRM resource page provides you with everything you need in terms of CRM-related blog content, product reviews, premium offers and more.