The Implementation of an ITIL-as-a-Service Essentials Solution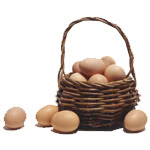 The most basic way to get started with ITIL in your IT organization is the ChangeGear "ITIL-as-a-Service" essentials solution. There are five minimum components that we recommend in order to start an ITIL implementation: Incident Management, Problem Management, Change Management, Service Catalog, and Service Asset & Configuration Management.
You can think of the ITIL-framework as an empty egg basket with about two dozen compartments. By filling each compartment with your valuable, delicate, egg-like processes, you begin to build your implementation. Your processes can be any IT related process from a simple password reset to a very complex upgrade of a core server. Of course, the process workflows for these two examples are very different and that helps to explain why there are 26 different compartments. Even though many of your processes will be dissimilar, many will have parallel workflows and therefore can be gathered together. In the entry level implementation of ITIL-as-a-Service, you fill five compartments with your collections of eggs or IT processes.
Even though there are 26 individual, interconnected egg holders for your processes, only a few companies ever need to achieve the level of IT maturity required to implement them all. The idea behind the implementation of the five essentials is to raise your level of IT organizational maturity to better meet the specific needs of your company. Each company's ITIL development begins one process at a time.
Not only will you raise your level of IT maturity, but by implementing the five essentials of ITIL-as-a-Service you also get three key wins:
Improved productivity – see improved productivity by implementing a new, simple to use and customize ITIL-based ITSM solution.
Improved business alignment for the IT organization – the IT Organization can help drive enterprise-wide efficiencies.
Growing cost savings – dramatic savings driven by increased efficiency in managing all of your service requests.
BONUS WIN – dramatically increased your customer satisfaction!
Incident Management – Egg Compartment #1
All of your incidents get captured in this big bucket-like compartment in order to streamline processing. Once set up, you will be able to better track all of your incident tickets in order to standardize fulfillment. Both low-impact standard requests and break/fix requests are examples of Incident tickets: routine requests such as password resets, pre-approved changes, system access, and complex requests such as system outages, monitor not working, Blue Screen of Death, can't access the internet and more.
All of these request tickets get managed through the Service Desk and may be routed through a tiered system in a more mature IT organization. As you grow, you can refine the egg compartment by separating the low-impact standard requests from the break/fix requests with the addition of Service Request Management. Many processes can now be managed even more efficiently by separating the Service Request fulfillment by line-of-business – HR, Facilities, Project Management, Finance, Marketing…
Problem Management – Egg Compartment #2
Unlike Incident Management, which is focused on quickly fixing service disruptions, Problem Management is about root-cause analysis – determining and resolving the cause of incidents. Some of these processes may include proactive activities to detect and prevent future problems and incidents. Scenarios of root-cause analysis include, why does the internet slow to a crawl at 3 pm every day; the network printer gives a low toner error even though the cartridge is new; the exchange server processor spikes at certain times of day and more.
Change Management – Egg Compartment #3
This is where you plan for the change and release of IT projects, software upgrades, new server installations and more. Even the smallest change can have a serious impact on your systems and users, so remember to plan, plan and plan some more. Then before you release into your live environment, test your update! The Change process workflows that you create should include a requirement for approvals; often from the CAB (Change Advisory Board).
Planning for change and release will help to reduce business downtime. Standard change examples include server reboots, standard weekly changes, storage upgrades, system maintenance and more.
Service Catalog – Egg Compartment #4
The Service Catalog allows you to increase the IT organization's value to the enterprise by communicating your IT service offerings in a centralized place – define, publish, and automate all IT service requests. End-users can find available services, request services, report incidents, submit change requests, and leverage other critical resources to solve common problems immediately. With the addition of a comprehensive Knowledge Base, you can empower users with self-help options.
Service Asset & Configuration Management – Egg Compartment #5
A CMDB (Configuration Management Database) is the best way to gather and track your CIs (Configuration Items). With advanced capabilities to map and manage critical resources, your CMDB can track CIs such as business services, hardware (including BYOD), software, users, documentation and configuration within one federated database. Visibility into the hardware and software in your system, allows you to immediately see what a system interruption's impact is. It also allows you to plan for the change and release of new or updated software and allows you to better track your SLAs (Service Level Agreements). CMDBs also help IT organizations better meet their regulatory compliance requirements.
Implementing the five essentials for an ITIL-as-a-Service is a guideline for getting started. This is the first step in improvement, whatever the current level of your IT organizational maturity. Since every organization has their own precious egg-like processes, you need gather your eggs, compartmentalize them and build your workflows to match your needs. An ITIL-based framework is the best way to build your fully-customized process workflows, allowing you to create a solution that meets your needs today and is scalable for tomorrow.
[Martin Grobisen writes for ITSM Lens, the SunView Software company blog.]

For more data on specific IT management solutions take a look at our Top 10 IT Service Management Software and Top 10 Asset Management reports.