Tips for Implementing an Enterprise Social Platform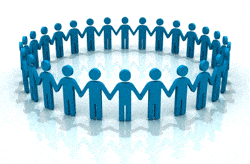 Many companies rolling out enterprise social networking platforms find that the reality of implementation is a much different experience than what was advertised. Far from the utopian vision of seamless real-time collaboration, communication and business-wide engagement, many enterprise social networking (ESN) deployments struggle with a lack of adoption, declining usage and a generally confused user-base.
A report published by the Altimeter Group in early 2012 found that although the majority of ESN users/decision-makers/technology providers saw value in enterprise social networking, most also felt concern around its "value creation and sustainable adoption." Prior to selecting a social network for your business, familiarize yourself with the potential hazards and use the following tips to facilitate a strong, successful implementation of your social tools.
Define the Strategy
Microblogging, activity streams, social networking, wikis—these tools will undoubtedly be familiar to your employees; in fact, most of your employees probably use them on a regular basis in their private lives. But if you expect to set these tools down in front of your employees in a business setting, without clearing defining why and how they should be used, you will encounter skepticism, inconsistency, and a lack of adoption.
Prior to deploying the software, clearly explain to employees what pain points you are attempting to address through the use of social software. Explain what processes you are trying to improve, and explain the benefits of social networking as it applies to those processes.
Get Executive Sponsorship
Executive sponsorship is a universal requirement of any software implementation. If employees see that the boss is active and enthusiastic, there's a greater likelihood that the rest of the organization will follow suit. Enterprise social networks have the unique ability to instantly connect employees across the corporate hierarchy. Enabling conversations among diverse voices within an enterprise is one of ESN's primary value-adds—everyone from the gregarious to the introverted has a common platform for expressing ideas. If high-level employees fail to involve themselves in these conversations, you're losing value, and you're setting an example for the rest of the organization. So go out and get the CEO, CFO, CTO involved in the conversation.

Use Integrated Solutions
If you're at the point where you're investigating enterprise social networking solutions, you're probably already running software to address your core business functions, like ERP, CRM, and other productivity applications. If an employee is already logging in to multiple systems at the start of the day, the last thing they want to be bothered with is a standalone ESN platform. If users view a product designed to streamline their workflow as a headache, they're not going to use it. Look for solutions that integrate with your existing collaboration and productivity suites. There are plenty of enterprise social networking platforms that work with Sharepoint, Salesforce.com, Lotus, and other big-name products.
Know Your Culture
Social networking is perceived to be a time-wasting distraction, and many executives are resistant to ESN for fear that it could negatively impact employee productivity. In addition, organizations also struggle with how "personal" they allow the content uploaded by employees to be. An important key is to know your corporate culture, and provide employees with guidelines for acceptability when it comes to content. That way when Timmy posts a picture from his vacation to Cancún it won't shock the establishment.
Want more information on the best enterprise social software?
The Business-Software.com Top 10 Enterprise Social Management Tools report gives you the lowdown on pricing, key features and technology models.