The Top 10 Gmail Add-Ons for Business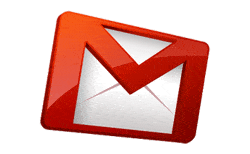 Google's cloud email service Gmail is becoming the email of choice for more and more businesses.
While the standalone product is fast, intuitive, feature-rich, and mobile, it's also extensible, and there's a large market for add-ons and plug-ins that can improve an already great e-mail experience for the business user. Check out the following Gmail add-ons, available through third parties or right in Gmail Labs.
Create a holistic view of your Gmail contacts from right inside your inbox using this free add-on for Chrome, Firefox, Safari, and Mailplane. Once installed, Rapportive displays information about your contacts in a sidebar to the right of e-mail messages. This includes work information, social media activity, location details, and more, pulled from Twitter, LinkedIn, Facebook, and other sources. With Rapportive, you can enhance relationship management and stay current by following your contacts' activity outside of email, all from your inbox.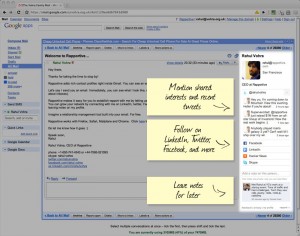 Mail Pilot is an email add-on that seeks to change the way users interact with email. Its creators view your email inbox as a to-do list. Each message you receive is marked as incomplete, and remains that way until you take action to complete it. These actions could be responding, archiving a message for later consideration, or ignoring an email. This intuitive approach aims to help users be more productive with their email management. The Kickstarter-funded project reached its fundraising goal back in February, and is currently in a beta-testing phase. A public release is slated for the end of summer 2012.
If you struggle with wading through a bog of irrelevant email messages, consider an email filtering tool. Sanebox is an add-on that offers similar functionality to the Gmail Priority Inbox. It intelligently analyzes inbound messages, filtering out spam and unimportant emails so you can get right to the important stuff. The app is easy to use, and offers some features beyond filtering like email follow-ups and the SaneBlackHole, which you can use to permanently ban a sender from reaching your inbox. After a free trial, Sanebox costs a reasonable $4.95/month.

AwayFind is another add-on that falls into the "spend less time wading through junk" category. It works as a personal email assistant by allowing users to specify how they would like to be notified when receiving emails for specific contacts. You can receive phone and text messages for important emails, or redirect messages from certain senders to other email addresses. The goal of AwayFind is to ensure that urgent emails find their way to you, and don't get lost in the clutter of your inbox.
This Gmail plug-in aims to simplify your contact management experience across your diverse accounts. It analyzes the data in your phone, email, and online networks to build complete profiles of everyone you've ever communicated with. Contact info, social activity, and communication history for every contact can be accessed right in your Gmail inbox in a tab to the right. You can also search your Xobni address book to find specific contacts more effectively. Smartr is a slightly more robust version of Rapportive.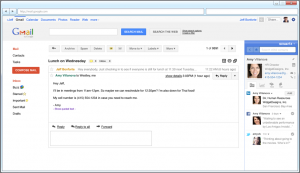 One of the big trends among Gmail add-ons are tools that provide a centralized way to handle the different pieces of information created in our various online accounts. Cloud Magic is another such tool, basically serving as a personal search engine for all your online data. It offers integrated search across all your emails, social streams, and files, from your mobile device, tablet or computer. Gmail search alone is pretty great, but imagine if you could extend it to index Twitter posts, Facebook and LinkedIn messages, chats, Google Docs, and more. Try it out; it's free.
Boomerang for Gmail is a simple tool that adds valuable functionality to Gmail, and for that reason it's been profiled positively by TechCrunch, The New York Times, Inc., Lifehacker, and others. The Firefox/Chrome plugin performs a couple primary tasks—it lets users schedule emails to be sent later, and it allows users to schedule follow-up reminders for specific messages. These features can be useful for communicating with people in different time zones, following up on sales leads, and sending personal reminders for meetings or other important events. A personal account is available for $4.99/month (30-day free trial).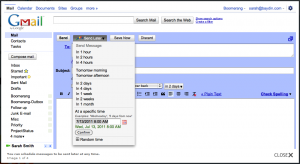 An oldie but a goodie, the Canned Responses feature offered in Gmail Labs debuted back in 2008, and allows users to save canned responses for replying to general inquiries. If you ever find yourself copying and pasting, or retyping general responses in reply to emails, the Canned Responses add-on could be your ticket.
Installing it is simple. When you're in Gmail, go to "Settings," click the "Labs" tab, enable "Canned Responses" (or any other desired Labs add-on), and click "Save Changes" at the bottom of the screen.
Have you ever sent out an email and immediately noticed a glaring typo or other facepalm-inducing inaccuracy? The Undo Send feature available through Gmail Labs has potential to save you from an embarrassing slip-up. You can install the add-on in Labs using the same sequence as for Canned Responses. By default you have a 10-second window to retract an email (the "undo" link is found in that yellow bar that appears at the top of your inbox after you send a message). You can extend this timeframe for up to 30 seconds by going to "Settings," clicking the "General" tab, scrolling down to "Undo Send," and selecting "30" in the drop-down menu. Be sure to save your changes.

Active Inbox is a robust email management plug-in for Gmail. You can assign statuses to emails to ensure that important actions get completed, sort emails into project folders, annotate emails, efficiently sort through message folders, and a lot more. If anything, Active Inbox provides a little too much functionality. Though once you become acquainted with it and adapt your processes to fit it, you'll likely be happy with the results. It's one of the pricier add-ons out there at $24.95 per year.
Looking for more reviews of top software solutions and tools? Head over to the Expert Picks & Reviews section of the Business-Software.com blog for top product reviews, deep dives, the best free software and more!